How to Cite
Language & Lit
Rhyme & Rhythm
The Rewrite
Search Glass
How to Write a Speech in Fifth Grade
In fifth grade, many students are introduced to the topic of speech writing. To write an effective speech, a student first must have a firm grasp on the chosen topic. This means that you need to do some extensive research on your speech topic before you sit down to write. As you write your speech, keep your audience in mind and make sure you present the topic in a way that your audience will understand and appreciate. These guidelines can be used when writing a speech in fifth grade or any time.
Read your teacher's instructions very carefully. The instructions might include what type of topic you need to pick, how long the speech needs to be and what the purpose of the speech is. For example, the purpose might be to inform your audience or to persuade them.
Choose a topic. Narrowing down your topic will make writing the speech easier. For example, the solar system is a very broad informative speech topic, while "Why Pluto is not longer a planet" is a narrow topic.
Write the introduction for your speech. The introduction tells the audience what the speech is about and goes over the main points briefly.
Develop at least three major points for the speech. These points directly relate to your topic. For example, one point from the above example might talk about what information is used to categorize something as a planet in the solar system.
Add additional details to each point that back it up. These details should come from your research on the topic, based on legitimate sources. The NASA website, for example, would be a legitimate source to go to for information about Pluto.
Conclude your speech. The conclusion goes back over your main points to remind your audience of everything you've addressed.
Read the speech you've written out loud. This will show you if any of your sentences or points are not complete or sound awkward. Practice your speech until you're comfortable saying the whole thing out loud.
Write-out-loud.com: How to Write a Speech
Mike Johnson has been working as a writer since 2005, specializing in fitness, health, sports, recreational activities and relationship advice. He has also had short stories published in literary journals such as "First Class Magazine." Johnson holds a Bachelor of Science in education and history from Youngstown State University.
>Writing & Delivering a Speech (Grade 5)
Share this:
Click to share on Twitter (Opens in new window)
Click to share on Facebook (Opens in new window)
Click to email a link to a friend (Opens in new window)
Click to print (Opens in new window)
Click to share on Reddit (Opens in new window)
Click to share on LinkedIn (Opens in new window)
Click to share on Pinterest (Opens in new window)
Click to share on Tumblr (Opens in new window)
3 responses to " >Writing & Delivering a Speech (Grade 5) "
Very good post. Appreciate it.
Very useful tips! Resheen Ramsamy Grade 5
Glad you found it useful! (& thanks for saying so) 😉 Cheers, Aly
Leave a Reply Cancel reply
Fill in your details below or click an icon to log in:
You are commenting using your WordPress.com account. ( Log Out / Change )
You are commenting using your Twitter account. ( Log Out / Change )
You are commenting using your Facebook account. ( Log Out / Change )
Connecting to %s
Notify me of new comments via email.
Notify me of new posts via email.
Email Subscription
Enter your email address to subscribe to this blog and receive notifications of new posts by email.
Email Address:
Sign me up!
Recent Posts
Why Children Misbehave —- Under Construction
Screening & Assessment Tools
Behaviour Management & Crisis Intervention: Definitions & Toolkits
Classroom Behaviour & Purpose
Barrier Games: Fun! Effective! Fun! Effective! (Oh…& did I mention fun?)
Images: Safe Sourcing for Students
Holiday Cards: A Grade 5 Decision to Donate &/or Upcycle
Revision Techniques for Young Writers
Introducing the Following for 2014
Twitter 101
Twitter Chats at #ecoo13 – Bring IT Together
Test Taking Strategies in a Grade 5 Class
The Gamification of Learning
The First Week of School: Math
Twitter for Teachers – It's Not About the Numbers
Year End Thank Yous!
Edmodo & Role Playing
This is the Way We Start Each Day (&#3: A Surprising "Assessment Tool")
The Qualities of a Good Team Leader
Science: The Human Body – Grade 5 – Final Assessments
Activity: Adding, Subtracting, Multiplying and Dividing with Decimals
Islands of Excellence – Part I
Edmodo in the Grade 5 Classroom
12 Classroom Tips for New Teachers … if you were a fly on my wall!
Backwards Planning, Understanding & Learning in the Classroom: Understanding by Design®
Why I Love Twitter #Chats
Getting to Know You Activity – "Me In A Bag, 2012"
Novel : Responses to Text
The Dynamic Duo – My Social Media PD Superheroes Part II – Pinterest
The Dynamic Duo – My Social Media PD Superheroes
What I Love About Teaching
"What's Your Sentence"
Ancient Greece Job Fair
Grade 5 Earth Week Challenge
How Girls Learn
Reality Based Math – Making it Relevant
What's on your "Wish List"?
Assignment Mash-Up: Math & Literature
Grateful Journals
"Technology Tuesdays"
Valentine's Day Math, Language, Science & Art Activities
Three Things My Students Will Never Say
Citizenship: "I am Proud to be …."
Teacher Tips – Things I Try to Keep in Mind
Using Wordle, Storybird, Voicethread & Google Earth in the Classroom
My Top Picks: Activities & Approaches that Rocked Our First Term!
Attention & Initiation in the Classroom
Singing to Teach Reading: Decoding, Fluency & Expression
An Approach to Social Studies & Science: Building Excitement – Engaging Students
Active Listening and Initiating Tasks – The Engaged Learner:
Our Children: Expose, Encourage, Give Permission, Have …
The Benefits of Student Blogging – Alphabetically Speaking
More Than "Just Numbers" – Math Success: The Cognitive Ingredients
"See – Say – Sign – Share" – A Whole Class Memory Strategy
A Quick Blog & List For Teachers: Organizational Ideas & Strategies in the Classroom
For Teachers: Different Ways to Communicate With Parents – 25 Suggestions
30 Ways to Encourage Student Writers — Alphabetically Speaking
For Kids: How to Have a Great School Year! Two Categories & Twenty-five Steps
How to Build Confidence in Your Child
The Teach & Tell
Encouraging a Love of Reading
Initial Reading Assessments in the Classroom
What Successful Math Students Do
Writing Tools for Grade 5
Math & Science Resources – Vidoes, Games, Challenges
Support Your Child's Learning Over the Summer Months
Year End Class Party
A Traveling Suitcase in the Classroom
Developing Listening Skills in the Classroom
Writing Strategy – A Snap Shot (Grade 5)
How We Answer Comprehension Questions in Grade 5
The Lonely Child & The Action Plan
Activating Activities: Students "zoning out"? Need to pump up the volume in the class? (Activities)
Reflective Thinking in the Classroom
Getting Students to Participate: Encouraging Discussion in the Classroom
The "Know-It-All" in the Classroom – Meeting the Needs of Students
Class Meetings: Building a Classroom Community
Conversation / Communication Skills: My Top Ten
>Critical Thinking Skills in the Classroom
>What Do Good Writers Do?
>Bringing Earth Hour into the Classroom!
>Math is Fun – Free On-Line Games
>What is Differentiated Teaching?
>Anxiety in the Classroom
Developing Organizational Skills
Getting Through the School Day – The Impact & Importance of Executive Function
How to Deal with a Bully … well, it's a start.
Encourage Reading at Home – Raising a Reader
Home Journals: Authentic Writing & Communication Between Home & School
>Winter Festivals from Around the World
>Organizing Homework Agendas
Memory Strategies to Use in the Classroom
Study Skills & Strategies: Partnering With Your Child's Teacher
>Writer's Workshop: Editing My 2nd Draft Checklist (for Students)
>Study Strategies: Tricks of the Trade for Elementary School Students
Talking to Kids About What Strong Readers Do
Archives – Posts
January 2015
December 2014
December 2013
October 2013
August 2013
January 2013
December 2012
August 2012
February 2012
January 2012
December 2011
November 2011
October 2011
September 2011
August 2011
February 2011
January 2011
December 2010
November 2010
October 2010
September 2010
August 2010
February 2010
January 2010
December 2009
Twitter Updates
@ haziethompson We love this store ... puppy does too~! 10 months ago
@ thbthttt amazing ... I never noticed this! Thanks for sharing! 10 months ago
@ montcrest Fan-tas-tic! 10 months ago
@ montcrest Such an outstanding programme! 10 months ago
@ MicheleMcGrat16 Such an outstanding programme! 10 months ago
Already have a WordPress.com account? Log in now.
Follow Following
Copy shortlink
Report this content
View post in Reader
Manage subscriptions
Collapse this bar
Games, topic printables & more
The 4 main speech types
Example speeches
Business Thank you
Commemorative
Declamation
Demonstration
Introduction
Maid of Honor
Student Council
Speech topics
Poems to read aloud
Speech planning
How to write a speech
How to prepare cue cards
Using props/visual aids
Acute anxiety help
Breathing exercises
Letting go - free e-course
Using self-hypnosis
Delivery overview
4 modes of delivery
How to read a speech
9 vocal aspects
Vocal variety
Diction/articulation
Pronunciation
Speaking rate
How to use pauses
Eye contact
Body language
Voice image
Voice health
Public speaking activities and games
About me/contact
How to write a good speech in 7 steps
By:  Susan Dugdale  | Last modified: 09-11-2022
- an easily followed format for writing a great speech
Did you know writing a speech doesn't have be an anxious, nail biting experience?
Unsure? Don't be.
You may have lived with the idea you were never good with words for a long time. Or perhaps giving speeches at school brought you out in cold sweats.
However learning how to write a speech is relatively straight forward when you learn to write out loud.
And that's the journey I am offering to take you on: step by step.
To learn quickly, go slow
Take all the time you need. This speech format has 7 steps, each building on the next.
Walk, rather than run, your way through all of them. Don't be tempted to rush. Familiarize yourself with the ideas. Try them out.
I know there are well-advertised short cuts and promises of 'write a speech in 5 minutes'. However in reality they only truly work for somebody who already has the basic foundations of speech writing in place.
The foundation of good speech writing 
These steps are the backbone of sound speech preparation. Learn and follow them well at the outset and yes, given more experience and practice you could probably flick something together quickly. Like any skill, the more it's used, the easier it gets.
In the meantime...
Step 1: Begin with a speech overview or outline
Are you in a hurry? Without time to read a whole page? Grab ... The Quick How to Write a Speech Checklist And come back to get the details later.
WHO you are writing your speech for (your target audience)
WHY you are preparing this speech. What's the main purpose of your speech? Is it to inform or tell your audience about something? To teach them a new skill or demonstrate something? To persuade or to entertain? (See 4 types of speeches: informative, demonstrative, persuasive and special occasion or entertaining for more.) What do you want them to think, feel or do as a result of listening the speech?
WHAT your speech is going to be about (its topic) - You'll want to have thought through your main points and have ranked them in order of importance. And have sorted the supporting research you need to make those points effectively.
HOW much time you have for your speech eg. 3 minutes, 5 minutes... The amount of time you've been allocated dictates how much content you need. If you're unsure check this page: how many words per minute in a speech: a quick reference guide . You'll find estimates of the number of words required for 1 - 10 minute speeches by slow, medium and fast talkers.
Use an outline
The best way to make sure you deliver a perfect speech is to start by carefully completing a speech outline covering the essentials: WHO, WHY, WHAT and HOW.
Beginning to write without thinking your speech through is a bit like heading off on a journey not knowing why you're traveling or where you're going to end up. You can find yourself lost in a deep, dark, murky muddle of ideas very quickly!
Pulling together a speech overview or outline is a much safer option. It's the map you'll follow to get where you want to go.
Get a blank speech outline template to complete
Click the link to find out a whole lot more about preparing a speech outline . ☺ You'll also find a free printable blank speech outline template.  I recommend using it!
Understanding speech construction
Before you begin to write, using your completed outline as a guide, let's briefly look at what you're aiming to prepare.
an opening or introduction
the body where the bulk of the information is given
and an ending (or summary).
Imagine your speech as a sandwich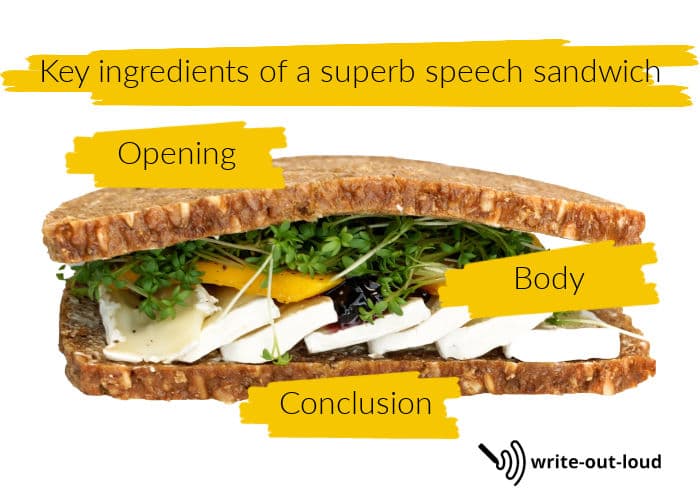 If you think of a speech as a sandwich you'll get the idea.
The opening and ending are the slices of bread holding the filling (the major points or the body of your speech) together.
You can build yourself a simple sandwich with one filling (one big idea) or you could go gourmet and add up to three or, even five. The choice is yours.
But whatever you choose to serve, as a good cook, you need to consider who is going to eat it! And that's your audience.
So let's find out who they are before we do anything else. 
Step 2: Know who you are talking to
Understanding your audience.
Did you know a  good speech is never written from the speaker's point of view?  ( If you need to know more about why check out this page on  building rapport .)
Begin with the most important idea/point on your outline.
Consider HOW you can explain (show, tell) that to your audience in the most effective way for them to easily understand it.   
Writing from the audience's point of view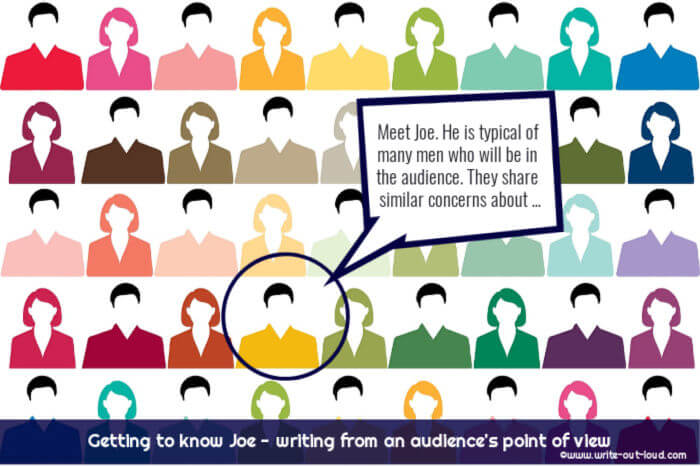 To help you write from an audience point of view, it's a good idea to identify either a real person or the type of person who is most likely to be listening to you.
Make sure you select someone who represents the "majority" of the people who will be in your audience. That is they are neither struggling to comprehend you at the bottom of your scale or light-years ahead at the top.
Now imagine they are sitting next to you eagerly waiting to hear what you're going to say. Give them a name, for example, Joe, to help make them real.
Ask yourself
How do I need to tailor my information to meet Joe's needs? For example, do you tell personal stories to illustrate your main points? Absolutely! Yes. This is a very powerful technique. (Click storytelling in speeches to find out more.)
What type or level of language is right for Joe as well as my topic? For example if I use jargon (activity, industry or profession specific vocabulary) will it be understood?
Step 3: Writing as you speak
Writing oral language.
Write down what you want to say about your first main point as if you were talking directly to Joe.
If it helps, say it all out loud before you write it down and/or record it.
Use the information below as a guide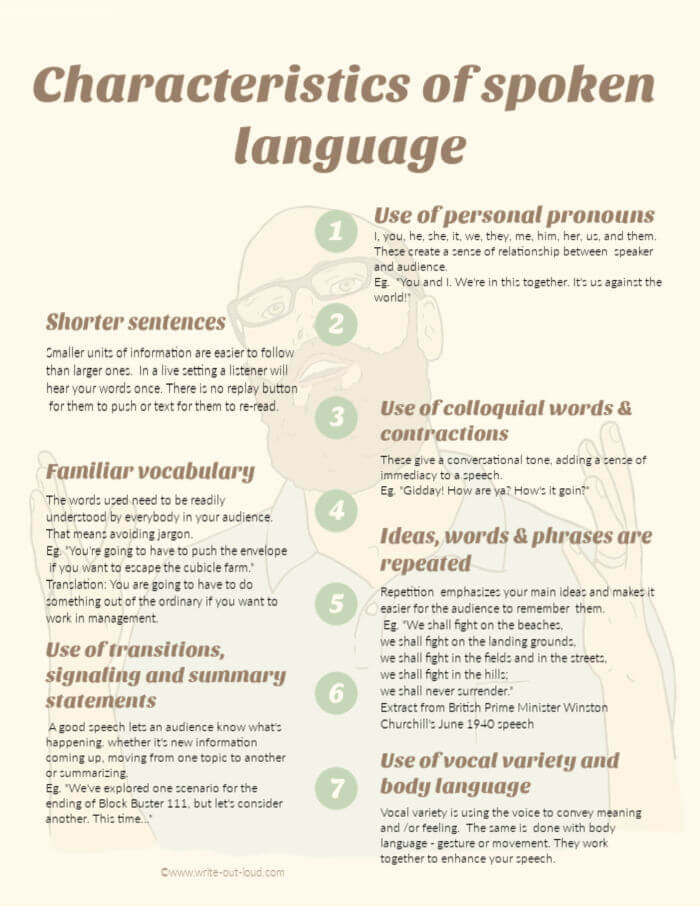 (Click to download The Characteristics of Spoken Language  as a pdf.) 
You do not have to write absolutely everything you're going to say down * but you do need to write down, or outline, the sequence of ideas to ensure they are logical and easily followed.
Remember too, to explain or illustrate your point with examples from your research. 
( * Tip: If this is your first speech the safety net of having everything written down could be just what you need. It's easier to recover from a patch of jitters when you have a word by word manuscript than if you have either none, or a bare outline. Your call!)
Step 4: Checking tone and language
The focus of this step is re-working what you've done in Step 2 and 3.
You identified who you were talking to (Step 2) and in Step 3, wrote up your first main point.  Is it right? Have you made yourself clear?  Check it.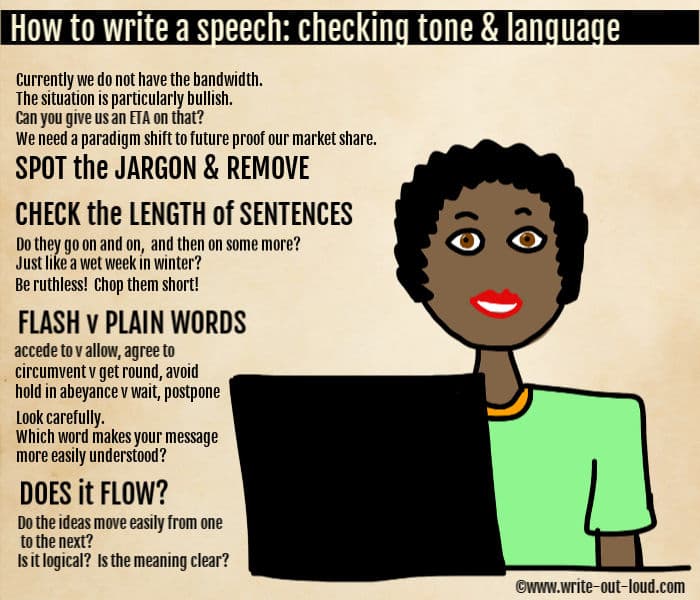 How well you complete this step depends on how well you understand the needs of the people who are going to listen to your speech.
Please do not assume because you know what you're talking about the person (Joe) you've chosen to represent your audience will too. Joe is not a mind-reader!
How to check what you've prepared
Check the "tone" of your language . Is it right for the occasion, subject matter and your audience?
Check the length of your sentences. You need short sentences. If they're too long or complicated you risk losing your listeners.
Check for jargon too. These are industry, activity or group exclusive words.
For instance take the phrase: authentic learning . This comes from teaching and refers to connecting lessons to the daily life of students. Authentic learning is learning that is relevant and meaningful for students. If you're not a teacher you may not understand the phrase.
The use of any vocabulary requiring insider knowledge needs to be thought through from the audience perspective. Jargon can close people out.
Read what you've written out loud. If it flows naturally, in a logical manner, continue the process with your next main idea. If it doesn't, rework.
We use whole sentences and part ones, and we mix them up with asides or appeals e.g. "Did you get that? Of course you did. Right...Let's move it along. I was saying ..."
Click for more about the differences between spoken and written language .
And now repeat the process
Repeat this process for the remainder of your main ideas.
Because you've done the first one carefully, the rest should follow fairly easily.
Step 5: Use transitions
Providing links or transitions between main ideas.
Between each of your main ideas you need to provide a bridge or pathway for your audience. The clearer the pathway or bridge, the easier it is for them to make the transition from one idea to the next.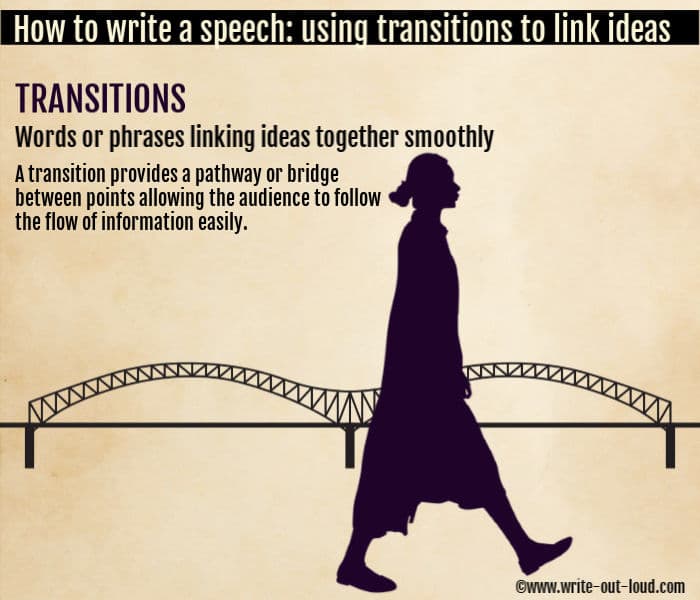 If your speech contains more than three main ideas and each is building on the last, then consider using a "catch-up" or summary as part of your transitions.
Is your speech being evaluated? Find out exactly what aspects you're being assessed on using this standard speech evaluation form
Link/transition examples
A link can be as simple as:
"We've explored one scenario for the ending of Block Buster 111, but let's consider another. This time..."
What follows this transition is the introduction of Main Idea Two.
Here's a summarizing link/transition example:
"We've ended Blockbuster 111 four ways so far. In the first, everybody died. In the second, everybody died BUT their ghosts remained to haunt the area. In the third, one villain died. His partner reformed and after a fight-out with the hero, they both strode off into the sunset, friends forever. In the fourth, the hero dies in a major battle but is reborn sometime in the future.
And now what about one more? What if nobody died? The fifth possibility..."
Go back through your main ideas checking the links. Remember Joe as you go. Try each transition or link out loud and really listen to yourself. Is it obvious? Easily followed?
Keep them if they are clear and concise.
For more about transitions (with examples) see Andrew Dlugan's excellent article, Speech Transitions: Magical words and Phrases .
Step 6: The end of your speech
The ideal ending is highly memorable . You want it to live on in the minds of your listeners long after your speech is finished. Often it combines a call to action with a summary of major points.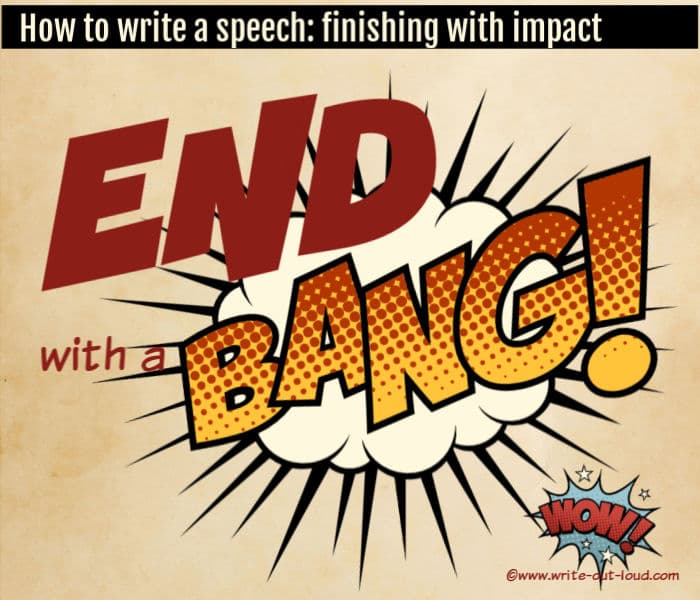 Example speech endings
Example 1: The desired outcome of a speech persuading people to vote for you in an upcoming election is that they get out there on voting day and do so. You can help that outcome along by calling them to register their support by signing a prepared pledge statement as they leave.
"We're agreed we want change. You can help us give it to you by signing this pledge statement as you leave. Be part of the change you want to see!
Example 2: The desired outcome is increased sales figures. The call to action is made urgent with the introduction of time specific incentives.
"You have three weeks from the time you leave this hall to make that dream family holiday in New Zealand yours. Can you do it? Will you do it? The kids will love it. Your wife will love it. Do it now!"
How to figure out the right call to action
A clue for working out what the most appropriate call to action might be, is to go back to your original purpose for giving the speech.
Was it to motivate or inspire?
Was it to persuade to a particular point of view?
Was it to share specialist information?
Was it to celebrate a person, a place, time or event?
Ask yourself what you want people to do as a result of having listened to your speech.
For more about ending speeches
Visit this page for more about how to end a speech effectively . You'll find two additional types of speech endings with examples.
Write and test
Write your ending and test it out loud. Try it out on a friend, or two. Is it good? Does it work?
Step 7: The introduction
Once you've got the filling (main ideas) the linking and the ending in place, it's time to focus on the introduction.
The introduction comes last as it's the most important part of your speech. This is the bit that either has people sitting up alert or slumped and waiting for you to end. It's the tone setter!
What makes a great speech opening?
Ideally you want an opening that makes listening to you the only thing the 'Joes' in the audience want to do.
You want them to forget they're hungry or that their chair is hard or that their bills need paying.
The way to do that is to capture their interest straight away. You do this with a "hook".
Hooks to catch your audience's attention
Hooks come in as many forms as there are speeches and audiences. Your task is work out what specific hook is needed to catch your audience.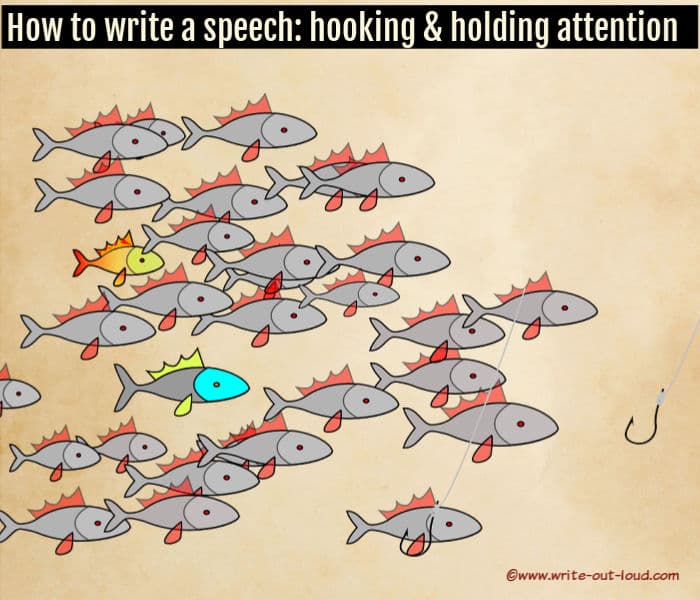 Go back to the purpose. Why are you giving this speech?
Once you have your answer, consider your call to action. What do you want the audience to do, and, or take away, as a result of listening to you?
Next think about the imaginary or real person you wrote for when you were focusing on your main ideas.
Choosing the best hook
Is it humor?
Would shock tactics work?
Is it a rhetorical question?
Is it formality or informality?
Is it an outline or overview of what you're going to cover, including the call to action?
Or is it a mix of all these elements?
A hook example
Here's an example from a fictional political speech. The speaker is lobbying for votes. His audience are predominately workers whose future's are not secure.
"How's your imagination this morning? Good? (Pause for response from audience) Great, I'm glad. Because we're going to put it to work starting right now.
I want you to see your future. What does it look like? Are you happy? Is everything as you want it to be? No? Let's change that. We could do it. And we could do it today.
At the end of this speech you're going to be given the opportunity to change your world, for a better one ...
No, I'm not a magician. Or a simpleton with big ideas and precious little commonsense. I'm an ordinary man, just like you. And I have a plan to share!"
And then our speaker is off into his main points supported by examples. The end, which he has already foreshadowed in his opening, is the call to vote for him.
Prepare several hooks
Experiment with several openings until you've found the one that serves your audience, your subject matter and your purpose best.
For many more examples of speech openings go to: how to write a speech introduction . You'll find 12 of the very best ways to start a speech.

That completes the initial seven steps towards writing your speech. If you've followed them all the way through, congratulations, you now have the text of your speech!
Although you might have the words, you're still a couple of steps away from being ready to deliver them. Both of them are essential if you want the very best outcome possible. They are below. Please take them.
Step 8: Checking content and timing
This step pulls everything together.
Check once, check twice, check three times & then once more!
Go through your speech really carefully.
On the first read through check you've got your main points in their correct order with supporting material, plus an effective introduction and ending.
On the second read through check the linking passages or transitions making sure they are clear and easily followed.
On the third reading check your sentence structure, language use and tone.
Double, triple check the timing
Now go though once more.
This time read it aloud slowly and time yourself.
If it's too long for the time allowance you've been given make the necessary cuts.
Start by looking at your examples rather than the main ideas themselves. If you've used several examples to illustrate one principal idea, cut the least important out.
Also look to see if you've repeated yourself unnecessarily or, gone off track. If it's not relevant, cut it.
Repeat the process, condensing until your speech fits the required length, preferably coming in just under your time limit.
You can also find out how approximately long it will take you to say the words you have by using this very handy words to minutes converter . It's an excellent tool, one I frequently use. While it can't give you a precise time, it does provide a reasonable estimate.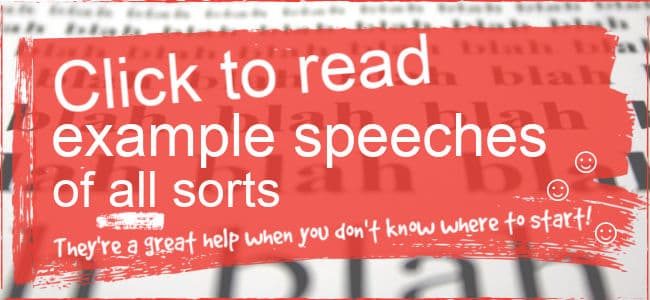 Step 9: Rehearsing your speech
And NOW you are finished with writing the speech, and are ready for REHEARSAL .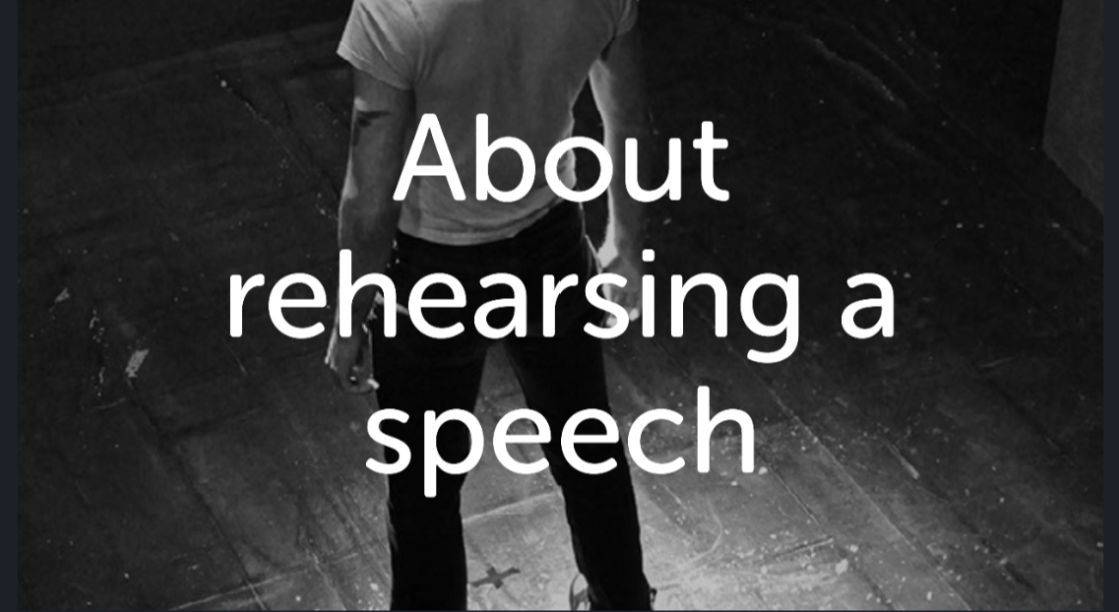 Please don't be tempted to skip this step. It is not an extra thrown in for good measure. It's essential.
The "not-so-secret" secret of successful speeches combines good writing with practice, practice and then, practicing some more.
Go to how to practice public speaking and you'll find rehearsal techniques and suggestions to boost your speech delivery from ordinary to extraordinary.
The Quick How to Write a Speech Checklist
Before you begin writing you need:.
Your speech OUTLINE with your main ideas ranked in the order you're going to present them. (If you haven't done one complete this 4 step sample speech outline . It will make the writing process much easier.)
Your RESEARCH
You also need to know WHO you're speaking to, the PURPOSE of the speech and HOW long you're speaking for
The basic format
the body where you present your main ideas
Split your time allowance so that you spend approximately 70% on the body and 15% each on the introduction and ending.
How to write the speech
Write your main ideas out incorporating your examples and research
Link them together making sure each flows in a smooth, logical progression
Write your ending, summarizing your main ideas briefly and end with a call for action
Write your introduction considering the 'hook' you're going to use to get your audience listening
An often quoted saying to explain the process is: Tell them what you're going to tell them (Introduction) Tell them (Body of your speech - the main ideas plus examples) Tell them what you told them (The ending)
TEST before presenting. Read aloud several times to check the flow of material, the suitability of language and the timing.

speaking out loud 
Subscribe for  FREE alerts about what's new! For more information, click  here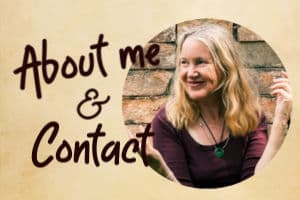 Top 10 popular pages
Welcome speech
Demonstration speech topics
Impromptu speech topic cards
Thank you quotes
Impromptu public speaking topics
Farewell speeches
Phrases for welcome speeches
Student council speeches
Free sample eulogies
From fear to fun in 28 ways
A complete one stop resource to scuttle fear in the best of all possible ways - with laughter.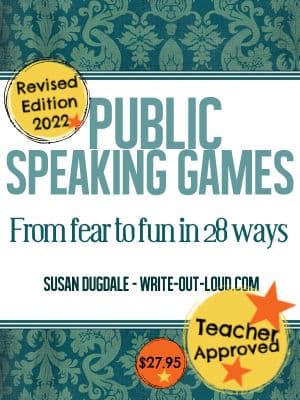 Useful pages
Search this site
About me & Contact
Blogging Aloud
Free e-course
Privacy policy
©Copyright 2006-22 www.write-out-loud.com
Designed and built by Clickstream Designs
Grade 5/6 Oral Speech Kit
Related documents.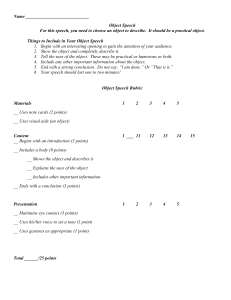 Add this document to collection(s)
You can add this document to your study collection(s)
Add this document to saved
You can add this document to your saved list
Suggest us how to improve StudyLib
(For complaints, use another form )
Input it if you want to receive answer
Speech Topics For Kids
How To Write A Speech

How to Write a Speech: A Guide to Enhance Your Writing Skills
Speech is a medium to convey a message to the world. It is a way of expressing your views on a topic or a way to showcase your strong opposition to a particular idea. To deliver an effective speech, you need a strong and commanding voice, but more important than that is what you say. Spending time in preparing a speech is as vital as presenting it well to your audience.
Read the article to learn what all you need to include in a speech and how to structure it.
Table of Contents
The Opening Statement
Structuring the speech, choice of words, authenticity, writing in 1st person, tips to write a speech, frequently asked questions on speech, how to write a speech.
Writing a speech on any particular topic requires a lot of research. It also has to be structured well in order to properly get the message across to the target audience. If you have ever listened to famous orators, you would have noticed the kind of details they include when speaking about a particular topic, how they present it and how their speeches motivate and instill courage in people to work towards an individual or shared goal. Learning how to write such effective speeches can be done with a little guidance. So, here are a few points you can keep in mind when writing a speech on your own. Go through each of them carefully and follow them meticulously.
Self Introduction
When you are writing or delivering a speech, the very first thing you need to do is introduce yourself. When you are delivering a speech for a particular occasion, there might be a master of ceremony who might introduce you and invite you to share your thoughts. Whatever be the case, always remember to say one or two sentences about who you are and what you intend to do.
Introductions can change according to the nature of your target audience. It can be either formal or informal based on the audience you are addressing. Here are a few examples.
Addressing Friends/Classmates/Peers
Hello everyone! I am ________. I am here to share my views on _________.
Good morning friends. I, _________, am here to talk to you about _________.
Addressing Teachers/Higher Authorities
Good morning/afternoon/evening. Before I start, I would like to thank _______ for giving me an opportunity to share my thoughts about ________ here today.
A good day to all. I, __________, on behalf of _________, am standing here today to voice out my thoughts on _________.
It is said that the first seven seconds is all that a human brain requires to decide whether or not to focus on something. So, it is evident that a catchy opening statement is the factor that will impact your audience. Writing a speech does require a lot of research, and structuring it in an interesting, informative and coherent manner is something that should be done with utmost care.
When given a topic to speak on, the first thing you can do is brainstorm ideas and pen down all that comes to your mind. This will help you understand what aspect of the topic you want to focus on. With that in mind, you can start drafting your speech.
An opening statement can be anything that is relevant to the topic. Use words smartly to create an impression and grab the attention of your audience. A few ideas on framing opening statements are given below. Take a look.
Asking an Engaging Question
Starting your speech by asking the audience a question can get their attention. It creates an interest and curiosity in the audience and makes them think about the question. This way, you would have already got their minds ready to listen and think.
Fact or a Surprising Statement
Surprising the audience with an interesting fact or a statement can draw the attention of the audience. It can even be a joke; just make sure it is relevant. A good laugh would wake up their minds and they would want to listen to what you are going to say next.
After you have found your topic to work on, look for a quote that best suits your topic. The quote can be one said by some famous personality or even from stories, movies or series. As long as it suits your topic and is appropriate to the target audience, use them confidently.  Again, finding a quote that is well-known or has scope for deep thought will be your success factor.
To structure your speech easily, it is advisable to break it into three parts or three sections – an introduction, body and conclusion.
Introduction: Introduce the topic and your views on the topic briefly.
Body: Give a detailed explanation of your topic. Your focus should be to inform and educate your audience on the said topic.
Conclusion:  Voice out your thoughts/suggestions. Your intention here should be to make them think/act.
While delivering or writing a speech, it is essential to keep an eye on the language you are using. Choose the right kind of words. The person has the liberty to express their views in support or against the topic; just be sure to provide enough evidence to prove the discussed points. See to it that you use short and precise sentences. Your choice of words and what you emphasise on will decide the effect of the speech on the audience.
When writing a speech, make sure to,
Avoid long, confusing sentences.
Check the spelling, sentence structure and grammar.
Not use contradictory words or statements that might cause any sort of issues.
Anything authentic will appeal to the audience, so including anecdotes, personal experiences and thoughts will help you build a good rapport with your audience. The only thing you need to take care is to not let yourself be carried away in the moment. Speak only what is necessary.
Using the 1st person point of view in a speech is believed to be more effective than a third person point of view. Just be careful not to make it too subjective and sway away from the topic.
Understand the purpose of your speech: Before writing the speech, you must understand the topic and the purpose behind it. Reason out and evaluate if the speech has to be inspiring, entertaining or purely informative.
Identify your audience: When writing or delivering a speech, your audience play the major role. Unless you know who your target audience is, you will not be able to draft a good and appropriate speech.
Decide the length of the speech: Whatever be the topic, make sure you keep it short and to the point. Making a speech longer than it needs to be will only make it monotonous and boring.
Revising and practicing the speech: After writing, it is essential to revise and recheck as there might be minor errors which you might have missed. Edit and revise until you are sure you have it right. Practise as much as required so you do not stammer in front of your audience.
Mention your takeaways at the end of the speech: Takeaways are the points which have been majorly emphasised on and can bring a change. Be sure to always have a thought or idea that your audience can reflect upon at the end of your speech.
How to write a speech?
Writing a speech is basically about collecting, summarising and structuring your points on a given topic. Do a proper research, prepare multiple drafts, edit and revise until you are sure of the content.
Why is it important to introduce ourselves?
It is essential to introduce yourself while writing a speech, so that your audience or the readers know who the speaker is and understand where you come from. This will, in turn, help them connect with you and your thoughts.
Leave a Comment Cancel reply
Your Mobile number and Email id will not be published. Required fields are marked *
Request OTP on Voice Call
Post Comment

Register with BYJU'S & Download Free PDFs