How to Write Your Book by Dictation
Do you want to write faster? What if you could write 3,000 words in an hour? Let me introduce you to the magic of writing your novel by dictation! Now you can step away from your laptop and write your book in the car, on a walk, wherever. This is my new favorite writing tip.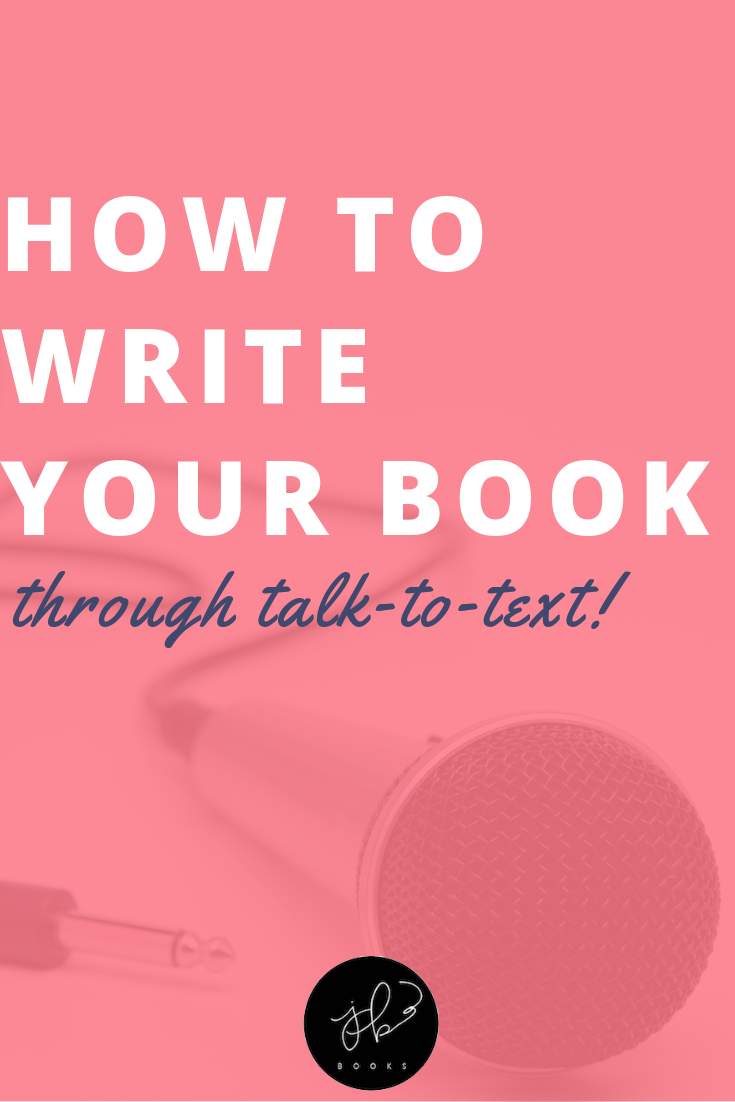 Making the Shift to Writing by Dictation
You're busy and writing takes a lot of time. However, what if I told you that you could write your book & while saving so much time? We are a multi-tasking generation. We are always on the go and it's not everyday that we can set aside hours to type on our laptops.
With a full-time job and a full-time life, I am always searching for a way to write more in less time. My favorite writing method is by hand. While this is not a big timesaver, it helps me stay distraction-free and creative. Read more about that at this post .
Enter talk-to-text. I spend a lot of time in the car and I find that my creativity runs wild there. (Anybody else?) I found myself wishing there was a way I could write behind the wheel. Then I listened to Danielle Norman's episode on The Self Publishing Formula podcast .
My Best Dictation Tips
Don't read as you write/speak.
Here's the deal. Writing a book by speaking it out loud is a totally different experience. First, there's the issue of having to speak your punctuation. When I first tried this, I watched as my phone misinterpreted my words and ignored my direction. It was slowing me down, instead of making me faster.
Instead, I learned that I could not watch as I spoke. I no longer try to include punctuation. I just try to get the words on the page. The only command I use is next line to break up the text.
Use This Method as a First Draft Tool
When you are writing a first draft, you can expect for it to be messy. Your only job is to get the words on the page. Dictation is the best tool for writing a first draft. You just keep talking, even when you get stuck. You're finding your way through your story. If you want more drafting advice, read this post .
Act Out Your Dialogue
Maybe this is just the actress in me, but speaking your draft out loud is the perfect opportunity to make your dialogue authentic. It is also a great change to work on your characters' voices, literally! With the rise of audiobooks, it is more important than ever to make your dialogue sound real. This is perfect preparation for that!
The Best Dictation Tools
There are plenty of options for dictation. Here's a list of them for you:
Siri + Notes App
Keep it simple! Personally, I am not a big fan of the notes app, but it's a good stater option.
Google Docs Voice Typing
I love Google Docs, especially how I can switch from voice typing to regular typing in the same document.
Dragon Anywhere
This is the leading software in dictation and it has the reputation of being one of the most accurate dictation software programs. There is a cost associated with it, though.
Evernote Voice Typing
This is my dictation program of choice! I am a huge fan of Evernote. (You can see it listed on my favorites list .) I find the dictation to be accurate and it transfers from phone to laptop seamlessly.
Is Dictation Right for You?
Wondering if you should try this tactic? My vote is yes! If you are a busy writer looking for balance, then this is worth the experiment. Even if you have an established writing routine, this technique can help you get more words on the page. For me, instead of 1,000 word in thirty-forty minutes, I was able to write 3,000 in an hour.
Have you tried writing your book using dictation before? Leave your answer in the comments!
Jenny Bravo
Personal Development
Sales Training
Business Training
Time Management
Leadership Training
Book Writing
Public Speaking
Live Speaker Training With Brian
See Brian Speak
Coaching Programs
Become a Coach
Personal Success
Sales Success
Business Success
Leadership Success
How to Write a Book: The Ultimate Guide
We all have a great book idea burning inside of us.
In fact, most of us dream about learning how to write a book .
We imagine how writing a bestseller will change our lives. How it will advance our careers. How it will make us an authority on a topic we enjoy.
A 2021 poll conducted for National Novel Writing Month showed that 54% of people would love to write a book about their own life story. But, only 15% have been able to get started and still more struggle to finish.
The truth is many of us don't actually make it to the writing phase.
The epic ideas, thoughts, and stories we wish to tell don't come to fruition because of the inability to act on this dream.
This inability to act can manifest as writer's block , but could also be more deeply rooted in limiting beliefs having to do with readiness or imposter syndrome.
As a New York Times bestselling author with numerous published books, I understand how hard it can be to overcome to take that first step to start writing .
Table of Contents
Find Your Why: Reasons To Write Your Book
Set Up Your Writing Space
Dedicate the time to be a better writer, get to know your target audience, choose the right book topic, know how to make your book a bestseller, create a book outline to begin the writing process, dedicate extra time to working on your book title, learn how to fight writer's block, create your first draft, edit your book, publish your book, write your next book, start writing your book today.
I also know that you can accomplish anything you set your mind to. When you know how to write a book and have the right tools and support to get through the book writing process, your dreams of writing your first book can come true.
Use the following book writing and publishing guide of the 12 most important steps you can take to plan, produce, and launch your own book.
Find Your Why: Reasons to Write Your Book
If you have a great idea of what to write about for a book, you should write it. It's as simple as that.
Not only are you doing your future readers a disservice by not sharing your creation, but you are also holding yourself back from reaching your full potential.
You will stay motivated through the writing process as you remind yourself of the reason you are writing a book. What is your why?
Here are just four of my favorite reasons why you should write your first book and how writing will change your life in ways you never even imagined:
Writing a book provides a great opportunity to share something meaningful with you.
Writing a book is a way to help others improve their lives.
Writing a book is one of the best ways to gain lasting credibility.
Writing a book helps you discover who you are and ignite your passions.
This sounds simple enough, right? So then the real question becomes, "why don't more people start writing?"
This is a tough question to answer, but I believe much of it has to do with direction…or lack of it.
For most people, writing and publishing a book may seem like an insurmountable task. Figuring out how to stay motivated when writing your book can be challenging, especially if you do not have the right processes and guides in place.
However, just like any other seemingly insurmountable task, the journey from start to finish is best handled one step at a time. Through regular, focused writing practice, you can begin to put pen to paper to compile your piece with a step-by-step process, one page at a time.
One of the most important steps to how to write a book begins before you put any words on paper. Take the time to set up a proper writing space so each writing session can be productive.
As you create a dedicated writing space, your goal is to minimize distractions and maximize inspiration.
If you have a spare room, turn it into your dedicated writing space. If you do not, find a space that is comfortable and as free of distractions as possible.
Some successful writers prefer writing in public spaces like coffee shops, libraries, or parks. The white noise of coffee shops can keep your mind focused on your writing. Writing your book in a library can prevent you from the distractions of your cell phone or being at home. An outdoor area not only gives you healthy natural sunlight but being among nature can also be inspiring.
The best writing location for you is a personal choice, and it does not always have to be the same place if you find you need a break from your normal writing environment.
If you are setting up your dedicated writing space at home, add a desk and supportive chair. A sit-stand desk and an ergonomic chair can counter the effects of sitting for long periods of time and invite you to your writing space.
Small touches like adding plants help you create an inspiring writing environment. Add your favorite artwork, photographs, or books, but keep it simple. You want each of your writing sessions to be productive and free of distractions.
Many successful writers prefer writing at a computer while others always start with pen and paper. You might begin writing in your notebook at a coffee shop and transfer your notes to your laptop. If you are more productive spending all of your writing time at a keyboard, do so.
Book writing software can help you streamline the writing process. It cuts down your writing time with helpful tools like spell checkers, auto-save, grammar tools, plagiarism checkers, and ways to organize your chapters.
Some book writing software has built-in productivity features that help you stay free of distractions. Others can help you publish your book. If you decide to use book writing software, choose one that is user-friendly and meets your needs.
The next step to how to write a book is to set aside time to develop your writing skills.
Writers come from all walks of life, and some of the most successful authors in the world often lived half their life with no real intention of ever writing a book.
Although there is no set formula for how to be a good writer, the difference between average writers and good writers comes down to the way they approach their craft.
Being a good writer requires you to write often, read more, and polish your writing skills
Write Often
Great writing stems from consistency and regularity. If you can establish a daily writing routine with regular writing sessions, you will be well on your way to making significant strides toward finishing your book.
The best way to get started is to find a structure that works for you.
First, set the scene.
Set up your writing space where you will be able to do your best work, whether that is in your home office, a corner of the living room, your local coffee shop, a coworking space, or your back porch.
Second, choose an ideal time to write. If you have the most unstructured time available to you in the early morning, perhaps that timeframe could be devoted to your craft.
On the flip side, if the idea of putting pen to paper before winding down for the evening seems more appealing, an evening writing schedule might be more suitable.
And, last but not least, set a goal for how much actual writing you'd like to accomplish every day.
It doesn't have to be a lot. You might also aim to give yourself a target word count to hit, perhaps something between 250-500 words.
Regardless of the structure, you create, make sure that it provides you with the most freedom and flexibility to succeed at writing more often.
The fuel for writing books comes largely from reading good books.
Whether you love horror or hate it, Stephen King is widely recognized as one of the most successful authors in the genre.
With almost 70 novels and hundreds of short stories under his belt, King has built a life on the foundation of sharing spooky stories that have captivated millions.
In his book, On Writing: A Memoir of the Craft , King describes his writing process and offers tips for aspiring novelists. One of the biggest pieces of often-overlooked wisdom he offers focuses on the importance of being an avid reader in order to be a sensational writer.
On this topic, he says, "Can I be blunt on this subject? If you don't have time to read, you don't have the time (or the tools) to write. Simple as that."
I honestly couldn't have said it better myself.
But, if you don't want to take King's word for it, here are some other reasons why reading more makes you a better writer:
It is a learning opportunity to study the works of other professional writers in the same field.
The more styles of writing you read, the more you'll be able to recognize and borrow certain strategies and weave them into your own writing process.
It can help you source ideas for different languages and vocabulary to use.
It can help you fine-tune your own unique writing style and voice.
And as a final note, walking a mile in a reader's shoes can also help you feel more connected with your audience.
If you invest your time in reading more of your genre, you will begin to understand firsthand what motivates readers to continue reading.
You'll discover the answers to questions like:
What answers are they searching for?
What problems do they hope to resolve by the end of the book?
How do specific sections of the story mirror pieces of their own life?
What makes the information or the characters so relatable?
Take a Writing Class
While you certainly do not need a degree to be a professional writer, learning good writing skills and how to make best use of writing tools will help you tremendously to learn how to write a book.
Whether you are writing fiction or writing nonfiction–or even just starting out with a blog post or short article–learning the tools of the trade will boost your writing career.
And this is not just my opinion. Studies show that being a good writer depends on repeated practice.
Many writing classes are available online for free, so it is easy to fit them into your schedule.
Taking the time to learn effective writing skills will not only help you strengthen your writing muscles, but you will also gain a community of other writers that can inspire you with fresh ideas.
To be a successful writer, choose a story to tell and learn how and who to tell it to.
First, you need to identify what story you will tell. A lot of great book ideas come from brainstorming what you are interested in. Make a list of things you enjoy doing, things you know how to do, topics you are an authority on or at least know a lot, and things people come to you for advice or help with.
Once you've decided on your topic, knowing how to write a book that will reach the people you want to read it depends on getting to know your target audience.
It is important to understand your audience in order to continue to successfully create new pieces of your work they can't wait to get their hands on.
This is perhaps the most important step in the process of how to write a book. Because when you write, the book is never about you. It's about what you can share with the audience you wish to serve.
To determine your target audience, it is first important to consider:
Which genre you'd like to write for
Which books within that genre you'd like to be compared to
Who your ideal reader might be
Once you've determined your unique answers to these questions, you can begin sourcing information from people within your network.
There is a chance that your personal or professional network could be very closely aligned with the audience you wish to reach. You could even begin with this audience and expand or revise it as you continue to edit and change portions of your soon-to-be bestseller.
All in all, it is a writer's job to get to know their audience. It takes work, but all of that work is what will make your book great.
My next how-to write a book guideline is to choose your topic wisely.
Once you have committed to being a better writer and have identified your target audience, now it's time to choose an appropriate topic or a story for the audience you've selected.
It is critical that the topic be unique enough to set your book apart but general enough to appeal to a wider group of people that still fall within the same umbrella as your audience.
Take the idea of writing a book on social media marketing, for example. It's general enough for your audience to understand, but you need to pitch it from a different perspective.
Perhaps your book could be focused on a specific theory on why you should only post to social media on Tuesdays. Now, this is a very unique train of thought, so if you choose this route, be sure that you can back up your ideas in grounded evidence as to why you believe this…but you get my point.
And most importantly, choosing the right book topic for your audience is meaningless unless you are passionate about the topic yourself.
Not only is it much easier and more natural to write a book about something you actively believe in, but it is also more entertaining for your reader because they'll be able to feel your level of involvement and interest in the topic just by scanning a couple of sentences.
Simply put, your audience won't believe what you're saying unless you believe it first.
Along with choosing the right topic that you are passionate about and will keep your reader's interest, knowing how to write a book also involves understanding key concepts that turn good books into bestsellers.
Network With Other Published Authors
Since fellow writers have been through the process of taking a book from ideation to creation numerous times, they are a wealth of knowledge and can offer you expert guidance and tips about any step in the writing process and publishing process.
Assuming they are a talented, successful writer, this is almost always a good thing and will put you on track to becoming a bestseller yourself.
Plus, reading and familiarizing yourself with the works of other bestselling authors that you look up to is one of the best ways to develop your writing skills.
By getting to know the works of authors in your own genre, you'll develop a knack for understanding different successful writing formulas and be able to begin piecing together engaging stories that readers cannot wait to get their hands on.
On top of that, you'll also begin to recognize stylistic patterns that specific authors use to define their work and stand out from the crowd.
Best case scenario, you will pick up some of their writing tips and tricks to use in your own works. Worst case scenario, you may be struck with some additional inspiration on how to approach and alter your own writing techniques and style choices.
Either way, you can't lose.
The more people who know about your book, the greater chances it has of becoming a bestseller. The word will spread when readers find a good book, but there are also things you can do to bring attention to your book.
The best way to get the word out about the great work you have created – or are in the process of creating – is to network with other seasoned authors.
Determine What Bestseller List You Want To Be On
So, you want to be a bestseller. But do you know what kind of bestseller do you want to be?
For example, do you see yourself topping the digital charts on Amazon? What about clinching the top spot on the New York Times list? Or perhaps sitting pretty high up the book list that is put out by the Wall Street Journal?
There are so many bestseller lists that it is impossible to track how many there are. To make matters more confusing, each one also has different criteria for determining which books make the cut and which do not.
Some bestseller lists measure the number of sales of a certain book over a specific period of time, while others are curated by a certain group of people responsible for choosing which titles should make their list.
In any case, if you are trying to be recognized as a bestseller, you should come into the process of book writing with an idea of which list you'd like to be on. From there, you can perform research to better understand the qualifications you will need to meet to be considered for a ranking.
Other Bestseller Considerations
While the above considerations should be the main priority when thinking about ways to make any bestseller list when writing a book, you'll also want to keep a few other things in the back of your mind while creating.
One of those things is the quality of your writing. To make a book a bestseller, it is essential that your writing is both clear and captivating so your readers do not lose interest. While the story you tell is certainly important, so is the way you tell it.
Your prose doesn't necessarily have to sing like Shakespeare's, but it does need to be polished enough that people thoroughly enjoy reading what you write.
You'll also want to take a look at your marketing strategy. Is there anything you could change in order to get more eyes on your work?
Consider what places your audience usually shops for books of this nature, if your potential buyers are on social media or if they prefer to see most of their ads via billboards, fliers, or in a newspaper.
A successful journey starts with a good road map. A bestselling book begins with turning a good book idea into an outline you can follow before the actual writing begins.
Finding a way to organize all of your thoughts at the front end of writing a book will guarantee your success later. This sounds like a tedious step, but trust me, knowing how to write a book outline can make or break the direction you take your piece or how much time it will take you to complete.
A book outline is essentially a map that guides authors to the end of their book-writing journey as smoothly and seamlessly as possible. A good outline should help set the stage, organize the scenes, and clarify how the entire story or message comes together. It also will eventually form the table of contents for your book.
How much planning you end up doing is largely up to you. Some authors prefer to have a detailed outline that is well fleshed out from start to finish while others create a basic outline, preferring instead to let the book unfold as they write it but having the foundational structure in place.
Regardless of the outline you choose to create, once you build your outline piece by piece, you will then be ready to write your book page by page, and, eventually, you'll progress from one sentence to your first drafts to a finished product ready for publication.
How to write a book outline is slightly different when your write fiction versus writing a nonfiction book. Here are some guidelines to follow:
Writing fiction
When you write a book on a fictional topic, your outline helps you plan out your characters, scenes, setting, plot, climax, and more. You can approach writing your novel outline in many different ways, but whichever approach you choose, include these essential elements:
Craft your premise by writing a one-paragraph summary of what the novel will be about.
Decide on the setting of your book and do your research so your writing will be accurate.
Determine who your characters are and write detailed profiles about what they look like, who they are, what they are interested in, and what their personality traits are.
Lay out your plot by creating a timeline of events that includes the beginning, middle, and end of your story.
Add pivotal scenes into your plot so you will know what needs to happen where. You might add these as you go along as well when the inspiration hits you, including dialogue and other details.
Writing non-fiction
Writing an outline for your non-fiction book involves identifying the purpose of your book and writing down the main ideas, principles, and concepts you want to convey. Nonfiction writers include these elements in their book outlines:
Identify the main idea or purpose of your book. What problem are you trying to solve that the reader has or what do you want them to know or do?
Create a structure for your book that will lead to the solution to the problem. You might need to set up background information first, for instance, or you might outline a step-by-step process. This structure will lend itself to forming chapters after you start writing, or you can include your chapters in your outline.
Revise as needed.
The purpose of your outline is not to write an entire manuscript but to create a structure you can follow to get from your big idea to an entire first draft, all while heading in the right direction that will keep your reader's attention.
When you pour your heart and soul into writing a book, you want people to read it. Often the first impression readers get of your book is its title. You want to craft a title that will encourage someone to open the cover and read the entire book.
Assume 80% of people will read your title, while only 20% will end up reading your book. That means you should spend extra time working on an emotional and impactful title.
You might have a great title for your book long before your write your rough draft, or you might until you finish writing or are even in the editing process.
Regardless, aim for a title that grabs attention, is easy to say, gives an idea of what the book is about, and is memorable.
Make a list of 20 or so book ideas. If you are writing a book that is fictional, think of the names of your characters, places, memorable phrases, and plot twists in your book for inspiration.
For your nonfiction book title, think of your target audience's pain points and how you are solving them. Unlike fictional book titles that can be more inventive and imaginative, the title for your non-fiction book should give the reader a clear idea of what the book is about.
While it is usually not against copyright laws for your book to have the same title as another book, you want to avoid this for confusion, especially with popular titles. You can do this with a deep search on the internet. Book titles can be trademarked, however, such as Chicken Soup for the Soul and the Dummies series.
Check the database of the US Patent and Trademark Office online to ensure your book title has not already been trademarked.
Consider adding a subtitle as well. This can help your title stand out by allowing for a short title, but clarifying with a longer subtitle.
Nearly anyone who tries to write a book knows that writer's block can hit and put up a roadblock to your progress.
Writer's block can sometimes come from self-doubt. You might stop writing because you fear no one will want to read your story. That is simply not true. Write it anyway, you have something important to say and there are people who need to hear it.
You might also get writer's block from not hitting your daily word count goal or being overwhelmed with how many words need to be written to complete your first draft.
Don't allow discouragement to keep you from doing a great thing. Everything worth doing takes time and effort. Renew your motivation by taking a break, reading motivational quotes, or talking to a trusted, inspirational friend or family member.
You might also lose interest in your book idea. If this happens, whether after just writing the first few pages or deep into your book, you may need to revise your approach.
First, be sure what you are writing about is interesting to you. If not, it will be very difficult to stay motivated when writing a book . Second, determine if there are parts of your outline that should be omitted. If you are bored writing it, chances are your readers will be too.
Head over to my blog post for more tips on overcoming writer's block .
Use your outline to craft your first draft. Don't worry about how perfect it is or if you are including everything you need.
As you get into the writing habit, you will find you are inspired with ideas you may want to insert into an earlier or later part of your story. That is what a first draft is for, to allow your book to be a living, thinking, changing document.
Use your personal writing voice for your book. Do not try to write like other authors, although you can learn from their good writing habits as well. But make sure your first draft captures who you are and what you want to convey. Chances are this will not be your only book. You will want your voice to emanate from and be recognizable to your readership.
When you feel you have written the particular story you want to convey in your first draft, you will then focus on editing and revising.
When I write a book, I write quickly and leave the editing process for later. This strategy has helped turn my book ideas into over 70 books.
My motto is to write feverishly and edit meticulously.
When you get into your writing routine and first start writing a new page or a new chapter, it should come as an uninterrupted flow of conscience.
Don't worry about how good it sounds or how many mistakes there are – simply write. Write feverishly until that page or chapter or whatever section you are working on is done. This is also a good way to combat writer's block .
Later, you can go back and carefully edit your work, pruning away unnecessary content, polishing your writing, and weeding out mistakes. In the beginning, though, it's getting your thoughts onto paper into a rough draft that is the most important.
Self-editing, hiring an editor, or combining both processes are options to you.
It's always best to review your work yourself first, to ensure you have addressed all of the ideas you want. If you continue solely with self-editing, use one or more of the many writing tools available to you. These will help you catch spelling, grammar, and technical errors, and some can give you advice on voice and tone.
You can also hire a professional editor to make sure your entire book is polished from cover to cover. This is especially helpful when you are self-publishing.
Learning how to write a book will turn your big idea into a bestseller. Once you finish writing, it is time to get it in front of your readers.
In the past, publishing a book meant convincing publishing companies to look at your work and like it enough to publish it under their name.
Of course, this is much easier said than done, and even the world's most successful authors, such as J.K. Rowling, Dr. Seuss, and Luisa May Alcott had to deal with countless rejections and years of waiting before they were able to finally publish their book.
In many ways, though, this process is a thing of the past. Today you can self-publish, work with a publishing company, or use a publishing service like Amazon.
Self-Publishing
Self-publishing is the practice of publishing a book without the help of a traditional publishing company. Choosing this option might sound challenging, but in fact, there are a variety of convenient options that make publishing a book quick and easy.
You can pay for and arrange all aspects of the publishing process on your own, or work with a company that handles some of these tasks for you. Just note that if you work with a non-traditional self-publishing company, you may need to pay for specific services or turn over some rights to your book.
Self-publishing is often the more affordable option for those who are focused on the financial aspect of bringing a book into the world.
The process of self-publishing a book is actually quite simple, and, if you take the time to do it right, the results can be just as effective and spectacular as any book published by one of the major publishing companies.
Publishing Companies
A publishing company is an entity that is responsible for handling the printing, distribution, and storage of an author's book.
Within the publishing company, there is typically a publisher who is tasked with finding books that are likely to sell well. They act as the direct line of communication between the author and the publishing company and are responsible for creating contracts with authors they would like to sign.
Once a publisher has signed a contract with an author, the publisher will move forward with the process of printing the book and preparing it for sale.
There are two specific kinds of publishing companies that an author could consider – traditional book publishing companies and self-publishing book companies. Each operates in a different way and offers aspiring authors their own unique set of processes, services, and contracts for the work they are seeking to publish.
Traditional Book Publishing Companies
Traditional book publishing companies have been around for years. They used to be the sole gatekeepers that one would need to impress in order to get a book published. The process involved pitching your creative work to a company or publisher who would then make a final decision on whether or not to take a chance on your book.
Oftentimes, this process was long and tedious, and the author might have to pitch to multiple companies in order to get their book in front of their audience.
Though times have changed, and some of these companies have adapted well to the digital age, their essential roles remain the same.
Some of today's most well-known traditional book publishing companies include Hachette, HarperCollins, Macmillan, Penguin Random House, and Simon & Schuster.
Self-Publishing Companies
Self-publishing companies are less established and take a different approach to the publishing process than traditional publishing companies.
Their primary role is to assist authors with the process of publishing books independently. These companies help with printing or digital preparation, as well as the distribution of works.
Some of the best self-publishing companies include Kindle Direct Publishing, Kobo, and Xlibris. However, a number of other options are also available.
How to Publish a Book on Amazon
The benefits of Amazon's book publishing platform have appealed to many authors in recent years.
Amazon's self-publishing has made it incredibly easy for anyone to market their book on the largest book-selling platform in the world. Through the variety of services that Amazon offers, you can publish your fiction or nonfiction book in digital, print, and even audio format.
Really, the only parts of the process that Amazon doesn't have a hand in are your book cover design and formatting, although it does have a built-in cover creator.
A few standout perks that set Amazon's publishing platform apart from the competitors are:
The ability to easily reach millions of readers
A free way to publish e-books and paperbacks
A quick and efficient way to publish books in only a few days
Self-publish vs. contract with a traditional publishing company
Now that you've written and published your first book, why not do it again?
Learning how to write a book makes writing the next book even easier.
Note what worked well in your first draft and throughout the whole process and what needs improvement.
Once you start getting book reviews, it is also very helpful to read these. While some reviewers will not give constructive criticism, the majority of readers will give honest and helpful reviews.
Use their words to analyze what your target audience is looking for. If them mention something they wish your book had, see if you can provide that in your next book. Try also to incorporate the positive things they raved about your first book. It is all about finding needs and meeting them.
My final piece of advice for your book-writing journey is to tell you to go for it!
The main difference between those who are published authors and those who are not is that published authors actually followed through with their dreams, taking it one sentence at a time using a proven book writing strategy.
If you can do that, you're on the verge of seeing your name on the front of a bestselling book. For step-by-step guidance on how to bring your bestselling book to life, check out my Book Writing Template .
« Previous Post The Best Inspirational Quotes To Keep You Motivated For Success In Life Next Post » Subconscious Mind Power Explained
About Brian Tracy — Brian is recognized as the top sales training and personal success authority in the world today. He has authored more than 60 books and has produced more than 500 audio and video learning programs on sales, management, business success and personal development, including worldwide bestseller The Psychology of Achievement. Brian's goal is to help you achieve your personal and business goals faster and easier than you ever imagined. You can follow him on Twitter , Facebook , Pinterest , Linkedin and Youtube .
Most Recent
Business Growth Strategies That Work
Personal Power: The Superpower of Leadership
The Secret to Finding Balance In Your Life
The Qualities Of A Successful Entrepreneur
How To Become A Millionaire: A Step By Step Guide
The Best Inspirational Quotes To Keep You Motivated For Success In Life
Personal Development Plan Examples & Templates for Success
9 Tips to End a Speech With a Bang
16 Tips to Overcome Your Fear of Public Speaking – Eliminate Anxiety And Stage Fright
15 Ways to Start a Speech + Bonus Tips
Subconscious Mind Power Explained
21 Sales Strategies to Increase Sales
10 Leadership Qualities & Characteristics of Good Leaders
30 Motivational Sales Quotes to Inspire Success
Free Webinar: How To Write a Book and Become a Published Author
Free Video Series: 3-Part Sales Mastery Training Series
Free Assessment: The Confidence Factor
Free Assessment: Discovering Your Talents
Browse Categories
Follow Brian & Join the Discussion
Free Resources
Best Sellers
Knowledge Base
Shipping & Returns
Privacy Policy
About Brian
Brian Recommends
Your Privacy is Guaranteed. We will never give, lease or sell your personal information. Period!
© Copyright 2001-2023 Brian Tracy International. All Rights Reserved.
Find the perfect editor for your book ➔
Find the perfect editor for your next book
1 million authors trust the professionals on Reedsy, come meet them.
Last updated on Feb 07, 2023
How to Write a Book (with Tactics from Bestsellers)
What's the secret formula to tapping into your creativity and writing a book? Some authors would tell you there is no single path to authorship , as every writer's journey is unique. However, almost every bestselling author will have highly effective writing patterns and habits that help them reach their goals. In this post, we'll share some of their most commonly used tactics for starting and finishing a book.
How to write a book:
1. Start with an idea that you love
2. research by reading books by other writers, 3. outline the story, 4. plan the opening sentence of your book, 5. write the messy first draft, 6. set a schedule with achievable goals, 7. find a good writing space, 8. pick a "distraction-free" book-writing software, 9. give yourself incentives to finish your draft, 10. edit the manuscript once you've finished, 11. publish your book for readers to buy.
There's a long, exciting road ahead. So let's get started.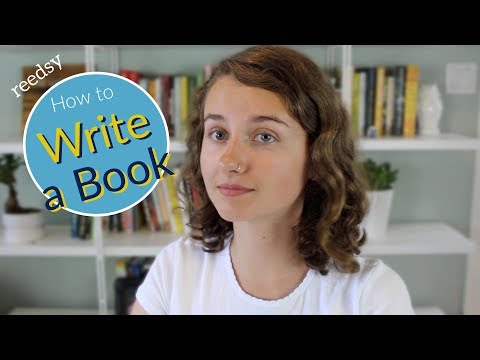 The one thing you absolutely  need  to write a book is, of course, an idea. If you don't have that, you'll never get past the first page of your draft.
You may already know what you want to write about, or you may be at a total loss. Either way, you can settle on a "big book idea" by asking yourself a few simple questions:
What do I  want  to write about?
What do I feel is  important  to write about?
Who will want to read about this story/subject?
Will I be able to carry out this idea effectively?
Your answers to these questions will help you narrow it down to your best options. For example, if you have several different ideas for a book, but only one that you're truly passionate about and feel you can pull off, then voilà — there's your premise!
On the other hand, if you  lack  ideas, these questions should steer you in a firmer direction. Think about the kinds of books you love to read, as well as books that have made a significant impact on you. In all likelihood, you'll want to write a book in a similar vein.
Tools to help you find an idea
If you're grasping at straws, consider using creative writing prompts or a  plot generator  to get the ball rolling! You might stumble upon an interesting concept or story element that sparks a "big idea" for your book. (And if you're still uninspired even after trying these tools, you may want to reconsider whether you really want to write a book after all.)
Which writing app is right for you?
Find out here! Takes 30 seconds
Once you've found your big idea, the next step is to research your genre. Again, if you're writing the book you like to read , you already have a leg up! Reading books in your genre is by far the best way to learn how to write in that genre yourself.
But if not, you'll want to select a couple of representative titles and analyze them.  How long are they  and  how many chapters do they have ? What does the  story structure  look like? What are the major  themes ? Perhaps most importantly, do you think you can produce a book with similar elements?
Find out what people are reading
You should also conduct market research on Amazon to determine the most  popular  books in your genre. If you want your book to succeed, you'll have to contend with these bestsellers. Go to the  Amazon Best Sellers page  and find your genre in the lefthand sidebar: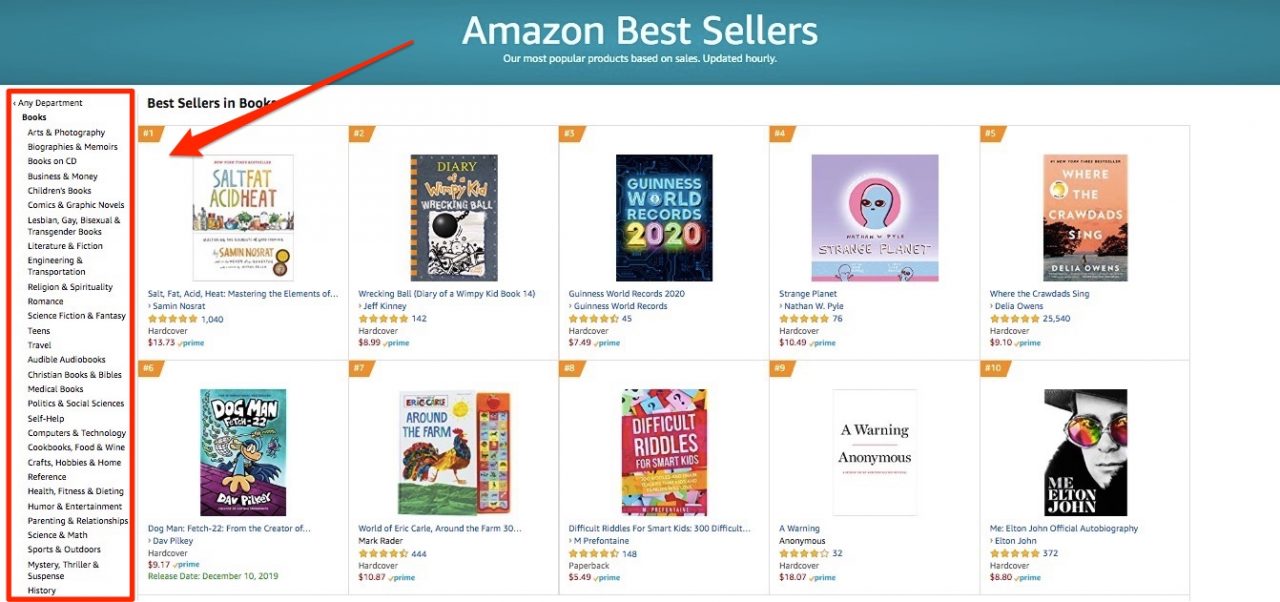 Then read those books' blurbs to figure out what really sells. What do they all have in common, and why might readers find them appealing? Does your book hold up to these standards?
Finally, think about how your book can offer something NEW. For example, if you're writing a psychological thriller, will there be a particularly sneaky  unreliable narrator , or maybe a  series of twists  that the reader never sees coming? If you're  writing a nonfiction book , do you have a unique take on the subject, or a particularly deep well of knowledge? And so on.
Going above and beyond is the only way to give your book a chance in today's hyper-competitive market. So don't skimp on the genre research, because this will tell you where the bar is and how you can surpass it.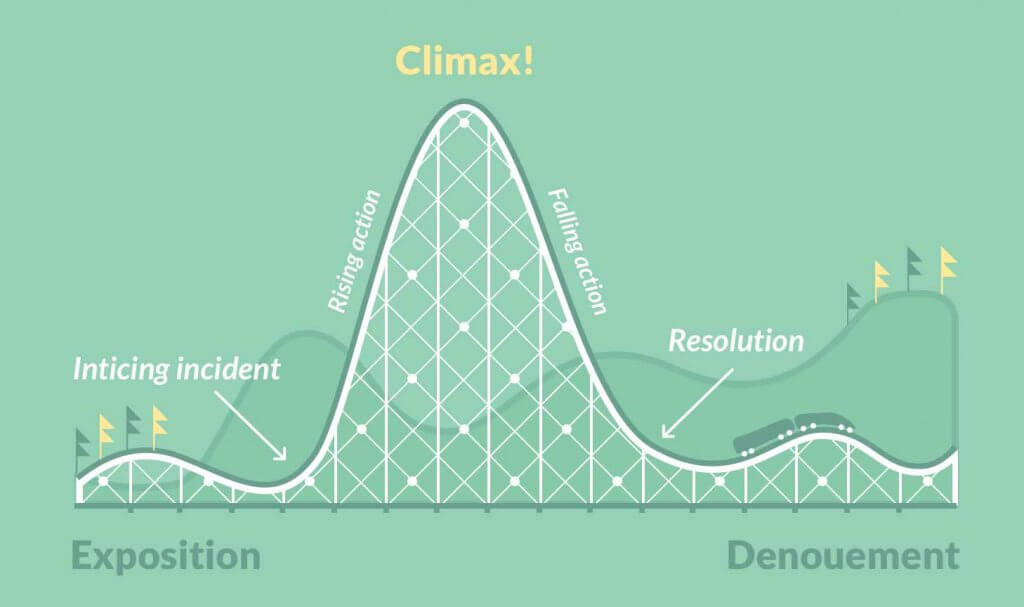 If you want to write a great story , you need to outline it first. This is especially important if it's your first book, since you need a solid blueprint to rely on when you get stuck! (Because believe us, you will  get stuck.)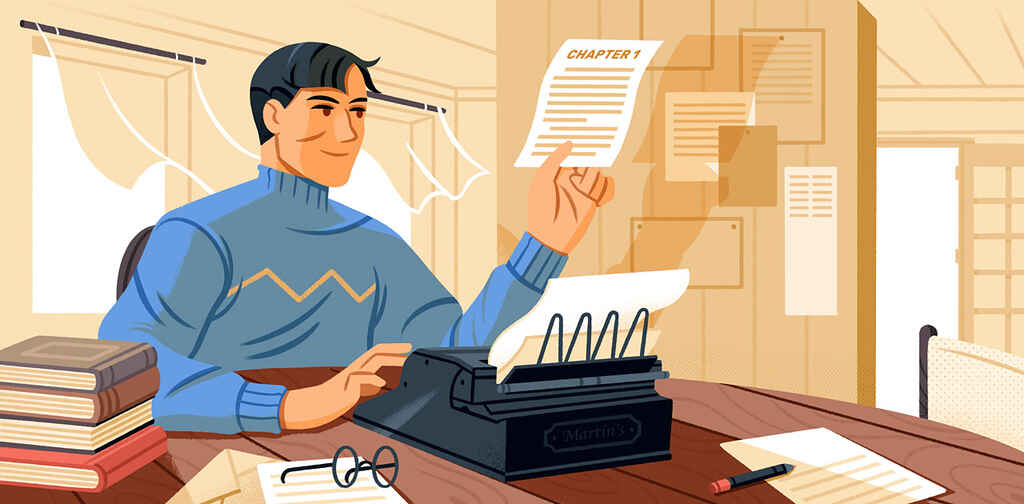 FREE RESOURCE
Get our Book Development Template
Use this template to go from a vague idea to a solid plan for a first draft.
So how do you go about creating that outline for your book? We actually have a  whole other post on the subject , but here are the essentials:
Pick a format that works for you.  There are so many different types of outlines: the free-flowing mind map, the rigorous chapter-and-scene outline, the character-based outline, and so on. If one approach doesn't work for you, try another! Any kind of plan is better than none.
Have a beginning, middle, and end.  Way too many authors go into writing a book with a strong notion of how their story should start... yet their middle is murky and their ending, nonexistent. Take this time to flesh them out and connect them to one another.  Remember:  the best books have endings that feel "earned," so you should try to be building toward it from the start!
Consider your conflict points.   Conflict is at the heart of any good book  — it draws in the reader, conjures tension and emotion, and ultimately reflects the themes and/or message you want to convey. You don't have to know  exactly  where your conflict will manifest, but you should have a pretty good grasp of how it works throughout your book.
Get to know your characters.  If you haven't done much  character development  yet, your outline is the perfect opportunity to do so. How will your characters interact in the story, and how will these interactions demonstrate who they are and what matters to them?
If you'd like to outline your story directly in a writing app, we recommend using the pre-made templates in the free Reedsy Book Editor. Simply create your account with one click below and start creating the building blocks of your story — right away.  
FREE OUTLINING APP
The Reedsy Book Editor
Use the Boards feature to plan, organize, or research anything.
Let's get into the actual writing and make a dent in your first draft. One of the most important parts of writing a book is  starting the story ! It's no exaggeration to say your first few pages can make or break your book — if these pages aren't good enough, many readers will lose interest, possibly never returning to your book again.
First off, you need an opening hook that grabs the reader's attention and makes it impossible for them to look away. Take a look at the first lines of these hit bestsellers:
"Mr and Mrs Dursley, of number four, Privet Drive, were proud to say that they were perfectly normal, thank you very much." — Harry Potter and the Sorcerer's Stone
"Renowned curator Jacques Saunière staggered through the vaulted archway of the museum's Grand Gallery." — The Da Vinci Code
"If all the Saturdays of 1982 can be thought of as one day, I met Tracey at 10 a.m. on that Saturday, walking through the sandy gravel of a churchyard, each holding our mother's hand." — Swing Time
All of these books fall into different genres, yet all their opening lines do the same thing: capture the reader's attention. You can imitate them by making a similarly strong, slightly furtive statement in  your  opener!
From there, your job is to maintain the reader's interest by heightening the stakes and  inciting the plot . You should also make the reader care about the main characters by giving them distinct personalities and  motivations . (Note that "main" is a key descriptor here; never introduce more than a couple of characters at a time!)
Of course, there are infinite ways to write your first chapter. You might have to experiment with lots of different opening lines, even opening scenes, to find the right balance — but it's worth the effort to set the stage perfectly.
Ever wonder which contemporary writer you are? Now's your chance to find out. Just take our 1-minute quiz below!
Which contemporary author are you?
Find out which of today's greats is your writerly match. Takes one minute!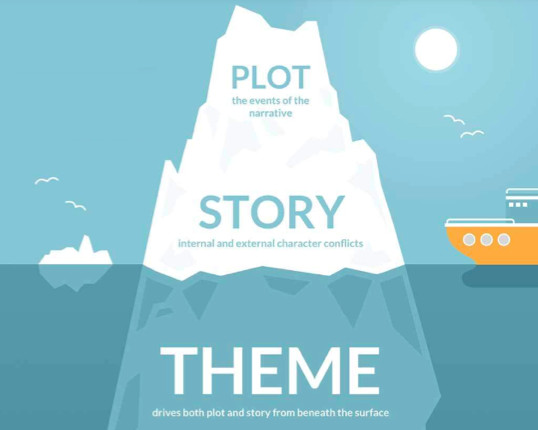 Many writers believe that the key to writing an amazing book is style: impressive vocabulary, elaborate sentences,  figurative language  that would make Shakespeare swoon.
We're here to dissuade you of that notion. While style is great (as long as your prose doesn't  start to become purple ),  substance  is far more important when writing a book — hence why you should focus primarily on your plot, characters, conflict(s), and themes.
Make sure your book is all killer, no filler
Of course, that's easier said than done, especially once you've already started writing . When you get to a patchily outlined section, it's tempting to  keep  writing and fill out the page with literary gymnastics. But that's exactly what this content is: filler. And if you have too much of it, readers will become frustrated and start to think you're pretentious.
This is another reason why outlining is so important. You need to KNOW your story in order to stay on track with it! But besides outlining, here are a few more tips for making substance a priority:
Every sentence must do one of two things — reveal character or advance the action.  This advice comes straight from Kurt Vonnegut, and it's 100% true: if a sentence doesn't accomplish one or both of those things, try removing it. If the passage still makes sense, leave it out.
Be conscious of your pacing.  Slow pacing is a symptom of excess description. If the events of your book seem to move like molasses, you're probably using too much style and not enough substance.
Use a writing tool to reduce flowery language.  Speaking of great American novelists,  Hemingway  is a fantastic tool to help you write like the man himself! Simply paste your writing into the app and Hemingway will suggest ways to make your prose more concise and effective.
Tell us about your book, and we'll give you a writing playlist
It'll only take a minute!
Keep readers in mind while writing
Want to write a book that people will  really  enjoy (and buy)? Well, this is pretty much the cardinal rule: you should always be thinking about your audience and trying to write "reader-first."
For example, sometimes you'll have to write scenes that aren't very exciting, but that  serve the overall story arc . Don't rush through these scenes just to get them over with! Even if they don't seem interesting to  you,  they contribute to the reader's experience by building tension and preserving the pacing — and the reader deserves to relish those things.
Create 'fake' people who will want to read your book
When considering your readership, you should also  keep a proto-persona in mind  for marketing purposes. These are constructed personalities that marketers use to better understand their target customers. The more your book can cater to this hypothetical reader, the easier it will be to sell!
Maybe you're writing a true-crime account for zealous  true crime readers . Such readers will have pored over countless criminal cases before, so you need to include unique details to make  your  case stand out, and craft an extra-compelling narrative to engage them.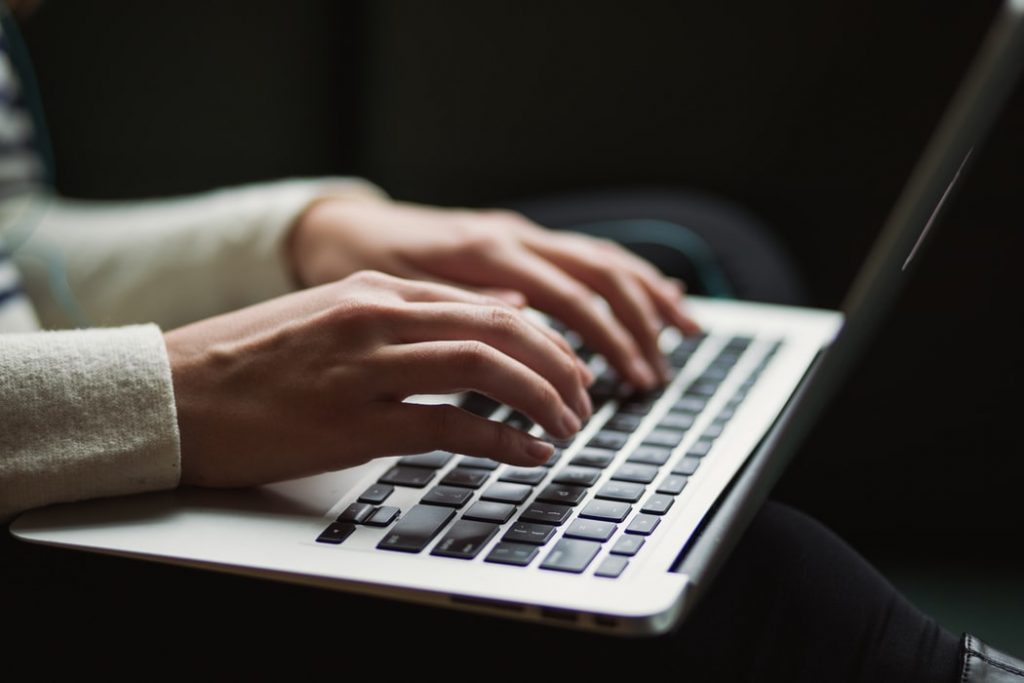 Let's move on to practical ways that you can improve your writing habits. Word count goals play a huge part in creating an effective writing process, especially if you're trying to finish your book  in a certain amount of time .
You should create word count goals for both your individual sessions and per week — or per month, if that's how you prefer to think about your writing output. For relatively novice writers, we'd recommend the following word count goals:
500-750 words per day
1,500-2,500 words per week
6,000-10,000 words per month
These goals are based on a pattern of 3-4 sessions per week, which is reasonable for a beginner, but still enough to make commendable progress. Even if you only follow our  minimum  recommendations — 500 words per session at 3 sessions per week — you can still easily finish your book in less than a year!
Speeding up the writing process
If you're looking for how to write a book  as fast as possible , your word count goals should look a little more like this:
1,500-2,000 words per session
9,000-15,000 words per week
35,000-50,000 words per month
The figures above adhere roughly to  NaNoWriMo , the event in which participants write an average of 1,667 words/day to complete a 50,000-word book in  one month . It's hard work, but it's definitely possible to write a book that quickly; hundreds of thousands of people do so every year!
But as any author who's done NaNo can attest, it's also a pretty grueling experience. Most authors find it exhausting to write such great quantities for so many days in a row — and they still have to  edit copiously  once they're done.
If this is your first book, make sure you take your time, set manageable word goals, and gradually build to bigger goals.
Use writing sessions to establish a schedule
Having a healthy writing routine is the only way you'll actually hit those word count goals — not to mention it fosters a better relationship with writing overall! To establish a healthy routine, ask yourself these baseline questions first:
When do I have the most free time in the day/week?
What time of the day do I tend to be most productive?
How can I space out my writing sessions effectively?
Will I realistically be able to balance my writing goals with other responsibilities?
The best way to set up your routine is to take advantage of your pre-existing schedule and natural patterns. So for example, if you already go to the gym on Tuesdays and Thursdays, perhaps the best time to write would be on Mondays, Wednesdays, and Fridays. Or if you find yourself most creative late at night ( many of us do! ), you can plan late-night sessions over the weekend/before your day off, so you can sleep in the next day.
Ultimately, you just want a well-balanced writing routine that facilitates productivity, yet keeps you from burning out. If you find that writing for several days in a row is too much for you, space out your sessions more or try to shake things up by moving to a new writing space. If you can't keep up with your goals, it's okay to reduce them a little.
Yes, writing a lot is important, but it's not more important than your mental health! Remember that writing a book is a marathon, not a sprint, and that a consistent, healthy approach is absolutely vital. Here are some tips for making the most of your writing routine.
Don't skip more than one session in a row
Life happens, and sometimes you won't be able to make a planned writing session. However, unless it's a serious emergency, you should try to get back in the saddle for your next session. Otherwise, you'll lose too much progress and feel discouraged, which typically leads to skipping even  more  writing sessions, and eventually giving up.
Track your progress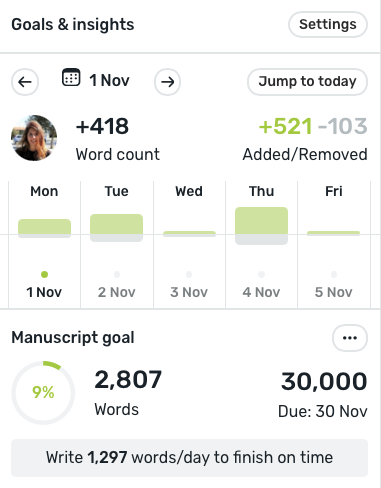 With our free writing app, the Reedsy Book Editor , you'll see the numbers update automatically depending on your activity: you'll see how many words you added  and deleted on any given day. Depending on the overall goal you set for your manuscript, you'll also see your daily targets adjust depending on how much you've written so far.
Use a site blocker to stay focused
Distraction is the enemy of routine, and the biggest distraction in our modern world is the Internet. To that end, download a site-and-app blocker to use during your writing sessions so you won't be enticed by social media or adorable cat memes. We'd recommend  Freedom , as you can schedule block sessions in advance and even keep track of your productivity   within  the app.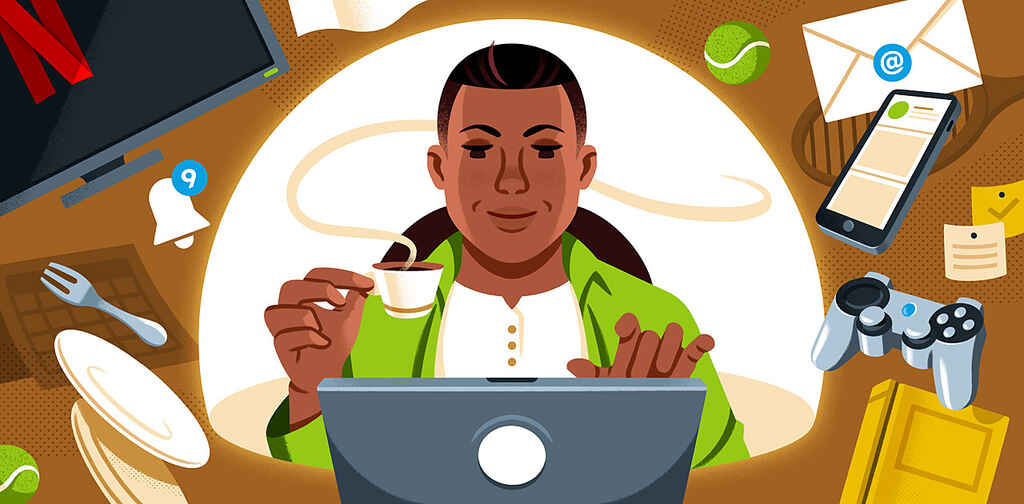 FREE COURSE
How to Build a Solid Writing Routine
In 10 days, learn to change your habits to support your writing.
Another major component of how to write a book is  where  you write, hence why it gets a separate section. If you want to complete an entire book, you absolutely must find a calm, focused space for your writing.
This may be in your house, a coffee shop, a library, a co-working space — wherever you can work productively and without interruptions. It should also be a place that you can access easily and go often. Working from home is the most convenient option in this sense, but it may be difficult if you have family around, or if you don't have a designated "room of one's own" (i.e. an actual office, or at least a desk).
What does a good writing space look like?
Try out different locations to see what works for you. Indeed, you may find that you like to rotate writing spaces because it keeps you energetic and your writing fresh! But wherever you go, do your best to make the space:
Quiet  (noise-canceling headphones can be very helpful)
Clean  (no clutter, especially if you do chores to procrastinate)
Non-distracting  (nothing too fun around to tempt you away from writing; turn off your phone so other people won't bother you)
Your own  (cultivate a nice atmosphere in your home office with posters and plants, or simply take the same seat at your local café every time — truly carve out a "dedicated writing space")
We've already talked about a few different pieces of software to help you with writing a book. But if you haven't found the right app or program yet, never fear — there's plenty more where those came from!
Book writing software is a topic we've actually  written an entire post about , but it's worth touching on a few of our favorite writing tools here:
Scrivener 🖋️
Scrivener is  the  downloadable writing software of choice for many writers, and for good reason: it has an exceptional interface and tons of useful features. You can outline chapters with its drag-and-drop system, create labels for elements you want to track, and use various templates to plan AND format your book. If you want to feel like a true professional, you can't go wrong with Scrivener — and it's even free to try for 30 days.
Or if you're not much for outlines because your thoughts are all over the place, Milanote can help. The super-flexible interface allows you to "mind map" just as you would longhand, and rearrange different sections as you please. When writing, you can see all your notes at once, so you don't have to stress about forgetting things. It's a very refreshing, intuitive way approach that's worth a try for all disorganized authors.
FocusWriter ✍️
Speaking of intuitive, what's more intuitive than simply writing on a piece of paper, no distractions — just like the old days? Meet FocusWriter, which allows you to do exactly that. The full-screen default interface is a sheet of paper on a wooden desk: no bells, no whistles, no distractions whatsoever. Seriously, this one will get you in the zone.
The Reedsy Book Editor 📖
We couldn't leave out one of the coolest word processing, editing, and formatting tools on the market! All jokes aside, the RBE lets you cleanly format your book  as you go,  so you can watch it take shape in real-time. You can also add sections for front matter and back matter and invite collaborators to edit your text. Plus you can toggle on goal reminders to make sure that you're on track with your writing schedule. Once you finish writing, you can export the files of your book. But don't take our word for it: you can try the RBE for free right here .
Reedsy's #1 Writing Software
We designed a writing app for authors and it's free to use. Sign up now and start writing your book.
Learn how Reedsy can help you craft a beautiful book.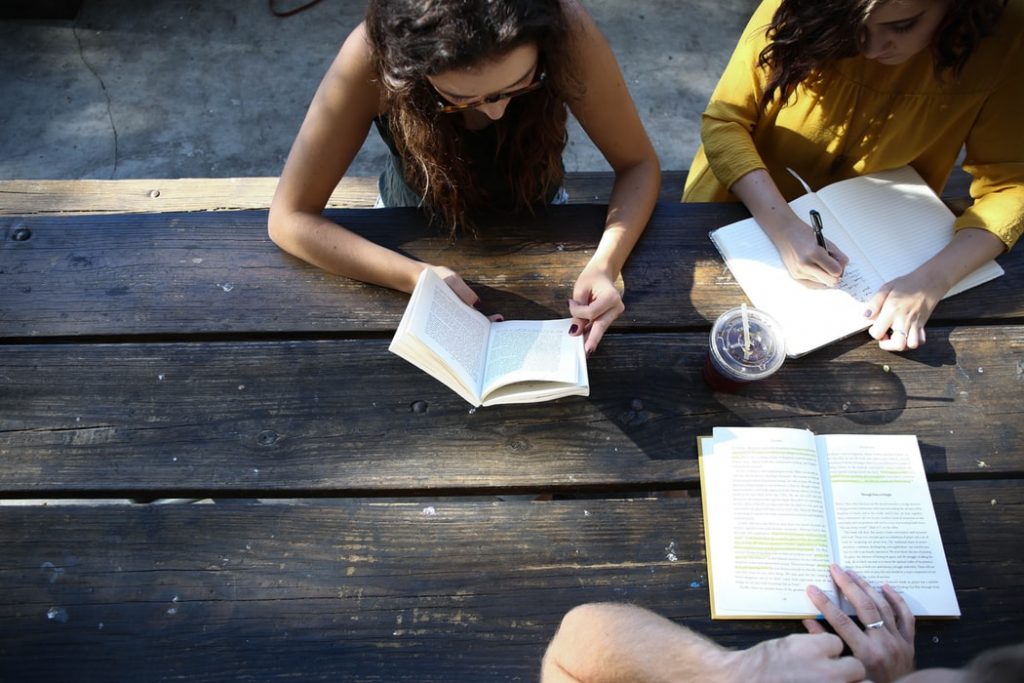 Getting into the groove of writing a book can be difficult. When there are a million different things to distract and discourage you, how can you keep going with your writing routine and finish your book?
Based on ours and other writers' experience, here are a few motivational strategies for you to try:
Make a list of reasons  why  you want to write a book.  Having a tangible reminder of your true purpose is one of the best ways to motivate yourself, so think hard: Do you want to send an important message? Reach a certain group of people? Or do you simply yearn to tell this particular story? Write down all your reasons and keep them as an ace in the hole for when your motivation dwindles.
Find someone else to write with you.  Getting a writing buddy is another great way to stay motivated! For one thing, you get some camaraderie during this process; for another, it means you can't slack off too much. So ask your writer friends if they'd like to meet up regularly, or join an  online writing community . With the latter, just make sure you exchange progress updates and proof that you're actually writing!
Reward yourself at important milestones.  Sometimes the best motivation is the prospect of treating yourself. If you respond well to this kind of motivation, set a goal, a deadline, and a reward for meeting it: "If I can write 10,000 more words by the end of the month, I'll go out for an amazing, fancy dinner with all my friends." This kind of goal is also helpful because you can  tell  your friends about it, and that very act will hold you accountable.
For even more advice on how to staying motivated through the writing process, check out this Reedsy Live from author and writing coach Kevin Johns!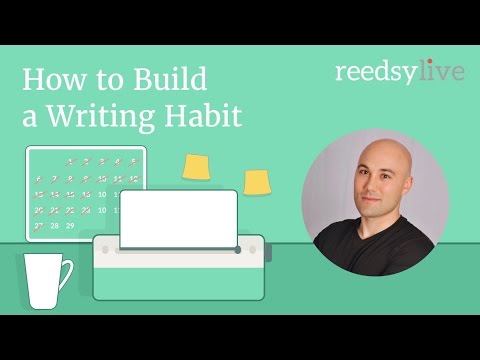 Don't give up
Remember how we said you'd inevitably get stuck? Well, that's what this step is all about: what to do when you hit a wall. Whether it's a tricky plot hole, an onslaught of insecurity, or a simple lack of desire to write, all writers experience setbacks from time to time.
There are countless ways to  overcome writer's block , from freewriting to working on your characters to taking a shower (yes, that's a legitimate tip!). However, here are some of the most effective techniques we've found:
Revisit your outline.  This will jog your memory as to planned story elements you've forgotten — which may help you find the missing piece.
Try writing exercises.  It's possible you just need to get the words flowing, and then you can jump get right back into your book. Luckily for you, we have a whole host of great writing exercises  right here!
Share your experience with friends.  This is another great role for your writing buddy to fill, but you can easily talk about writer's block with your non-writing friends, too. If you're struggling, it always helps to vent and bounce ideas off other people.
Take a  short  break to do something else.  Yes, sometimes you need to step away from the keyboard and clear your head. But don't take more than a day or so, or else you'll lose momentum and motivation.
Most of all, remember to take setbacks in stride and not let them get you down. As platitudinous as that might sound, it's true: the only thing that can stop you from writing a book is if you, well,  stop writing . So keep calm and carry on — every day brings new opportunities and you'll get through this.
Your aim at this point is not to emerge with an instant masterpiece. The quality almost always emerges in the edit.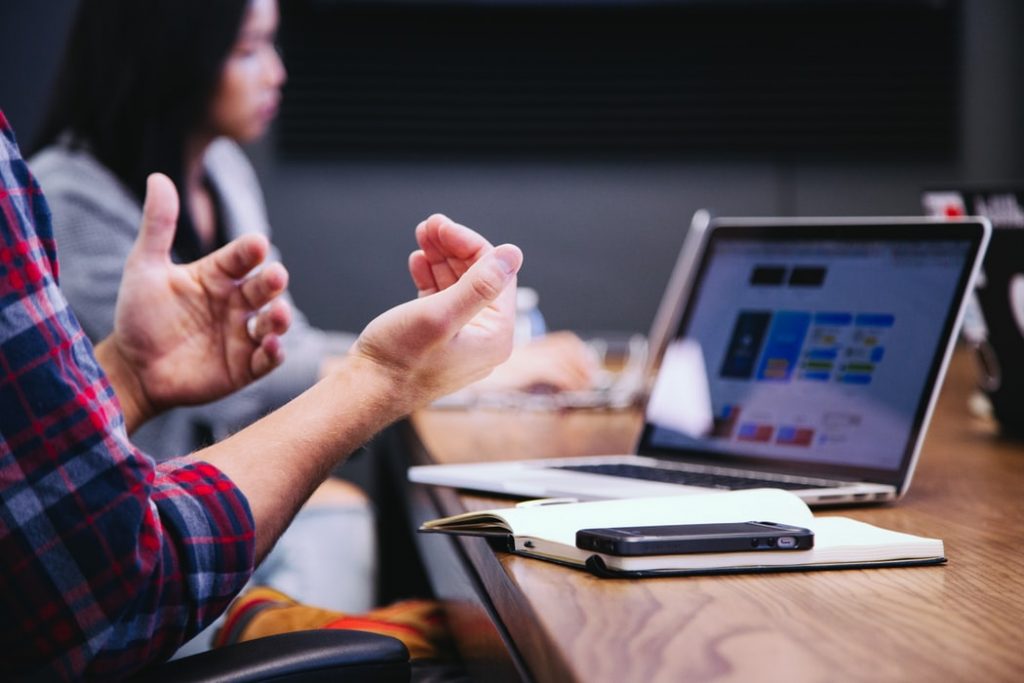 You can write all day, all night, to your heart's content... but if no one else likes what you've written, you might end up heart broken  instead. That's why it's crucial to request feedback on your book, starting early and from as many sources as possible.
Begin by asking your friends and fellow writers to read just a few chapters at a time. However, apply their suggestions not only to those chapters, but wherever relevant. For example, if one of your friends says, "[Character A] is acting weird in this scene," pay extra attention to that character to ensure you haven't misrepresented them anywhere else.
Once your book is finished, you're ready for some more intensive feedback. Consider  getting a beta reader  to review your entire book and provide their thoughts. You may want to hire an editor to give you professional feedback as well. (Find out about the different types of editing, and which type your book might need,  in this post .)
Finally, it might sound obvious, but we'll say it anyway for all you stubborn writers out there: feedback is useless if you don't actually listen to it. Separate yourself from your ego and don't take anything personally, because no one wants to offend you — they're just trying to help.
You've persevered to the end at last: brainstormed, outlined, and written a first draft that you've edited extensively (based on feedback, of course). Your book has taken its final form, and you couldn't be prouder. So what comes next?
Well, if you've taken our advice about catering to your target readers, you may as well give publishing a shot! We have a  full guide to publishing right here  — and if you're thinking about traditional publishing,  read this article  to decide which is right for you.
Get help from publishing professionals
Publishing is another rigorous process, of course. But if you've come this far to find out how to write a book, you can pretty much do anything! Invest in  stellar cover design , study up on  marketing , or start writing an  irresistible query letter  that will get you an offer.
Whichever route you take, one thing will remain true: you've written a book, and that's an incredible achievement. Welcome to the 0.1% — and may the next book you write be even greater than the first. 📖
13/12/2019 – 15:33
thank you for helping me find a new way to write my book
Comments are currently closed.
Continue reading
Recommended posts from the Reedsy Blog
What is an Oxford Comma and When Should You Use it? [+Examples]
Everything you need to know about the Oxford comma, from the grammar, to the controversy, to the consequences of mistaken punctuation. With examples.
Title Capitalization Rules: Learn Which Words To Capitalize
Whether you're using a style guide like AP, APA, MLA, or Chicago, or just want to make sure you're capitalizing your titles properly, this post explains all the rules so you know which words to capitalize or not.
Lay vs. Lie: A Definitive Explanation
To lay or to lie? Learn when to use each verb, and how to distinguish between them.
Grammarly Review: A Writer's Best Friend?
Can Grammarly really help authors? Find out in this in-depth review of the popular proofreading tool.
Campfire Write Review: Everything You Need to Know
For writers doing a lot of worldbuilding and outlining, especially in fantasy or sci-fi, Campfire Write is a handy, if not potentially expensive, writing software.
Hyphen vs Dash: How to Pick the Right One
Not sure when to use a hyphen or a dash? Check out this post to learn some quick rules!
Join a community of over 1 million authors
Reedsy is more than just a blog. Become a member today to discover how we can help you publish a beautiful book.
1 million authors trust the professionals on Reedsy, come meet them.
Enter your email or get started with a social account: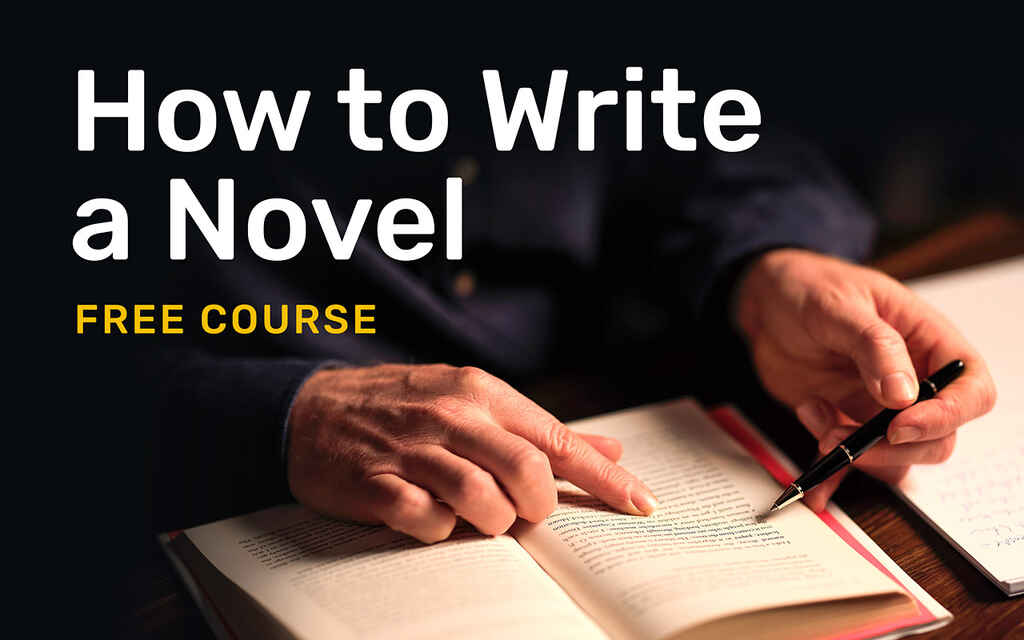 Free course: How to write a novel
Learn the fundamentals of craft with Reedsy's most popular online course. Get started now.
EXPLORE Coupons Tech Help Pro Random Article About Us Quizzes Contribute Train Your Brain Game Improve Your English Popular Categories Arts and Entertainment Artwork Books Movies Computers and Electronics Computers Phone Skills Technology Hacks Health Men's Health Mental Health Women's Health Relationships Dating Love Relationship Issues Hobbies and Crafts Crafts Drawing Games Education & Communication Communication Skills Personal Development Studying Personal Care and Style Fashion Hair Care Personal Hygiene Youth Personal Care School Stuff Dating All Categories Arts and Entertainment Finance and Business Home and Garden Relationship Quizzes Cars & Other Vehicles Food and Entertaining Personal Care and Style Sports and Fitness Computers and Electronics Health Pets and Animals Travel Education & Communication Hobbies and Crafts Philosophy and Religion Work World Family Life Holidays and Traditions Relationships Youth
HELP US Support wikiHow Community Dashboard Write an Article Request a New Article More Ideas...
EDIT Edit this Article
PRO Courses New Guides Tech Help Pro New Expert Videos About wikiHow Pro Coupons Quizzes Upgrade Sign In
Premium wikiHow Guides
Browse Articles
Quizzes New
Train Your Brain New
Improve Your English New
Support wikiHow
About wikiHow
Easy Ways to Help
Approve Questions
Fix Spelling
More Things to Try...
H&M Coupons
Hotwire Promo Codes
StubHub Discount Codes
Ashley Furniture Coupons
Blue Nile Promo Codes
NordVPN Coupons
Samsung Promo Codes
Chewy Promo Codes
Ulta Coupons
Vistaprint Promo Codes
Shutterfly Promo Codes
DoorDash Promo Codes
Office Depot Coupons
adidas Promo Codes
Home Depot Coupons
DSW Coupons
Bed Bath and Beyond Coupons
Lowe's Coupons
Surfshark Coupons
Nordstrom Coupons
Walmart Promo Codes
Dick's Sporting Goods Coupons
Fanatics Coupons
Edible Arrangements Coupons
eBay Coupons
Log in / Sign up
Education and Communications
Fiction Writing
Writing Novels
How to Write a Book
Last Updated: February 28, 2023 References Approved
This article was co-authored by Grant Faulkner, MA and by wikiHow staff writer, Christopher M. Osborne, PhD . Grant Faulkner is the Executive Director of National Novel Writing Month (NaNoWriMo) and the co-founder of 100 Word Story, a literary magazine. Grant has published two books on writing and has been published in The New York Times and Writer's Digest. He co-hosts Write-minded, a weekly podcast on writing and publishing, and has a M.A. in Creative Writing from San Francisco State University.  There are 9 references cited in this article, which can be found at the bottom of the page. wikiHow marks an article as reader-approved once it receives enough positive feedback. This article received 118 testimonials and 100% of readers who voted found it helpful, earning it our reader-approved status. This article has been viewed 2,666,792 times.
Anyone with a story to tell can write a book, either for their own enjoyment or to publish for all to see. Getting started is often the hardest part, so set up a good workspace, create a regular writing schedule, and stay motivated to keep writing something every day. Focus on developing a "big idea" that drives your narrative, as well as at least one unforgettable character and realistic conflicts. Once you've written and revised your manuscript, consider your publishing options to get it into readers' hands.
Staying Focused and Productive
Writing a book is both a vocation and an avocation—that is, both a job and a passion. Figure out why you need to write, and why you want to write.
Keep your goal or goals in mind as motivation. Just remember to keep them realistic. You probably won't become the next J.K. Rowling by your first novel.
While moving from a cafe to a park bench to the library may work for you, consider setting up a single workspace that you always—and only—use for writing.
Set up your writing space so you have any supplies or references that you'll need close at hand. That way, you won't lose your focus looking for a pen, ink cartridge, or thesaurus.
Pick a sturdy, supportive chair —it's easy to lose focus if your back aches!
The average book writer should probably look to set aside 30 minutes to 2 hours for writing, at least 5 days per week—and ideally every day.
Block out a time when you tend to be most alert and prolific—for instance, 10:30-11:45 AM every day.
Scheduling in writing time may mean scheduling out other things in your life. It's up to you to decide if it's worth it or not.
For instance, if you've given yourself a 1-year deadline for writing a complete first draft of a 100,000-word novel, you'll need to write about 300 words (about 1 typed page) every day.
Or, if you are required to turn in a doctoral dissertation draft that's about 350 pages long in 1 year, you'll likewise need to write about 1 page per day.
You're nearly always going to spend at least as much time editing a book as you will initially writing it, so worry about the editing part later. Just focus on getting something down on paper that will need to be edited. Don't worry about spelling mistakes!
If you simply can't help but edit some as you write, set aside a specific, small amount of time at the end of each writing session for editing. For instance, you might use the last 15 minutes of your daily 90-minute writing time to do some light editing of that day's work.
Depending on your circumstances, you might be working with an editor, have committee members you can hand over chapter drafts to, or have a group of fellow writers who share their works-in-progress back and forth. Alternatively, show a friend or family member.
You'll go through many rounds of feedback and revisions before your book is published. Don't get discouraged—it's all part of the process of writing the best book you can!
Creating a Great Story
Start with the "big picture" first, and worry about filling in the finer details later on.
Brainstorm themes, scenarios, or ideas that intrigue you. Write them down, think about them for a while, and figure out which one you're most passionate about.
For instance: "What if a man journeyed to a land where the people were tiny and he was a giant, and then to another land where the people were giants and he was tiny?"
For instance, a sci-fi adventure set in space will be more effective if the technology draws at least a small degree from reality.
Or, if you're writing a crime drama, you might do research into how the police typically investigate crimes of the type you're depicting.
For instance, instead of waking up thinking "I need to write about the Civil War," you might tell yourself, "I'm going to write about General Grant's military strategy today."
These "manageable pieces" may end up being your book's chapters, but not necessarily so.
Lucy V. Hay
Look at breakdowns of movie plots for insights into common successful story structures. There are many good sources, like Script Lab or TV Tropes, to find plot breakdowns of popular movies. Read these summaries and watch the movies, then think about how you can plot your story in a way that is similar to the movies you really like.
Think about some of your favorite characters from books you love. Write down some of their character traits and use these to help build your own unique characters.
If you're writing nonfiction, dig deep into the complexities and all-too-human qualities of the real figures you're writing about. Bring them to life for your readers.
The main conflict—for instance, Captain Ahab's obsession with the white whale in Moby Dick —can be an entry point for a range of other external and internal conflicts.
Don't downplay conflicts and tension in nonfiction works—they help to ground your writing in reality.
Your goal is to never give your readers a reason to lose interest. Keep them engaged and turning those pages!
This doesn't mean you can't use long sentences, descriptive writing, or even asides that deviate from the main storyline. Just make sure that these components serve the larger narrative.
Publishing Your Book
Seeking publication can feel a bit like losing control over your manuscript, after all the time you've spent working and re-working it. Keep reminding yourself that your book deserves to be seen and read!
If necessary, impose a deadline on yourself: "I'm going to submit this to publishers by January 15, one way or the other!"
Evaluate potential agents and look for the best fit for you and your manuscript. If you know any published authors, ask them for tips and leads on agents.
Typically, you'll submit excerpts or even your entire manuscript to an agent, and they'll decide whether to take you on as a client. Make sure you're clear on their submission guidelines before proceeding.
You can self-publish copies on your own, which may save you money but will take up a lot of time. You'll be responsible for everything from obtaining a copyright to designing the cover to getting the actual pages printed.
You can work through self-publishing companies, but you'll often end up paying more to get your book published than you'll ever make back from selling it.
Self-publishing an e-book may be a viable option since the publishing costs are low and your book immediately becomes accessible to a wide audience. Evaluate different e-book publishers carefully before choosing the right one for you.
Sample Book Excerpts
Expert Q&A Did you know you can get expert answers for this article? Unlock expert answers by supporting wikiHow
Support wikiHow by unlocking this expert answer.
Video . By using this service, some information may be shared with YouTube.
Keep your notebook and pen beside your bed, and keep a journal of your dreams. You never know when a dream of yours could give you inspiration or a story to write about! ⧼thumbs_response⧽ Helpful 23 Not Helpful 2
Ask some other authors for some tips and write them down. ⧼thumbs_response⧽ Helpful 13 Not Helpful 1
If you want to add a true fact in your story, do some research on it first. ⧼thumbs_response⧽ Helpful 18 Not Helpful 3
Avoid plagiarizing (copying another author's work). Even if you do it as artfully as possible, eventually someone will track down and piece together all the copied parts. ⧼thumbs_response⧽ Helpful 20 Not Helpful 1
You Might Also Like
Expert Interview
Thanks for reading our article! If you'd like to learn more about writing a book, check out our in-depth interview with Gerald Posner .
↑ https://thewritepractice.com/write-a-book-now/
↑ https://jerryjenkins.com/how-to-write-a-book/
↑ https://academicguides.waldenu.edu/writingcenter/writingprocess/goalsetting/why
↑ https://www.theatlantic.com/science/archive/2018/08/how-to-write-a-book-without-losing-your-mind/566462/
↑ https://writingcenter.unc.edu/tips-and-tools/getting-feedback/
↑ https://jerichowriters.com/how-to-write-a-book/
↑ https://www.creative-writing-now.com/how-to-write-fiction.html
↑ https://blog.reedsy.com/how-to-revise-a-novel/
↑ https://www.janefriedman.com/find-literary-agent/
About This Article
To write a book, first think of an idea that you're excited to write about. It could be anything – a memoir about your life, a fantasy tale, or if you're an expert on a topic, a non-fiction book. Once you've come up with an idea, you'll want to cultivate good writing habits to bring your book to life. First, make writing into a routine rather than an activity you need to fit into your busy schedule. Try to consistently write at the same time and place every day. Second, set a daily word or page goal so that you know exactly when you are finished writing each day. Last, don't feel pressured to create a perfect first draft because it's much easier to edit perfectly than it is to write it perfectly the first time around. Focus on producing and writing as much as you can. Then, go back and spend time editing on another day. Once you have written and edited a draft that you like, seek feedback from your family, peers or mentors. If you want to self-publish, research how to do so online. You could also consider hiring an editor to help you through both editing and the publishing process. If you want to know more about how to write a non-fiction book, keep reading! Did this summary help you? Yes No
Reader Success Stories
Did this article help you?
Sep 23, 2022
Christy Taylor
Sep 22, 2022
Maria Fernanda Valverde
Feb 4, 2017
Jun 6, 2016
Featured Articles
Trending Articles
Watch Articles
Terms of Use
Privacy Policy
Do Not Sell or Share My Info
Not Selling Info
Don't miss out! Sign up for
wikiHow's newsletter
Kindlepreneur
Book Marketing for Self-Publishing Authors
Home / Book Writing / How to Dictate a Book: A Comprehensive Guide for Authors
How to Dictate a Book: A Comprehensive Guide for Authors
It's easier than you think to dictate a book with the help of software like Dragon Professional Individual . If you are an author who has been struggling with how to write your next bestseller, this is for you!
By dictating your book, you can produce a more polished manuscript that will be ready for publication sooner.
This article will walk through how to prepare before beginning dictation and how each stage differs when compared to typing by hand or using another word processor. It'll also discuss how the editing process is different when dictating as opposed to writing.
And by the way, this article was written via dictation.
What dictation is
Why you should dictate a book
Excuses for not dictating
How to dictate your book
How to edit your work after dictating
Table of contents
What is Dictation?
1. Health Reasons
2. Writing Speed
3. Lowered Barrier of Entry
4. Decreased Critical Voice
Excuse #1: "I tried and it didn't work for me"
Excuse #2: "saying the punctuation is so awkward", excuse #3: "i write fantasy with weird names, so dictation doesn't work", excuse #4: "i write in public so dictation doesn't work well for me", excuse #5: "dictation is too technical".
1. Voice to Text Software
2. Record and Transcribe with Dragon
3. Record and Transcribe with a Transcriptionist
Step 1: Select Your Software
Step 2: Select a Recording Device and/or Microphone
Step 3: "Train" Dragon Dictation
Step 4: Get Into a Habit and Don't Stop
1. Edit when Training Your Dragon
2. Measure the Time it Takes to Edit
3. Expect Extra Editing
4. Use ProWritingAid or Transcriptionist to Help
The Bottom Line: Is Dictation Worth It?
Dictation is putting words on the page using your voice. It can be done with speech-to-text software like Dragon Professional Individual or other free tools that are not quite as accurate but still work well for blog posts, book chapters and other short text documents.
Dictation software makes writing easier because it frees you from your keyboard and allows you to focus on the story that's in your head.
Once you've written the first draft of your book or blog post using speech recognition, creating a more polished version is faster than ever before.
Why Choose to Dictate?
There are a number of reasons why you might choose to dictate instead of typing or writing by hand. I found that most authors begin using voice recognition for one of the following reasons:
If you suffer from carpal tunnel, arthritis, or any other physical ailment that makes typing difficult for your hands and wrists, dictating is the solution.
Dictation also helps with repetitive stress injuries (RSI) because it reduces how much time you spend using a keyboard. This will allow the muscles in your arms, shoulders and hands to heal.
I haven't had any of these health concerns, but I know people that do, and earlier in my writing career I really set out to avoid them. I got ergonomic keyboards and tried to get up and stretch my limbs every half hour.
These things will help, of course, but I might've saved myself some time and money by just getting a dictation software earlier, and really doubling down on that strategy.
Regardless, if you suffer from any of these health concerns, speech recognition can make your life easier. You don't have to stop writing just because you got carpal tunnel.
For some, writing speed is the most attractive aspect of dictating a book.
I think we all like the idea of churning out a book a month, a blog post a day, or any other ambitious writing goal. And when you truly try to research what is possible, dictation always comes up as a strong solution.
And guess what? Evidence does suggest that dictation does improve your speed. It does sometimes take some training, but so does anything else worth doing.
One of the most attractive aspects that I found when I began dictating was that it lowered my barrier of entry.
Often I would sit down at my desk to write, and it would just feel like this enormous task. This made it harder to get into writing, because I knew that in a couple of hours my wrists would be sore, I would be tired, and at most I would have a couple thousand words.
With dictation I can just start talking which is a lot easier than typing. I don't even need to look at my computer most of the time. I can just stare out the window and open my mouth, so it is much easier to get started.
I know for myself, when I type out a book, I'm constantly judging what I'm writing.
We all have that inner critic, the little voice that says we're no good, the source of our imposter syndrome.
While there is more to solving this problem than just dictating, I found that by dictating, that part of my mind goes dormant, and I'm largely able to get over writer's block. I spend less time looking at my words, and more time just thinking through the story, speaking my words out loud, and this prevents my brain from dwelling too long on the critical voice.
Formatting Has Never Been Easier
Write and format professional books with ease. Never before has creating formatted books been easier.
Why People Don't Dictate
There are many excuses why people don't dictate their books. And let me first start off by saying that some of these may be legitimate for you. I can't tell you that dictation is the way to go for everyone, because that would simply not be true.
Nevertheless, I think many of these comments are true excuses, and if you pushed past them you would be surprised at the positive results. So let's take a look at a few of these:
My first reaction to this excuse is, "did you really give it a try?"
There's a difference between trying for an hour or two, or trying for weeks. If you haven't yet tried to write a full book, troubleshooting your problems with much of the free and paid online training out there, then I don't think you really gave it a try.
It may be that dictation is not right for you, but you will really know until you truly give it a run for its money.
Okay, so this is true. Saying punctuation out loud is awkward.
But you know what is also awkward. Typing. But we don't think too much about it because it's a skill that most of us learn in adolescence. By the time most of us get to adulthood, we're used to typing.
The same is true of speech recognition. I've actually found that it does not take long for the punctuation to come naturally as I speak.
This may be a legitimate obstacle, if you are using the wrong software. Thankfully software like Dragon Professional Individual is built to handle things like this. All you have to do is train it to recognize certain words, specifically how you speak them, and you should have little trouble in the future.
There's a good chance that if you are dictating in public, people will start to look at you weird. But these days, it's common to see someone talking on the phone using a Bluetooth device.
If I had to guess, I say most people just assume that you're talking to someone on the phone. It's certainly something that is less taboo than it used to be.
It's true, dictation is technical. But thankfully, most of that technicality is on the backend. Once you get set up and working, there is very little that you will need to do. All you need to do is speak, and the words will flow. Even advanced software like Dragon Professional Individual, only requires a minimal amount of technical knowledge.
As someone who loves dictation, I recommend that everyone at least give it a try. Give it a solid chance, and by that I mean write the equivalent of at least one book.
By the time you get to the end of that book, there is a good chance that you will be comfortable enough with dictation that you will not want to look back.
The Different Ways to Dictate
In this post, when I talk about dictation, I am usually talking about a voice to text program. But there are actually several ways of dictating a book. In this section we'll go over a few of those:
The most common form of dictation is using a voice to text software. There are free versions and paid versions, and I recommend my post going over the top dictation software here .
If you're willing to pay, for most people I recommend Dragon Professional Individual , because it offers the most enhanced dictation, the most accurate engine, multiple languages, and will save you the most time in the editing process .
But if you're looking for a free voice recognition software, you can find them with basic Windows/Mac operating systems, Microsoft Word, and Google Docs.
If you're using Dragon Professional Individual (this is not an available feature with Dragon Home ), then you can record your voice typing separately as an audio file, then plug it into Dragon for transcription.
I recommend this method if you want to go out hiking, or want to dictate anywhere away from your computer.
The third method of dictation involves recording the audio file with a dedicated voice recorder, then sending it to someone who can transcribe it for you.
There are plenty of places where you can find a transcriptionist, but they will all cost money. My recommendation would be to find someone on Upwork or Fiverr, though I've heard good things about rev.com as an accurate transcription service.
The downside to any of these services is that it will cost money. The upside is that the accuracy is likely to be far higher, and you don't have to worry about saying punctuation out loud. If you have the money, this can be an attractive option. Authors like Kevin J. Anderson are among those who dictate in this way.
That said, prices can add up, and the price of Dragon Professional Individual would easily be cheaper than transcribing a couple of novels through a service.
How to Dictate a Book
Alright, now that I've got your attention, let's talk about how to actually dictate the book in four simple steps.
Your software is going to be your biggest friend. Choose the wrong software, and you will be editing for far longer than you should. Choose the right software, and not only will your transcription be cleaner, but it will get better over time as it learns from your voice.
As I mentioned above, I recommend Dragon Professional Individual for those who can afford it. But there are other options as well, and I recommend checking out my post on that.
Your microphone or recording device can be just as important as your software. A bad microphone will lead to poor quality audio, which means that your transcription will probably not be as clean.
There are a multitude of microphone options available, and I recommend looking at this post for some of the best.
Part of your decision should be based on where you plan to dictate. If you plan to dictate at your computer, the microphone you need will be slightly different than if you plan to walk around the neighborhood. Keep this in consideration.
Other tools do this as well, but I'm going to use Dragon as my specific example.
The AI in Dragon digital is an adaptive AI. It learns from you as you go.
When you are just starting out with dictation, it's a good idea to spend some time specifically training your software. This means watching what it dictates, and instead of manually fixing any mistakes you see, use the software to select those mistakes and correct them.
Doing so will let the software know what you really meant, and it's less likely to make that same mistake in the future.
You also have the option of adding new vocabulary to Dragon. This is useful if you have unusual names or words. All you do is spell out the word you want to train, then say it into your microphone. Dragon will take care of the rest.
The key to dictation is practice.
Just as typing was a little awkward when we first started learning how to do it, dictation also takes time to master.
But like typing or riding a bike, it soon becomes second nature, and the words just start to fly out of our mouths.
I started dictating not too long ago, and I can already see an improvement after having written approximately 20,000 words with the software. Not only have I improved in speed, but the software has improved in accuracy.
Just as you would cultivate any writing habit, schedule time for yourself to dictate, and make sure you meet that commitment.
Over time, you will be amazed with the results.
Book Marketing Made Simple
Over 47,000+ authors, NYT bestsellers, and publishing companies use Publisher Rocket to gain key insight to the market. Help your book now
The Editing Process
Lastly, let's talk about the editing process. Editing is often more essential after dictating, because a lot of grammatical mistakes and spelling errors usually make their way into your manuscript.
So what can you do to improve your editing process? Let's take a look at a few options:
While I don't recommend editing as you go for most cases, it can be useful when you're just starting out using Dragon. The reason for this is that it will learn as you edit your mistakes.
However, this isn't necessary all of the time, and perhaps you can limit it to just a few minutes of dictation every session for just the first few sessions.
The rest of the time, I recommend waiting to edit until after you've finished your writing.
If you discover that dictation is causing too many errors, it might actually not be worth it for you (although you may also have a problem with your microphone or setup, so check that first).
A good way to measure this is to time yourself when editing. If the time that you save in writing is outweighed by the extra time you spend in editing, then you're still spending the same amount of time working on your novel.
With the right software program, this can be avoided, but it's good to check how long it takes to edit if you find yourself editing too much.
Don't let a little extra editing scare you. With dictation software, this is normal.
Don't give up, allow your software's AI to improve, and stick with it until you know for sure how much extra editing it gives you.
If you have a hard time catching all of your mistakes, a good resource is ProWritingAid , which can greatly help you catch all of the errors.
If you find yourself making too many errors, or the amount of editing you do is too high, consider hiring a proofreader who is willing to forgive many mistakes, or hire a transcriptionist to do the transcription for you.
Both options will result in cleaner manuscripts.
I started dictating because I knew I was going to write this article. By the time I wrote this article I had written over a dozen other articles using dictation software.
I then became so excited to share this article with you, because dictation has really improved my writing process. And my experience with the software is still relatively small.
However, I know enough to recommend it to anyone who wants to increase their speed, word count, or want to increase the time they have in the day.
If you found dictation to work for you, I recommend sharing this article with a friend.
Jason Hamilton
When I'm not sipping tea with princesses or lightsaber dueling with little Jedi, I'm a book marketing nut. Having consulted multiple publishing companies and NYT best-selling authors, I created Kindlepreneur to help authors sell more books. I've even been called "The Kindlepreneur" by Amazon publicly, and I'm here to help you with your author journey.
Excuse #1: "I tried and it didn't work for me"
Excuse #2: "Saying the punctuation is so awkward"
Excuse #3: "I write fantasy with weird names, so dictation doesn't work"
Excuse #4: "I write in public so dictation doesn't work well for me"
Excuse #5: "Dictation is too technical"
Step 3: "Train" Dragon Dictation
Related Posts
31 epigram examples to inspire and improve your writing, funny writing prompts: 50+ ideas to get your started, topics for memoirs: 50+ ideas and prompts to get you started, sell more books on amazon, amazon kindle rankings e-book.
Learn how to rank your Kindle book #1 on Amazon with our collection of time-tested tips and tricks.
Join the community
Join 111,585 other authors who receive weekly emails from us to help them make more money selling books.
Daily Writing Tips
Can you write a book or a novel with speech recognition software.
You have a right to disagree with my previous post Writing with Speech Recognition Software . For many writers, dictating a book instead of typing it just doesn't work. Maybe you can dictate faster than typing. But that doesn't matter much if you can't think faster than you can type. The speed bottleneck is often in your head, not your fingers.
In 2012, YA novelist Justine Larbalestier wrote a blog post Why I Cannot Write a Novel With Voice Recognition Software and updated it three times since. I suggest you take all her complaints to heart – which I did in my previous article. Then, try it anyway . It might work for you.
For some writers, dictation had better work. Some have physical challenges, such as carpal tunnel syndrome, that make it difficult or impossible to use a keyboard. Others have a different kind of challenge – the words flow when they talk, but dry up when they type. Or vice versa. People are different, and for some potential writers, the choice is between dictation and nothing.
At least one award-winning investigative journalist and screenwriter has dismissed the idea of writing by dication, saying "Talking is not writing." Many modern authors would agree. However, some of the greatest authors of past centuries might be confused. Many classics of ancient literature were created purely by talking . The Greek poet Homer probably dictated the entire Illiad and Odyssey because, according to tradition, he was blind.
The writing process that you lean on today might be unrecognizable to the writers of past ages. And not just because Chaucer did not use a computer. Before paper became common in the 1400s, the typical writing material was parchment, often made from sheepskin. With every draft, a sheep died. Every revision meant increased cost in materials and labor: buying paper, spending time, paying a secretary. When writers had to copy every new draft by hand, they didn't make draft after draft.
So what did writers do when revisions were costly? They would work out the sentence in their heads first and only then write it down in final form. In those days, this was a universal writing technique, not only for novels and essays, but for every writing task, including letters and personal correspondence. Some modern authors could learn to work the same way. Dictating in complete sentences would work well with speech recognition software today.
Ironically, I give beginning writers the opposite advice. It's best not to analyze what you just wrote if it inhibits you from writing more. I have advised writers write first, edit later and to turn off their internal editor . But I don't write that way myself. Hypocritical? No, because my writing isn't inhibited when I edit as I write. As I work, the voice I hear is not a dismissive critic but a helpful editor. I have a confidence, borne out of long experience, that I will be able to improve the awkward or silly sentences that I so often come up with. Word-smithing doesn't discourage me, it energizes me.
Of course, in earlier times a dictating writer would use a secretary or a spouse to transcribe their books, because software hadn't been invented. Some very successful writers have been dictating writers.
Mystery writer Agatha Christie dictated perhaps half of her 66 books using a Dictaphone, an office recording device which entered popular use after World War II. As her grandson Mathew Prichard explains, a secretary typed up her dictation into a typescript, which Christie would correct by hand. Would Dame Agatha have used Dragon Naturally Speaking instead, if it had been available? Since she could afford a secretary, perhaps not.
For Pastor Max Lucado , who had 100 million books in print by 2010, a best-selling book would routinely begin as a sermon series. He would write out the sermons beforehand (or did he speak them to himself first, as Charles Dickens did with his novels?) As Lucado preached, an assistant sat in the front row with a copy of his manuscript in hand, writing down anything Max added that wasn't in his original text. Later, Max would edit the books while on "vacation," or at least, while he was away from his pastoral responsibilities (for which he received no salary). His publisher says he's never missed a deadline.
Today, one well-known dictating author is science fiction writer Kevin J. Anderson , who says in his 2010 article Dictating, Writing, Hiking , "It's been about fifteen years since I gave up the keyboard and took up a recorder for my first drafts." That is, he gave up his chair and took up his boots. For example, Anderson wrote much of his series The Saga of the Seven Suns while hiking the canyons of Capital Reef National Park of southern Utah. However, like Agatha Christie, he sends his voice recordings to a typist or stenographer, not to speech recognition software. And he outlines in advance.
After 25 years of this, Kevin J. Anderson must be doing something right: the author of 56 bestsellers, with more than 23 million books in print worldwide, he has been nominated for the Hugo, Nebula, Locus, and Bram Stoker awards. But this writing/hiking technique is not always appreciated. British critic Ian Sales claims The Saga of the Seven Suns contains "the sort of words you pick as you scramble up a hill being chased by a goat." Personally, though I've never been chased by a mountain goat while writing, my initial word choices are still often unsatisfactory. Poor word choices are exactly what I can fix later. I wonder what Anderson's recordings sound like. Could I guess that he was a best-selling author by listening to them, or would I be amazed at how rough they are? Does he dictate smoothly or in bursts? Fast or slow? He told J. Daniel Sawyer that when he's climbing a mountain, he does breathe heavily and he loses words if it's windy.
Other authors seem more jealous of Anderson than critical. Military sci-fi writer Weston Ochse mockingly wrote a blog post Why I Hate Kevin J. Anderson , in which he says, "Oh to be Kevin J. Anderson and be able to tra-la-la through the world instead of sitting at the computer hammering in desperate bursts, hoping beyond hope that my inspiration and creativity won't be snatched away by Facebook, Twitter, YouTube, email, Gmail. Google+, LinkedIn…" (Full disclosure: in 2005, Ochse won the Bram Stoker Award, while in 1988, Anderson didn't. He was nominated for it. But Ochse doesn't rub that in.)
Besides reduction of electronic distractions , another advantage of writing-while-you-walk is the exercise it gives you. That would have helped British writer G.K. Chesterton, whose body mass index of 34.8 (I just calculated it) may have contributed to his early death. Japanese novelist Haruki Murakami rises at 4:00 a.m., works for five or six hours, and runs for six miles (ten kilometers) or swims a mile (or both) every afternoon. Charles Dickens went farther than that, literally. Every day at 2:00 p.m., after writing for five hours, Dickens took a three hour walk. He often put in 20 miles a day, and he was said to do even more walking at night. Since voice recorders hadn't been invented, he wasn't writing or dictating, but he was still working and thinking about his story.
Maybe you're sure that if you dictated your stories or articles, your dictations would sound stupid. For some writers, speech recognition could let them work in ways they never imagined . Maybe this sloppy text sound like something you would dictate…
He… the elderly man…the old man… he was fishing… who fished by himself…alone in a little boat… a skiff or a rowboat, off the coast of Florida, or somewhere in the Gulf Stream and he hadn't caught a fish for a months.. he had gone, let's say, eighty-four days now without catching… without taking a single fish… without taking a fish.
Ugly as it is, this may be an example of a new kind of first draft , made possible by speech recognition software. Because if you typed it, your fingers would probably rebel and try to come up with a clean version prematurely before you even got the story out of you. Or else you would be intimidated into developing a case of writer's block, giving up on your story, and checking Facebook instead.
But what if you read this draft a second time into your microphone, more coherently and leaving out the duds and mistakes? The result might be:
He was an old man who fished alone in a skiff in the Gulf Stream and he had gone eighty-four days now without taking a fish.
If so, you've just written the first line of Ernest Hemingway's The Old Man and the Sea . Good job.
5 thoughts on "Can you write a book or a novel with speech recognition software?"
I'm not against telling my story. That's how stories used to be told back in the day – verbally.
My only problem is I get caught up in how it WORKS, not necessarily the idea of it. My Android phone stops speech-text after about 30 seconds and I end up spending more time hitting the button to have it work again and getting flustered. Otherwise I would have dictated my own book by now and working on a second draft … I blame everyone else for my failures there 😉
I'm able to achieve a 99.9% accuracy while dictating via Dragon Dictation. I wrote up my process for how I accomplish this on my blog, along with step-by-step images. https://www.nakbaldron.com/7-steps-to-train-dragon-diction-from-mushu-to-smaug/ After completing this, you should have Dragon Dictation with accuracy of 99%+ (an error rate of 1 out of 100 words). Moving forward you will need to repeat steps four & five, and you too will achieve accuracies of 99.9% (an error rate of 1 out of 1,000 words) or higher.
Now go dictate your next novel!
I can, have, and do write a novel with speech recognition. Dragon 15.3 works swimmingly.
A little self-discipline went a long way to learn it. First skill was to think through a paragraph and organize the thoughts, approach, and wording. The second skill was to speak each word distinctly and with an even pace. I try to finish the paragraph before I review the computer screen, let's not rigidly.
A third skill was learning to let the thoughts flow and dictate into a portable voice recorder while out and about. Dragon will then transcribe the dictation into words upon my return. It has good enough rejection of background noise that I can dictate on hikes, while walking on a treadmill, or sitting in a moderately quiet restaurant. The accuracy was much lower when dictating in a noisy bar, but even there was passable.
The idea is to remove all friction between my thoughts of my novel in my head and the captured words in the draft. A major effect is much reduced wear and tear on my typing hands.
My recommendation is to use voice recognition to write novels, and to assist in their subsequent editing. Much manual typing or writing will still be required in the editing, however.
If you want to create large documents faster then the best way is to create it with voice. The best app for speech recognition is "Dictation Pro". I like this app a lot. It gives fast and accurate dictation. The set of voice commands is also great. https://www.deskshare.com/dictation.aspx
It is possible to dictate an entire book by using the "Dictation Pro' app and your voice. By far this is the best app that accurately types what I speak. It supports multiple file formats and languages. https://www.deskshare.com/dictation.aspx
Leave a Comment
Want to Dictate a Book Fast? Use These 12 Practical Tips
This article offers 12 practical tips that will help you dictate a book fast and more accurately.
Many prolific authors find that they are at high risk for typing-related injuries and writer's block . Often, staring at a blank screen can stop creativity in its tracks. Dictation can help break through these hurdles and keep the creative ideas for a book flowing.
Each author has a unique writing process, but dictation can help you write a book's first draft faster. I've used many of the tips in this article to work dictation into my book writing workflow. With practice and the help of the right dictation software, you can too.
1. Select The Right Dictation Software
6. Create an Outline
7. Learn Basic Voice Commands
8. Work Somewhere Quiet
10. Work Chapter by Chapter
11. use placeholder words, 12. edit and format using keyboard and mouse, a final word on the best way to dictate a book fast, faqs about the best way to dictate a book fast, voice dictation resources.
Dragon offers professional-grade speech to text with near 95% accuracy. It's available on iOS and Android.
Good dictation software ensures better accuracy. Authors can pick from many options, but not all help with formatting or assist with your word processor of choice. Here are several options to consider, for authors of all budgets.
Dragon NaturallySpeaking Or Dragon Anywhere
Dragon Anywhere from Nuance is one of the most popular dictation software options. It works with Scrivener, Microsoft Word, and Pages, making it a popular speech-to-text option for many professional writers.
The Dragon Anywhere mobile app lets you take your book on the road. While some practice, it offers near 100% accuracy. It's what I use most.
Google Docs Voice Dictation
Google Docs has a voice dictation program built into its platform. If you already use Google as part of your writing process, you can benefit from dictation without learning new software or paying for it.
To use it, select "tools" and "voice typing" within your Google Docs document. Although it's free, don't expect 100% accuracy.
Apple Dictation
If you are a Mac user, Apple Dictate is a great choice. Siri generates accurate text across iOS devices and is built into Mac OS and iOS .
You can dictate your book on your Mac, then transfer the program to your iPhone and use Siri to keep working on the road. Again, it's free, but don't expect 100% accuracy.
If using find using voice-to-text and voice recognition software is too difficult, consider a transcription service .
Ottter.ai is a reasonably accurate AI-powered transcription tool aimed at business people. However, professional writers and authors can use it too. Simply, record a chapter of your book using your phone or a voice recorder. Then upload it to Otter.ai for transcription.
The result will require some clean-up and editing, but you won't have to learn any software. It starts at $8.33 per month.
Temi transcribes via automated AI, like Otter.ai. It charges $0.25 per audio minute and delivers easy-to-read typed transcripts. Again, record on your phone or with a voice recorder, upload, and edit the results. Bear in mind, background noise dramatically impacts accuracy.
Rev offers transcripts by a real person. The human transcripts have a 99% accuracy guarantee, which means fewer typos. They also turn the finished workaround in about 12 hours, so you don't have to wait to get your draft. Rev costs $1.25 per minute.
A transcription service is more expensive than dictation software . You need a good outline before submitting a draft for transcription, otherwise, it will cost you a lot. I also recommend working on and submitting each chapter separately rather than a single, large audio file .
5. Buy a Good Headset
You'll spend less time editing a draft if you use a quality headset . In other words, avoid using the ten-dollar headset that came with your phone. Choose a headset that picks up your speech while reducing background noise .
Apple Airpods work surprisingly well. Alternatively, you can invest in a dedicated voice recorder and upload the audio file to a service like Rev or Temi.
Before you start writing a book , create an outline. It says what you're going to say as you dictate the chapters. Plus, dictation software works best if you speak in complete sentences, which is easier with an outline.
You can draft an outline by using a bullet-point list using an app like Dynalist. Alternatively, you could create a mind map. The outline needs the basic plot or main points of your book. It's a flexible document that evolves with your book and keeps you on topic.
Whatever your approach, keep your outline nearby while dictating so you can look at it while speaking.
7. Learn Basic Voice Commands
Voice commands tell your software when it is time to insert punctuation, make a line break, start a new paragraph or stop transcribing. Take some time to practice using these to save yourself a lot of time when you start dictating . If you're using a transcriptionist, these are not required.
Accuracy is the key when dictating . Work somewhere quiet if possible. That way, background noise won't impact your train of thought or the quality of your manuscript. I find it easier to dictate while standing up and walking around rather than sitting in front of a computer.
I've also dictated chapters for a book while out for a walk, although the wind impacted on accuracy at one point.
9. Start Dictating
Dictation is much like writing any first draft . Your job is to get the words out of your head and fill the blank page , as fast as possible without editing yourself. Keep speaking and if you make a mistake, just repeat the previous sentence or paragraph.
I also recommend working in 30-minute sessions before taking a short break. This is long enough to dictate several thousand words but not so long that your voice becomes tired. Also, keep a drink of water nearby in case your throat becomes dry.
Dictation requires you to write linearly because it's not easy to jump around the book as you speak. Use your outline to guide your writing through each chapter.
When you reach the end of a chapter, consider editing it rather than moving on to the next. This will help you see areas where you can improve in your dictation as you move through the book.
After editing your rough draft of your first chapter, move to the next, until you have a finished draft of your book.
We gave my daughter a traditional Irish name.
No matter how often I tried, I couldn't train Dragon Dictate or other software to dictate her name correctly. I tried spelling the name and various other tips and tricks, but the software still mangled it.
Whenever I'm journaling and I use her name, I dictate a placeholder word that Dragon understands. For example, I call her "Sarah" or I call her "my daughter". Then when I'm editing the journal entry, I search for the word 'Sarah' and replace it with my daughter's name.
If you're writing fiction, you could use this trick for unusual character names.
Dictation can speed up the writing process , but it may lengthen the editing process. Once you have dictated your work, sit down and edit it on screen. After testing various dictation apps extensively, I still find it faster to edit on a keyboard. It's faster and more efficient to manipulate text with a keyboard and mouse.
Dictation apps like Dragon Anywhere support basic editing commands. For example, say "Scratch that" to delete whatever you said last. If you insist or need to edit with dictation software , I suggest printing out work to review it as a whole before editing.
The best way to dictate a book is to find a speech-to-text software or a transcription service that works with your workflow .
Dictating a book can become a healthier writer and reduce the risk of writing in pain , while also spurring your creativity. Even the most skilled typist can sometimes need a break from typing.
It's not a substitute for writing, proofreading, and editing. It is simply a tool to help you write more quickly.
Can You Dictate A Book?
While dictation doesn't remove the need to proofread or edit, it can speed up the writing process and reduce typing strain. Many authors find speaking their thoughts helps them break through writer's block and other creativity hangups.
How Can You Dictate A Book?
To dictate a book, find  dictation software , set up an outline of the basic plot and start speaking your ideas. After you receive your transcription, read through it and tweak it to remove  dictation  errors and  typos . This can save you time on the overall  writing process .
The Best Speech To Text Software For 2021: 8 Top Choices
Practice Dictation With These 9 Simple Exercises
How To Write Faster And Send More Work Out Into The World
9 Speedy And Effective Dictation Tips
Otter.Ai Review: Is It Worth It?
Dragon Anywhere App Review: Is It Worth It?
What Are The Best Apps For Dictating A Book?
What Is The Best Dictation Software? 7 Top Choices
The Best Transcription Services Reviewed
Join over 15,000 writers today
Get a FREE book of writing prompts and learn how to make more money from your writing.
Success! Now check your email to claim your prompts.
There was an error submitting your subscription. Please try again.
Nicole Harms has been writing professionally since 2006. She specializes in education content and real estate writing but enjoys a wide gamut of topics. Her goal is to connect with the reader in an engaging, but informative way. Her work has been featured on USA Today, and she ghostwrites for many high-profile companies. As a former teacher, she is passionate about both research and grammar, giving her clients the quality they demand in today's online marketing world.
View all posts
Live Customer Service | M-F 10am-6pm Eastern: 864-729-3997
FORMATTING + DESIGN

FREELANCE COMMUNITY
How to Write in First Person (Tips and Examples)
Posted on Mar 15, 2023
by Gloria Russell
Anyone who has read and enjoyed any amount of fanfiction can tell you that perspective changes everything.
The way an audience sees what's happening hugely informs the way they experience the story. Imagine each character in your story has a GoPro attached to their head and a little device recording their thoughts and reactions as they navigate the plot. The feed would change hugely based on who you were watching, wouldn't it?
Choosing the point of view character (or characters) for your story is crucial, so it's also important to know what your options look like.
In this article, we're going to talk about the first person. We'll talk about what it is, give you some tips for writing in first person, and show you some examples of first person writing done well.
This guide on how to write in first person covers:
What is first person point of view, how to write in first person point of view, how to write a story in first person, how to write dialogue in first person, how to write thoughts in first person, how to not write in first person.
Examples of first person writing
Make a Full-Time Passive Income From Book Sales
Creative Writer Class: How to Write & Publish a Fiction Book
Taught by a Bestselling Author with YEARS of experience doing JUST THIS! Learn the most recent fiction marketing tactics, Amazon algorithm deep-dive, with case studies, & more.
In first person, you're in the head of the point of view character, and you're using the pronoun "I."
Say we're writing a book about a woman named Sally, for example. If this story is in first person, you would be writing the book from Sally's perspective as if from inside Sally's head. Instead of saying "Sally walked to the store," you would say "I walked to the store." The "I" is Sally.
This means that in first person, the reader is locked inside the POV (point of view) character's mind. They see what the main character sees, and they don't see what the main character misses. The POV character is narrating the story to us as they experience it, basically, which can create a very personal and relatable experience.
Writing in first person might seem like an obvious and even easy choice, but it can get gnarly pretty quick. When done well, it's an intimate experience that brings the reader close to the POV character. When done badly, it can get clunky and detached.
Here are a few tips for writing in first person!
These tips will help you write your next story in the first-person perspective:
Consider your POV character's perspective
When you're writing first-person, you should always be thinking about things from the perspective of your POV character.
Think of point of view like a lens. The story is happening, but we need a lens to see it. Our POV character might have a blue lens—this will tinge everything blue. There will be nothing that isn't somehow affected by the blue lens, and there will be no way to see something without that lens or through a different one.
While you're writing, consider what your POV character thinks of the setting. Prioritize their reactions and the way they would describe things. Maybe you think parties are loud and claustrophobic, but you're writing the first-person account of someone who loves parties. This means that instead of describing a party as noisy or dirty, the party should be exciting and fun.
Stay inside your POV character's head
Writers new to first person will often veer outside the first-person perspective when they feel they need to, and this is a mistake.
Remember: we're only seeing what the POV character sees. It might be important for the reader to know that our main character's husband is discontent with their marriage, for example, but we can't jump into the husband's head or read his mind.
There's a difference between your main character guessing what other people think and perspective-jumping, though. It's fine if your main character projects and makes incorrect assumptions, but these projections and incorrect assumptions should be addressed, and it shouldn't feel like we've left our main character's point of view.
Give your POV character a clear voice
First person is the perfect place to explore voice. After all, we're inside this person's head navigating the story with them—their personality, manner of speech, and turns of phrase should come through in the prose.
This doesn't mean that your story ought to read like a diary entry, necessarily. Having excessively casual and overly characterized prose can get cheesy pretty quick. But it does mean you should let your POV character flavor your story.
Make first person an important choice
Above all, make sure that first person is the right choice for your story.
What is the benefit to being in this person's head? What does the story gain from this limited perspective? In The Secret History by Donna Tartt, our first-person main character isn't present for so me of the most dramatic parts of the story. This means that the reader, like the main character, is relying entirely on the accounts of his friends to explain what happened. Having this little information cranks the drama. We don't know what happened, and we don't know who to trust, and we're eager to find out.
In a romance, first person might give us a more intimate look into a character's feelings and motivations. It's a quick way to make a story relatable and personable, so it's a go-to if you're writing a memoir or an intensely personal piece.
Consider your options, and pick first person on purpose.
How does dialogue work in first person? It's the same as if you were writing from any other perspective. Use the correct pronouns in your dialogue tags, and you're good to go.
Here's a quick example of first-person dialogue between a first-person narrator and someone else:
"Hey, Dee," I said.
"Oh, hello!" said Dee.
If this were third person, and let's say the narrator's name is Sally, it would look like this:
"Hey, Dee," Sally said.
Incorporate thoughts into the narration
You've probably read first-person prose where thoughts are written in italics to distinguish them from the narration.
For example:
"I couldn't believe she was leaving . I'll never see her again. I have to say something now. But before I could open my mouth, the door swung shut in my face."
You don't need to say "I thought," since the italics already distinguish the thoughts as thoughts.
However, in first person, you also don't need to use italics. We're in the main character's head, which means technically everything we're reading is something the main character is thinking. This is especially easy to do if you're writing in the present tense.
Let's take the example above and rewrite it to incorporate thoughts into the narration.
"I couldn't believe she was leaving. I'd never see her again. I needed to say something now. But before I could open my mouth, the door swung shut in my face."
This reads more smoothly, and it allows the main character's perspective to add some flavor to the prose.
What should you avoid when you're writing in first person? I've made a short list of things to watch for:
Filter words
Since first-person accounts put us right in the main character's head, everything we see is everything they see. Descriptions of things are, therefore, things that the main character is observing. This means we don't need filter words, or words that put distance between the character and the writing.
For example, instead of saying "I saw a bird fly into the window," you would just write "the bird flew into the window." "I heard the coach blow the whistle" becomes "The coach blew the whistle."
You may use filter words or phrases to create that distance intentionally, but it should always be intentional and never the default way of describing things to your reader.
POV-hopping
Like I said before, avoid POV hopping. We're in the main character's head, and we should stay there.
What might POV hopping look like in first person? Here's a quick example:
"I did my homework while Mom worked on her painting. She wasn't sure whether to use red or blue for the background, so she mixed them into a vibrant purple."
Unless we already know that Mom is struggling with the background, this is perspective-hopping. We don't know what Mom is thinking. Instead, we could perceive her indecision and let the reader infer that she's not sure what to do with the background. That would look more like this:
"I did my homework while Mom worked on her painting. She touched her brush to the blank background, frowning. Her fingers drifted over her red and blue paints for the entirety of my math worksheet, and when I started on History, she'd mixed the red and blue into a vibrant purple."
Overdoing a character voice
Earlier, I mentioned that overdoing a character's voice can make the prose cheesy. This generally happens when the prose reads too casual, lacks interesting description, and includes too many exclamatory phrases. It can also happen when someone writes from the first-person perspective of someone from somewhere they don't know and gives them a stereotypical voice.
For example, if you were writing from the first person perspective of a ranch hand, this might read a little ridiculous:
"Well, golly. The sun was shining in my eyes the whole diddly-darn time I was out attending the cattle. I sure was mighty glad to be back inside. I mosied on over to the water cooler and poured myself a big ol' cup."
This doesn't read authentically—it's kind of cartoonish, which disconnects the reader from the story. Imagine reading an entire book like this. You wouldn't want to, right?
Getting too stuck in a character's head
What do I mean by this? Really, I just mean that most of your sentences shouldn't start with "I." Even though we're in the POV of your main character, every single sentence shouldn't be strictly about them. Avoiding filter words will help you with this, as will varying your sentence structure.
Here's an example of first-person prose that's too stuck in a character's head:
"I got my groceries. Then, I bought myself a new suit at the outlet mall. On the way home, I listened to the radio, which I hated to do, but the quiet felt stifling for some reason."
See how we're repeating "I" a bunch of times? Here's another way we might word that same passage:
"I walked to the store, then bought myself a new suit at the outlet mall. On the way home, the silence filled the car uncomfortably. The radio helped, even if it meant listening to the horrible clanging music on the local station."
By taking out some of those filter phrases and removing some instances of "I," we have more style in the prose, more connection to the scene, and more sentence variation to boot.
First person omniscient
A quick note on first-person omniscient!
First-person omniscient is when we have a first person narrator who also is privy to the thoughts of other characters. This is pretty rare, but The Book Thief by Marcus Zusak is a great example. There's generally a reason as to why the first-person narrator has this information, whether it's hindsight or, in the case of Zusak, the nature of the narrator being something all-knowing like death.
Examples of first person pov writing
If you're looking for some examples of first person done right, check these books out on your next trip to the library:
The Book Thief by Marcus Zusak
The Lovely Bones by Alice Sebold
The Secret History by Donna Tartt
Looking for Alaska by John Green
Love Medicine by Louise Erdrich
Maximum Ride by James Patterson
Gloria Russell
Most popular blog posts, what is self-publishing school.
We help you save time, money, and headaches through the book, writing, marketing, and publishing process by giving you the proven, step-by-step process and accountability to publish successfully. All while allowing you to maintain control of your book–and its royalties. Learn to publish a book to grow your impact, income, or business!
Create Your Writing Plan
Step 1: set proper expectations for yourself.
Most online guides to writing a new book begin with writing.
But that doesn't work.
If you wanted to cook dinner, you wouldn't start with the cooking, would you? No, of course not. You'd start by preparing your space and collecting the right ingredients. It seems obvious when it's pointed out, but so many people miss this when writing a book.
At Scribe, we've helped over 1,200 authors write their books (as of summer 2019), and probably the #1 thing that separates those who finish their books from those who do not is having the proper expectations going in.
Because writing a book is hard, and if you're not prepared for that fact, you're far more likely to stall, and even quit. But if you know the difficulty of what's coming, you can mentally prepare to get past those obstacles when they come (and they will ).
These are the major expectations you should have as you write your book:
Expect it to be hard.
Anyone who tells you the process of writing a book is easy is either trying to sell you something, has never written a book, or writes really bad books.
Books are hard to write.
And writing a good book is even harder.
If you want to write a good book, then expect that it will require hard work from you.
Expect to get tired.
Writing is tiring (especially if you do it correctly).
Expect to get tired when you write, and expect that it will drain you. Make sure to take the steps you need to be both rested and energized when you write.
Expect to be confused.
Writing a book is confusing. But what you'll find as you work this method is that while some of the things we recommend might seem unusual, they actually WORK really well—which is ultimately what matters the most.
Expect to feel overwhelmed at times.
There is a lot coming. It will be like drinking from a firehose. You WILL feel overwhelmed at times.
But understand this: overwhelm is NOT KNOWING WHAT TO DO NEXT—which is exactly why you are reading this guide. We solve this for you.
If you follow along and do what we say, you will ALWAYS know what to do next. We've made this process so that there are no surprises.
Expect to be emotionally uncomfortable (and maybe afraid).
This is a big one. Writing a book will unquestionably push you emotionally and expose fears and anxieties.
That is never easy, and never fun, but if you want to write a book, it's almost certainly going to be a necessity (don't worry, I will tell you what fears are coming and how to deal with them).
Don't worry too much about your fears right now, but if they come up later, you can always read our guide on book writing fears and how to beat them. It's the best guide on the internet on how to deal with writing and book fears.
Step 2: Schedule a Time and Place to Write Each Day
Shouldn't you just get inspired to write? If you wait until inspiration strikes, and then use that as fuel to write, you'll be good, right?
If you rely on inspiration to write your own book, you will fail . There is one single thing that creates success with writing, and every single writer will tell you this:
Discipline.
It took me three years as a professional writer before I understood that I needed a writing plan for every book I wrote. Writing without a plan is like going cross country without a map. Yeah, you might get there, but it'll take you at least twice as long.
You must sit your ass in the chair and write, just about every day, until the book is done.
It doesn't need to be full-time, but you do need a writing plan. Because it defines exactly what you will do to finish your book.
Inspiration might be how you decide to start the book—and that's fine—but discipline is how you'll finish.
You are an author now, and what does an author do? They write. EVERY DAY.
A writing plan is nothing more than a specific writing schedule that lays out a writing time, where you're going to write each day, how much you will write, when everything is due, and what your accountability is.
"When should I write?"
You must start by picking the exact time and writing space you will write each day. For example, you could write every day during free time from 8 a.m. to 10 a.m. in your home office. Or from 3 p.m. to 4:30 p.m. at Compass Coffee.
This is not negotiable. If you tell yourself that you'll "write when you have time" then the book won't ever get done. If you don't think about the environment where you will do your writing, you may very well not make effective use of that time you've set aside.
With both of these elements, you want to be as specific as possible. The more you plan now, the less you have to think later.
If the book matters, then you figure out precisely when and where you will write it.
We recommend writing for at least one hour per day. If you only have 30 minutes per day to write, then do that. The optimal amount of time is two hours, but very few people can set aside that much time.
Also, be realistic. Most authors cannot write (effectively) for more than three hours a day.
"How consistently should I write?"
If you can, write every day. If seven days a week is too much, then take one day off and write for six. God rested on the seventh day and so can you.
The key thing to remember with a book is that you don't stay where you are with a book; you either move forward or you move backward .
Momentum is a key element in seeing a book through from beginning to end. You will make that decision each and every day for the duration of the book-writing process. Your plan will help you stay accountable so you continue moving in the right direction.
"How do I pick my writing location?"
It's very simple to pick where you should write: wherever you get writing done .
These are the general factors people consider when writing: ambient noise, temperature, view, comfort, and isolation. A universal "correct" place to write doesn't exist. If you write well in coffee shops, do that. If you write well at a desk in your basement, do that. Wherever you are most creative, most functional, and most confident, write there.
Find the place and setting that works for you and then recreate that each day. If your initial location stops working for you after a while, acknowledge that, figure out what you need to change, and identify a new location.
"What book writing software do I use to write?"
It doesn't matter what book writing software you use. Just don't get fancy. Use what you know and what is easiest.
Step 3: Set a Specific Writing Goal (250 Words Per Day)
In addition to scheduling the time and place of each writing session, give yourself a specific writing goal for each session.
We recommend a goal of 250 words per hour of writing.
Why 250 words? It's approximately the number of words per page in a printed book. So if you're writing about 250 words, that's about a page a day.
Yes, this is a very low goal. But a low goal is good. A low goal is not intimidating, so it will help you get started. It will also make you feel good when you surpass it, and that will entice you to keep writing.
This is a classic sales technique—lowering the quota to inspire action—that works wonderfully with writing. The best part is that it adds up quickly:
By writing just 250 words a day, you can get a 120-page (30,000-word) first draft done in about four months.
This also builds a writing habit. Humans are habitual creatures, and it'll get easier as you go.
Step 4: Create Your Deadlines
Deadlines force action and demand accountability. Below is a rough outline of how to pace yourself, and you can adjust it to your schedule.
If you want to move fast, give yourself a deadline of about a chapter a week.
If you want to move at a reasonable speed, give yourself two weeks per chapter.
If you want to move slower, allow three weeks.
If you have a hectic life, do a chapter per month. And then question whether you have the time to even do this.
Step 5: Announce Your Book
To take accountability one step further: announce that you are starting your book .
Use whatever social media platform you prefer, but the point is to publicly claim your intention to people you care about. You'll get a lot of positive feedback, which will help you start, and the fact that you have announced your intention will help you push through when you are wavering.
You can talk about what your book is about, who it will serve, what the working title is, what areas you plan to cover—it doesn't really matter. All that matters is that you tell the world this is coming.
Step 6: Give Yourself a New Identity: Author
As soon as you finish your writing plan, and announced your book, it's time to consider yourself an "Author."
Yes, this is getting a little ahead of the game. You haven't published your book yet. Nor have you even officially started writing.
But that's OK. You've made the commitment, and believe it or not, wearing the identity will help you get started and get through all the problems that will inevitably come up.
All you need to do is something as simple as writing your name and "Author" beneath it to make it real.
Write Your Book
Step 7: figure out your book objectives: why are you writing your book, and what do you want to get.
The first step in writing your book is what is called "positioning" in the book industry . Positioning is the most crucial part of both writing (and marketing) your book. What is book positioning? Simply stated:
Book positioning is the place your book occupies in the mind of your reader, and how that reader perceives your book as fulfilling their needs.
That is the technical, industry definition of positioning. But really, positioning is about answering the question readers ask about every book:
"Why should I read this book?"
It's important to understand that you can't write or market yourself out of a positioning problem . If you get it right, positioning makes both the writing and marketing of the book easy, and ensures you get what you want from your book.
If you do not take this seriously—if you get your positioning wrong—then almost nothing you can do will save your book or make it successful.
The best place to start book positioning is your objectives. This is because once you know what you want to accomplish with your book, it allows you to figure out the correct book to write.
This basic question helps authors discern the proper objectives:
"Imagine it's a few years after your book has been published. What has the book helped you accomplish that made the effort worthwhile?"
There are an almost infinite array of benefits a book can get for an author, but most of them fall into one of these six popular objectives:
Raise Visibility/Profile: Books can increase visibility in any number of ways, like making it easier to gain media exposure or raise your profile in your niche.
Increase Authority/Credibility: Books help an author establish authority and gain credibility within their field.
Get New Clients/Opportunities: Books can easily help generate new business and other opportunities, across a variety of platforms and venues, in multiple ways.
Speaking Engagements: A book is almost a necessity for becoming a paid speaker, or often getting booked for any public speaking at all.
Leave a Legacy: A book can help establish a legacy and pass your story onto others.
Impact Others: There are a lot of ways to impact people , and for some authors, this is often the main benefit to them. They either do not care about what they'll get from their book, or they care about that only as a secondary benefit.
Obviously, the details of each of these depend on your specific field and profession, but any of those objectives can be very realistic.
Examples of Book Objectives
From a book about learning faster and more effectively:
1. We have built our B2C business to over $10M a year, in large part by leveraging the free book funnel and the exposure of the book, despite the fact that I'm less involved in the business than ever
2. We're doing over $1M a year in corporate and enterprise subscriptions, because of the exposure and credibility of the book and the event
3. We have sparked research, conversation, and debate about education reform, and are working on a few not-for-profit pilot initiatives to improve education
From a book that teaches women how to sell like men, but ethically and with heart:
1. I have a large following of female entrepreneurs and my brand is recognized and well-respected
2. I'm a sought-out speaker on the topic of sales and female empowerment. I have done a TEDx talk and been asked to speak at large, recognizable conferences like SXSW and Traffic & Conversion Summit.
3. I frequently get messages from people (women and men) who thank me for writing this book because it genuinely helped them
What Are Unrealistic Book Objectives?
Of course everyone secretly hopes their book will sell millions of copies and be a breakout success—but if you make that your objective, you are setting yourself up for failure. Those are not realistic goals. If you set realistic goals, you give your book a chance to actually succeed.
In fact, the most important thing you can do with this question is kill your fantasies and set objectives that are achievable. These are unrealistic objectives for most authors:
Sell a million copies the first year
Be asked to do a mainstage TED talk
Become a famous author
Be a New York Times bestselling author
Get on Oprah/Ellen
Fill an ill-defined emotional void
Here's the thing about these objectives: they are not literally impossible. People have accomplished them all. We've had a few of our authors do them.
But they are exceedingly rare, and most books have no shot at these objectives. The more you focus on realistic objectives, the better your book will be at hitting the audience you need to hit in order to succeed.
Step 8: Figure Out Your Book Audience: Who Is Your Book for, and Why Will They Care?
You can absolutely write a book without caring who your audience is. But don't expect it to do well.
In fact, there's a name for a book that is written without an audience in mind— it's called a diary .
If you want your book to be successful and reach the objectives you set out for it, you need an audience, and you need to think about and define that audience beforehand.
Let's start with a definition of what an audience is (for the purposes of a book):
An audience is a single group of people who share the specific problem your book solves.
Why does this matter? Because the key to writing a good book is actually narrowing your audience down as much as possible to only the people your book is intended to help.
Some authors start by thinking their book can potentially reach everyone. They dream about the millions of people that "could possibly" find their book appealing.
Don't do that. There is literally no book ever written with an audience of everyone.
Not the Bible. Not the Koran. Not Stephen King's The Shining . Not 50 Shades or Harry Potter , or any other book.
If you think your book is for everyone, you are flat wrong. The fact is, the large majority of books are completely unappealing to most people.
And that's perfectly okay.
Here's exactly how to figure out who the audience for your book is:
Audience Question #1: Who is your Primary Audience?
We recommend starting with the smallest possible audience you must reach to make your book successful. For most authors, the smaller the better. Your total audience is a series of concentric circles; the primary audience is the bullseye.
By starting small, you can ensure that your book will definitely reach SOMEONE. This niche focus ensures that your audience will get excited about your ideas, they will implement your ideas, and they will share your ideas with their peers. This process is no more complicated than asking yourself a very basic question:
"Who MUST know about my book in order for it to get the results I want?"
This includes results for the reader and for you.
For example, if your objective is to help oil and gas executives make better decisions about where to drill, and you want to speak at a major oil and gas conferences and become the expert in this space, then your audience is the people who book the speakers for that specific conference (and the executives who attend).
If your objective is to help CTOs recruit engineers better and raise your authority in the CTO space to get clients for your CTO recruiting business that caters to small-to-midsize companies, then chief technology officers from SMBs are your primary audience.
If you want to help people deal with their back pain and get visibility in your community to drive clients to your chiropractic practice, then your audience includes the people in your community with the health problems that you can address.
Pretty simple.
GOOD EXAMPLES
"Chiropractors who own their own practices, looking for better ways to market their business."
"Accredited investors looking for how to get into wine as an investment."
"Women executives, aged 30-45, who want to have kids but don't want to compromise their career."
BAD EXAMPLES
"Women 20-70, suffering, who want to feel better."
"Any executive who wants to be a better leader."
"Young men and women looking for something more in life."
Audience Question #2: Describe a typical person in your Primary Audience (an avatar). What are they like?
This person is literally who you're writing the book for. They are your perfect reader.
This should be a description of a specific person in your primary audience. It can be a real person who is representative of your audience, or it can be a made-up composite of several different people.
It's essential that you describe a specific person, as it makes positioning your book more real. Don't describe a group or a type or a set of characteristics: create an individual with a name and a story.
The point of doing it this way is to set you up for the next two questions, which are about digging into your audience's pain and the benefits they will get from reading your book. Clearly understanding both serves as a yardstick against which you can measure the value of your content when you begin writing.
If possible, pick someone who energizes you—either a real person or a composite of real people. Someone you really want to help, maybe someone who reminds you of yourself before you knew everything you know now (the "younger you" can be a great ideal reader). The more you envision a real person who you can help, the more excited you will be about writing this book for them.
Audience Question #3: What pain is this person experiencing because they have not read your book?
This step is about expressing your reader's pain. How are they suffering, what are they missing out on, what do they not have that they want? They are depressed and suffering—how, specifically, and why?
Your answer should only be about the problems they currently have, not the solutions. Your book is the cure, but we first have to know what ails them.
Sometimes Questions 3 and 4 overlap a little, and that is fine. In fact, you might have written the pain in the description of the person. If so, just cut and paste and move it here.
Audience Question #4: What transformation will occur because they read and implement your book?
Once this person reads your book and implements your ideas, what happens? Do they only stop experiencing the pain described above? Do they get more benefits, or both? What good things will happen as a result of reading your book and implementing your ideas?
Most importantly, what changes or transformation occur in their life? What is their new life like?
Example of an Audience Avatar
Who Is Your Primary Audience? An advanced practice nurse who is interested in starting a healthcare practice
Describe a typical person in your Primary Audience (an avatar). What are they like? Jennifer is an advanced practice nurse who currently works for a physician, hospital, or large practice. She doesn't make as much money as she feels that she should, and she works long hours that take her away from her family.
In order to meet volume quotas and stay on schedule, Jennifer isn't able to spend much time with her patients. This makes her feel rushed and stressed. She worries that she may be missing things or not providing the quality of care that would be possible if she had more time. Further, she's not able to practice the type of preventative, relationship-based care that fuels her soul.
She is afraid of leaving the security of her current position, but isn't sure she wants to keep practicing nursing if she doesn't make a change. She wants to start her own practice, but doesn't know where to start or what to do. She is looking for guidance and permission, but hasn't found a book, resource, or mentor to help her.
What pain are they experiencing because they've not read your book? Jennifer feels stressed and rushed at her current job. She is unhappy, unfulfilled, and has considered leaving nursing completely.
She is afraid of starting her own practice because she doesn't know where to start or what to do. She's afraid she'll fail. She's afraid she won't make any money. She's a nurse, not an entrepreneur! She isn't sure if she's doing things right, which is scary because she likes to follow the rules. All of this uncertainty means it's taking Jennifer a lot longer than it should to start her practice, leaving her in her current job where she is unhappy.
What benefit will they get because they read and implement your book? Jennifer will get a step-by-step guide to start her own practice. The process is no longer mysterious. It now seems achievable. She now knows the applicable laws and regulations, so she has peace of mind knowing she won't be breaking any rules.
With a roadmap and examples of other APNs who have succeeded, Jennifer now has the confidence and permission to start her own practice.
Jennifer is less afraid of failure by she has strategies to mitigate the risk of starting a business.
Jennifer is now fast-tracked to get what she really wants—a better lifestyle (more time to take care of herself, flexibility to be available for family and/or friends); the freedom and autonomy to practice the type of medicine she loves, the ability to benefit from the fruits of her hard labor, and recognition as a leader in her community.
Step 9: Lock In Your Book Idea
Now it's time for the fun part: nailing down your book idea .
Book ideas often shift once the objectives and audience become clear, so we leave this task for the end of the positioning process. It's much easier now to get your idea right, because you know exactly what you want to accomplish and what audience you must attract with your book to reach your objectives.
Before you write down your book idea, be sure to avoid the biggest mistake that authors make:
Don't write the book you think your audience "should" read. Instead, write the book your audience wants to read.
This is a subtle yet very important distinction. If you can answer the next two questions well, then it should be positioned properly.
In 200 words or less, describe your book.
Write a one-paragraph description of exactly what the book is about.
DO NOT worry about writing the perfect book description (that comes later in the publishing process). Just get something down in less than 200 words that answers these three questions:
What is the book about?
Who is the ideal reader for the book?
What will the ideal reader get?
You don't have to get it perfect at first; you just need to get something down that gets you pointed in the right direction. You will have plenty of time to get it perfect later on.
For now, distill the book idea into 200 words or, better yet, less. If you can't do it in 200 words, you don't actually know what your book is about, who it's for, or why they will care.
If you are struggling with this, then think about your favorite book. Tell me in a few sentences what your favorite book is about. Now, what would that be for your book?
Don't fall victim to the classic trap of trying to combine two or three books into one. A book should be one idea only, not all your ideas.
Also remember that putting your story in your book is fine, but only the parts that are interesting or relevant to the reader.
Examples of Solid Book Ideas
Example 1: This book will be an informative, easy-to-digest guide to hand safety in construction and manufacturing workplaces. The author will share what companies can do to educate their teams on hand safety and how to reduce hand injuries amongst their employees outside of just purchasing gloves. He will explain the methodology and safety tips needed to prevent hand injuries before they happen, and what to do if they do happen to prevent them from coming up again. He will include case studies, helpful tips, and practical applications that safety managers can use to prevent the majority of hand injuries in these companies, which is a huge risk each day.
Example 2: This book explores a series of critical flaws that represent the most common root causes of poor performance in organizations and are the primary reasons why organizations fail to achieve peak performance. What's challenging about these flaws is that they lie underneath the surface of poor performance, so many organizations are not aware of them. Even when people may be somewhat aware, they may not realize how deep they go. And if/when they realize, they may not want or be able to treat them—especially alone. This book is for C-Suite executives who lead organizations that aren't performing as well as they need to or could. It will help them diagnose and cure these flaws in their organizations, thus positioning their organizations for optimal business results; scalable, sustainable growth; efficient and effective operations; happy and engaged employees; and satisfied customers. On a personal level, this book will help these executives become more effective, less stressed, and happier in their professional and personal lives.
After you read the examples above, you could explain to someone else what the book is about, who it is for, and what they will get out of it.
Example of a Poorly Written Book Idea
Jim Smith is known as the "Deal Maker of Business." He got his start at the age of eighteen and hasn't stopped since. Now, with seven bestsellers and a reputation for his success as a digital nomad, Jim is looking to become a big deal with entrepreneurs.
In his book, Jim will reveal his country roots and his struggle with education as a high school student to set the stage for his readers to understand that the only thing holding them back is their mindset. Though he is known as a real estate success and has written extensively about cornering that market, this book will pull back the curtain to reveal that Jim's success isn't about real estate alone—it's about the self-awareness required to do well in all areas of life, not just business.
Jim will challenge his readers to give up their throne as the King of Dipshits, to surround themselves with people who challenge them, to identify and own the things they are not great at, and to stop working like $10/hour employees when they are running a million-dollar business. Most of all, Jim will use his experiences and his humor to bring fresh insight to entrepreneurs who want a life like his, but aren't sure how to get it.
What's this book about? Who is it for? What will they get? I couldn't say with confidence, and I doubt you can, either.
Step 10: Outline Your Chapters
Your outline is the structure of your book, and thus incredibly important. If you start writing without a structure, the process will take forever and the product will be haphazard and incomplete.
Worse, having no outline often leads to not finishing your book at all .
The outline is also your best defense against fear, anxiety, procrastination, and writer's block. With good positioning and a good outline, the actual writing of the book becomes fairly easy.
At Scribe, we have a complete outlining process that is very different than what most people teach. What makes our outline different is we only intend it to trigger the proper ideas and concepts for each chapter, so when you sit down to write, you know what to focus on.
You can download the full book outline template here.
Step 11: How to Start Your Book: Outlining the Introduction
You know why most readers—probably including you—skip book introductions?
Because most authors think the purpose of the introduction is to explain everything they will talk about in the book.
That is boring and wrong.
The purpose of a good book introduction is to engage the reader and get them to read the book.
Just because someone is reading an introduction does not mean they are going to finish the book. The thing that scares people off of books is NOT the price—it's the commitment of time.
People don't care about $10. They care about spending their time on something that is interesting and engaging to them.
That is the job of the introduction: prove to the reader this book is worth reading. A well-done introduction grabs the reader and compels them to keep reading. It pulls them through, and makes them excited to start the content, because the introduction has answered the most important question the reader has:
An Introduction Should:
Get the reader immediately interested in the book
Clearly lay out the pain the reader is facing
Paint a picture of a better future, or a benefit the reader can get
Outline briefly what the reader will learn in the book
Explain why the author is the expert and authority on this subject
Get the reader committed to reading the book
An Introduction Should Not:
Be a summary of the book
Try to tell the whole story of something that is already in the book
Tell the author's whole life story
Tediously explain exactly what is coming in the book
Have a meandering story that the reader doesn't care about
Have too much background
Be too long
Start at the beginning of the author's life
Have too much autobiography
Be entirely about the author and what they want to talk about
Step 12: How to Finish Your Book: Outlining the Conclusion
Here's the thing with book conclusions: if the reader got all the way to the conclusion, then it means they read the whole book, they liked it, and now they want to wrap this up.
So don't ramble on and on. Give them what they want.
The goal of the conclusion is to tie everything together, neatly summarize your book, and then provide a specific call or calls to action for your reader.
Don't overcomplicate the book conclusion —just let it do its job, and it'll work great.
What a Conclusion Should Do:
A conclusion should clearly summarize the book. That's the best thing you can do, not only to deliver value to the reader, but also to make the book memorable (and recommendable).
A conclusion should address any lingering issues, and close any open loops. The reader should feel like everything is wrapped up in a bow.
A conclusion should have a call to action of some sort. In essence, tell the reader what to do.
A conclusion should point them to any additional resources you have for them that could help them.
What a Conclusion Should Not Do:
A conclusion should NOT introduce any new content. This should only be summarization of what is in the book. You can have new stories or anecdotes, of course.
A conclusion should not be too long. The rule of thumb is that it should be the shortest chapter in your book.
A conclusion should not break faith with the reader. Don't tell them "operators are standing by" or try to sell them in a preposterous way that turns them off.
Step 13: Get a Working Title
You do NOT need to know your book title at this stage, but I like to start thinking about my title at the latest when I am finishing my outline.
All you need to do now is come up with a "working" book title. That basically just means a temporary title. That's it.
Even if you hate it, a working title is necessary.
A bad title will help you get to a good title, but having no title keeps you stuck.
So just put down whatever you have, and then move to the next step.
Step 14: Write the Vomit Draft of Your Book
What we've found working with thousands of authors is that almost all of them know how to write out their ideas. What they need most is what we've already gone over: defined book positioning and a clear book plan. From there, the writing itself is easy.
Where problems arise is in the mindset around writing . What happens in this stage is that authors get stuck.
But I can tell you how to avoid this very simply:
Give yourself permission to write a mediocre first draft.
Most beginning authors have this notion that professional writers put out amazing first drafts, or that their first draft has to be really good.
That is nonsense.
I can tell you, as a professional writer who has written four New York Times bestsellers, my first drafts are utter garbage. Worse than mediocre. They are terrible.
But that doesn't bother me because I know I can edit them until they are not terrible. The Barbara Kingsolver quote tells it all:
"1. To begin, give yourself permission to write a bad book. 2. Revise until it's not a bad book."
Many people struggle with giving themselves permission to write a mediocre first draft, so we developed a concept called the " vomit draft ."
We literally call the first draft the "vomit draft."
This is because when you're vomiting, you don't care about looking beautiful. When you're vomiting, you just want to get it all out, because that's the only way to get it over with.
What's cool about the vomit draft is, unlike vomiting in front of people, your vomit draft is ONLY for you. You are the only person who will ever see it, and you will edit this before even your editor sees it.
By focusing on just getting it out, it stops you from reading and editing as you go, which inevitably slows you down and stalls you.
When you write something you think is garbage, just say, "That's a problem for Future Me!" and keep moving.
This might be the most important advice in this book, so pay attention:
Write your vomit draft as quickly as possible. Don't stop. Don't edit. Move forward without looking back until your vomit draft is done.
Let me repeat that and break it down to be very clear and to be sure you got it:
Write your vomit draft as quickly as possible.
DO NOT STOP TO READ IT.
DO NOT EDIT.
MOVE FORWARD UNTIL YOUR VOMIT DRAFT IS DONE.
I cannot be more serious or literal about this.
The quickest way to derail a vomit draft is to start editing before you finish. I don't care who you are—if you start editing your vomit draft, you WILL get stuck.
If you edit during the vomit draft stage, the best case scenario is you double the amount of time it takes to write the book.
Using the Vomit Draft Method does two things:
1. It suspends your self-judgment. 2. It creates momentum through daily victories (getting 250 words per day and celebrating that adds up and reframes how you see yourself)
If you edit as you write, it totally derails your book. The bully in your brain, the part of you that is ridiculously hard on yourself, will start to second-guess you and shame you and will, at best, slow you down—if not kill your motivation altogether.
How long should your book be?
When our authors ask us about book length , we tell them it should be as short as possible, without leaving anything out.
You should not write thinking about length, but you should remember to keep your book as short and focused as possible. Shorter books are much better. They sell better, and they are more read, more engaged, and more impactful.
The data we have on this is very clear: books under 100 pages don't sell as well (lower perception of value), books between 100 and 199 pages sell the best, books between 200 and 299 pages sell almost as well as the ones in the hundreds, and books over 300 pages sell the least (that length is a big investment of time).
As a rule of thumb, you can assume about 200 words per printed page, so 100-199 pages is 20k-40k words. And 5-20 chapters is usually what works best.
Step 15: Find Your Voice
For some reason, when it comes time to writing, lots of authors become obsessed with "finding their voice."
I'll often tease authors and ask them things like, "Hey, did you look behind your sofa? Your voice might be there."
The joke is silly but the point is right—you don't "find" your voice outside of yourself. Your voice is already a part of who you are. Your job as an author is to get out of the way and let it out.
The second thing authors do wrong, is try to mimic a voice. You can't be Malcolm Gladwell. You can only be you, so don't try to be anything else.
So how to do make sure it's your voice in your book? There are two frames we recommend authors take:
Voice Frame #1: Conversation with a friend.
This is the most common mental frame that our authors use. When they sit down to write, they envision themselves talking to a friend.
This is literally the frame that I used to write this section—I pretended to explain this to a friend of mine.
Getting in that state of mind does several things:
It relieves any anxiety, because this is just a conversation with friends.
It helps keep my focus on the listener, because they're a friend and I want to be attentive to them.
It helps me stay centered on providing value to the listener, because in a teaching-style conversation, I am only thinking about what the other person is learning and taking in.
It helps me keep momentum and motivation, because I want to make sure I am always helpful to my friend.
John Steinbeck says it best:
"Forget your generalized audience. In the first place, the nameless, faceless audience will scare you to death, and in the second place, unlike the theater, it doesn't exist. In writing, your audience is one single reader. I have found that sometimes it helps to pick out one person — a real person you know, or an imagined person, and write to that one."
Voice Frame #2: Help a stranger heal the same pain you had.
This is very similar to the "conversation with a friend" frame, but it is also different in a few ways. If you envision yourself helping a stranger solve a painful problem, you do these things:
You make it much easier to be brave in your writing and get past any fear or anxiety, because you are focused on their pain.
You focus on specific and actionable information, which will make your book better and more meaningful to your readers.
It helps you keep momentum and motivation, because you are focused on alleviating their pain.
Uber Cool Trick: Combine the two. If you envision yourself talking to a friend AND helping them through something difficult you've already done, that might be the best of both worlds.
Both of these methods allow you to get out of your own way and let your voice come through naturally.
Because you aren't actually thinking about voice. You are focused on the reader. Focusing on the reader, rather than on yourself, is a superpower technique you can use at every stage to create an effective, successful book.
Don't worry about being a writer. Just help people, and your voice will take care of itself.
Step 16: Use Good Writing Principles
Remember writing essays in school with a minimum word count?
If you were like me, you were guilty of turning " they said " into " they then proceeded to vocally exclaim …"
I can't think of a worse way to learn to write.
I didn't have five pages of thoughts about Paul Revere's ride, but being forced to write that much forced me to write convoluted sentences packed with unnecessary words to pad my essay and hit the space requirement.
What I didn't learn in school is how to write something people want to read . That is the key to non-fiction, and it's never covered in school.
Great non-fiction is short, simple, direct, and about the reader. Follow these principles and you'll be writing very solid prose.
Also, check out our post on writing tips for authors .
1. Make it short.
This is the most important principle. If you get this one right, the rest (usually) take care of themselves.
Keep your writing short on all levels. Short chapters (usually no more than 4k words). Short paragraphs (2-3 sentences). Short sentences (5-20 words). Even shorter words (less than 12 characters).
Brevity forces economy and effectiveness. When you put a space constraint on your writing, it compels you to focus on the essential and cut the rest.
One key point: make it as short as possible without leaving anything out . Short does not mean missing essential content.
2. Make it simple.
Simple is very similar to short, but not the same thing. You can write something that's short but complex. That doesn't work well.
Simple words and sentences force you to write in plain English. Even difficult and complex ideas can be broken down into small words and short sentences. As Richard Feynman said, if you cannot explain your idea simply, it probably means you don't fully understand it (which is bad, if you're writing a book).
3. Make it direct.
Most non-fiction writing is indirect in some way— passive voice , jargon, multiple clauses, heavy use of adjectives and adverbs.
Don't do these things. If you're doing them, stop. If you aren't sure what they are, then do this:
Make each sentence a single, clear statement. Connect it to the sentence before and the sentence after. Do not put multiple thoughts in one sentence.
Make your writing as direct as it can be.
I have to explain passive and active voice, because most people don't know what it is. Active voice means the subject of the sentence is performing the verb. Passive voice means the subject of the sentence receives the action. Even though they mean the same thing, the effect is very different. Example:
Active: Tucker wrote the book. Passive: The book was written by Tucker.
Active voice is much easier for people to read because they can picture the sentence. You can see Tucker writing a book.
But in the passive voice, there is another cognitive step. You have to first imagine a book, then think about Tucker writing that book.
This small cognitive step makes a huge difference in how people respond to your writing.
4. Make it about the reader.
Ask yourself this question about everything you write:
"Why does the reader care?"
This is the hardest principle to apply, because when you do this, you realize that most of your writing is for yourself—not the reader. You see your writing for what it probably is: selfish, indulgent, and grandiose.
If that happens, don't get down on yourself. That is common. Only every author ever has had that problem. All you have to do is stop writing about things the reader doesn't care about and focus on what they do.
Step 17: Beat Procrastination & Writer's Block
Like almost everything that stops you from sitting down and writing, procrastination is a symptom of fear in another form.
If you find yourself procrastinating, then ask yourself if you believe in your plan and your outline. Sometimes procrastination is your subconscious telling you that something is wrong with your plan.
Look at your outline for your book again. Examine it, and ask yourself if you believe in each section. If you don't, then fix wherever you see a problem and you should be good.
Also, another great way to beat procrastination is to use public accountability. When you are lagging on your book, post about it, and that will help you get support and make sure you find the will to keep going.
Every writer I've ever talked to or worked with (including myself) has dealt with writer's block. In fact, some of the greatest writers of all time—Ralph Ellison, Harper Lee—battled with it for decades, and had it crush their careers (neither wrote a book other than their first).
After decades of writing books professionally, and working with thousands of authors to help them through these issues, I have developed an approach to writer's block that is different than most, and—if applied correctly—almost always works.
When I am stuck, I ask myself the question: What am I afraid of?
Hint: it's pretty much always some fear you don't want to face.
Here's the thing though—this won't work if you aren't honest with yourself. And of course, you have to be self-aware enough to know when you're not being honest.
This works for me (most of the time), because I've spent many years in different forms of therapy, and I have gotten pretty decent at seeing my own head garbage (again, most of the time, not always).
If you're not like that—and most people are not—this strategy won't work. You'll just spin up elaborate rationalizations to convince yourself that there is a REAL reason, and it's not some fear you aren't facing .
But if you do this, if you can actually understand the fear that driving your block, then you can solve it. I walk you through exactly how to beat your book writing fears in this piece .
There are absolutely times when writer's block is not fear. Sometimes you're just having a hard time, for other reasons, and for those times, these are the strategies I've found that work (both with me, and the thousands of authors we've helped write their books).
1. Talk it out: Writer's block exists. There is no such thing as speaker's block. You can always talk. If you really feel stuck, get someone to interview you on the thing you're stuck about. Once you have to talk about it, the ideas and words flow.
2. Do something else: You know the saying about how "the phone only rings when you're in the shower"? Well…go get in the shower. Metaphorically. Going for a walk works really well for me. As does playing with my kids. Basically taking your mind off of it allows your subconscious to work on the issue, and you can come back to it fresh later on.
3. Context switching: This has helped me before—I will change where I am writing. I'll go to a coffee shop or a restaurant or anywhere else. It doesn't matter where I go, as long as I change the context I am in.
4. Keep writing: I hate this, but sometimes it works. Many times I've been stuck, and I would keep writing, even if it was useless, and that got me going. Lack of momentum almost always has fear underneath it, but sometimes just getting moving is enough to get to something good.
These are the strategies I've seen work for myself and others.
But again, do what works for you. That's the only rule for writing.
Editing Your Book
Step 18: celebrate finishing your vomit draft.
No seriously—once you finish your vomit draft, you need to stop and celebrate. This is a big deal.
Congratulations!
It feels amazing to get through the first draft. Reward yourself with some time to rest and relax. The hardest part is over. You now have a real book in your hands, even if it is rough.
When I say take some time to rest and relax, I'm very serious. Set the entire thing aside for at least a week, ideally two. This will give you a valuable fresh perspective when you come back and begin editing.
It's possible to begin editing immediately, but the result won't be as good. This is part of why we tell you to schedule two months for your editing—to give you a buffer to rest your mind and come back at your manuscript fresh.
Step 19: Before You Edit, Remember Who the Book Is For
Yes of course the book is yours. Yes, it probably has a lot of your stories in it, in fact it should. Yes, the book is going to create benefits for you.
But as we discussed, if you want the book to help you, then the book has to provide value to the reader. In essence, to get what you want, you must give them what they want.
That is much easier said than done. Here are some facts about readers.
Ignorant (about your subject)
I don't mean that in a bad way. It's just how all readers are (including you and me).
The reality is that, in a book, you are buying the attention of the reader ONE PARAGRAPH AT A TIME.
You can write the book without worrying about that fact, but once you start editing, it becomes very important.
The point is that as you write, you can think of yourself, but as you edit, you need to be thinking about your reader.
Step 20: Do the "Make It Right" Edit
We have three editing phases we recommend, and this should be the easiest and most simple editing pass. There are three goals to the "make it right" edit. You want to ensure that:
All content is in the book
In the right order
The structure and positioning all make sense
This is basically just making sure the book has everything in it so you can actually begin the deep editing. All the writing and stories that need to be in, are in, and they are in the right order, and it all makes sense.
That's pretty much it. Don't make this more complicated than it needs to be.
Step 21: Do the "Line-by-Line" Edit
This is the framework we use for our line-by-line editing. It's simple to understand, but powerful if you do it right. It gives you the exact questions to ask yourself at each level of editing:
As you read every chapter , ask yourself these six questions:
What point am I making?
Is it necessary?
Is it as short as possible?
Is it as simple as possible?
Is it as direct as possible?
We mean this literally—ask yourself these questions, each time.
Yes, this is tedious. But if you do this exercise consistently, it becomes second nature. Once that happens, you'll find that you can not only cut the fluff out of your book, you can also make your book sharper and more refined, and you'll be able to hone in on what you are trying to say, and nail it.
Do it for each paragraph, then do it for each sentence. If you do this, you'll have an excellent book.
Step 22: Do the "Read Aloud" Edit
This is an editing process that's not commonly taught, but is a secret trick of numerous bestselling authors. Brené Brown, Neil Strauss, myself—we all do this.
When I wrote my first book, I had teams of proofreaders working through the book. I did not think that a single mistake would sneak by, and happily locked in the manuscript.
A few months later, I recorded my audiobook , and as I read through the manuscript out loud, I was horrified.
There were 100 tiny little mistakes and changes I only heard once I said them out loud. Not just spelling—there were very few of those. They were more word choice or phrasing mistakes.
It drove me NUTS.
Don't make the mistake I made. Read your manuscript out loud and mark changes as you go.
If the words roll off your tongue, they'll also flow smoothly in readers' heads. Because I waited until so late in the process to read it out loud, it was too late to make edits to the book.
Learn from my mistake and read your manuscript out loud and make your changes before you start the publishing process.
If you find taking the time to sit and read out loud difficult (and a lot of authors do), we recommend having a friend help you out. If someone is sitting in the room with you, listening as you read through the manuscript, it'll create the social pressure you need to actually do it.
If it's something you would say out loud, then it reads clearly on the page. If it's something you would never say to another person, it won't read as clearly.
The reason reading your manuscript out loud works so well is because you will catch dozens of things you would have otherwise missed. Like Paul says, hearing yourself speak forces you to notice bad or strange phrasings—even if you don't know why it's off, you know it's off.
If possible, read each chapter to a person. I know, that sounds awful and tedious, but reading to actual people forces you to really hear what is and is not working. It's an incredible forcing function.
If you can't do that, then set-up a microphone and record yourself as you read aloud.
You can delete the recording afterward. All that matters is that you are reading it OUT LOUD.
This is KEY to making this process work.
You have to read it to a real person, though. It doesn't really work any other way.
Then you listen to what your words are saying—you'll hear the errors.
Step 23: Stop Editing
Most first time authors fall into the "editing death spiral." This is when they keep editing the same thing over and over, and cannot stop.
We see this all the time. They will do the first three rounds of edits fine, then they spend six months tinkering with it.
Not because they are making substantive changes. Instead they get lost in details, fretting over small word choices, making tiny edits and obsessing over obscure details. We almost have to pry the book out of their hands so we can finish it, even though they don't really have anything left to change.
If you need a frame to help you decide when and if you are done editing, you can use what we call the Edit Stop Quiz . It's two questions, and you can use it over and over again until you are done.
Edit Stop Quiz
Question #1: Is this the best book you can write, RIGHT NOW?
If the answer is yes, then send to publish.
If the answer is no, then go to question #2.
Question #2: What can you do RIGHT NOW to make it better?
If there is an answer, something you can do now, do it.
If there is nothing you can do now—if the answer is something like, "Become a better writer"—then send to publish.
The point of this is to get you out of your spiral of "Well, if I did a little more research …" and then two years later your book is still stuck. That is bullshit, and just procrastination to stop you from finishing your book.
This can be driven by many different forces, such as perfectionism, fear of publishing, fear of success, or fear of failure. There will always be more to work on, more to change, more to improve. That will kill your book.
There are two aphorisms we use to help get authors past this point:
"Perfect is the enemy of good, shipped is better than perfect." —Seth Godin
"[Books] are never truly finished, only abandoned." —Leonardo Da Vinci
Final Thoughts
This should be more than enough to help you not only get started, but actually finish your book.
Here's the thing though: writing the book is only the first step (even though it's a major one).
The next step is to actually publish your book and decide if you are going to go the self-publishing or traditional publishing route.
Please don't be the person who writes 80% of the book and quits. Remember that at least one person, and probably many more, want to learn what your book will teach them. You have an obligation to yourself and to your audience to stop editing and put the book out.
Write up and publish your knowledge, even if it's not perfect. They want and need it.
Read This Next
How to Choose the Best Book Ghostwriting Package for Your Book
How to Choose the Best Ghostwriting Company for Your Nonfiction Book
How to Choose a Ghostwriter for a Finance Book

How to Dictate a Book in 2022
Authors… step away from the keyboards. It's time to meet your newest writing companion: the microphone.
Sure, the pen used to be mightier than the sword. But we all know that's been (predominantly) replaced by the keyboard in recent decades. Now, there's an even newer tool in town. The rise of next-generation technology as a 2022 publishing industry trend has caused dictation to emerge as the latest method for writing books.
What is book dictation?
Simply put, book dictation turns talk into text. By using tools like a microphone or computer application, authors can write more quickly and easily than ever before.
Whether you're writing a book for the first time or are a seasoned indie author, learning how to dictate a book can save you time and energy. As we know, the indie publishing game is filled with enough challenges – so finding any way to make this process easier is a big win for writers.
What authors utilize book dictation?
If we haven't convinced you of the power of dictation quite yet, just know that choosing this method puts you in good company. Dictation has been one of the best-kept secrets of popular authors for centuries. Some of the biggest names out there – Winston Churchill, John Milton, Agatha Christie, and even Voltaire – did it. 
Thankfully, technology has grown more sophisticated since the times of Voltaire. As we'll cover in our section on the latest in dictation software , it's easier than ever to choose this process for writing or brainstorming your next book.
How to Dictate a Book: The Pros and Cons
Are you now asking yourself how to dictate a book, and what it takes to get started? If so, you'll want to familiarize yourself with the pros and cons before you do.
How to Dictate a Book: The Pros
It's been proven that there are numerous benefits to writing a book by dictation. We're about to break down the main points for you, but ultimately book dictation is worth considering if you are looking for some much-needed simplicity in the book writing process.
Save time in what is already a long, arduous process
Indie publishing isn't just about writing. You also have to build email lists , create promo stacks , and embrace the very latest social media trends in the industry. If there's a way to save time as an indie publisher, we're totally on board with chasing it! While dictation requires some effort and initial learning, it can be well worth the effort.
Create room for some of your more spontaneous ideas
Is there anything a writer dreads more than the glaring emptiness of a blank Word document? This can be the antithesis of a motivational writing environment. One alternative method? Skip the screen and use dictation instead. While some authors use dictation to write their book once it's been fully fleshed out, others use it as early as the brainstorming stage to let spontaneous ideas emerge. You can use a digital voice recorder to let those creative ideas begin to roll.
Kiss hunching over a keyboard goodbye — and save your back!
There's a reason authors seek out at-desk exercises to keep their mind and body equally strong… Typing is physically grueling. If you frequently use a keyboard, you're probably familiar with the back pain and even carpal tunnel that can come with it. Book dictation is less likely to create these ailments since it involves gentler physical activity. 
Dictate anywhere, at any time
Something we love about dictation is that it can be done anywhere. If you're out on a walk, you can use a phone app to record yourself talking. The same is true for sitting at a desk, riding in the car, or even grocery shopping! Dictation helps make the writing process a bit more mobile than other mediums (like the keyboard). 
How to Dictate a Book: The Cons
Punctuation can get… messy.
Unfortunately, there's no writing method that doesn't come without setbacks. If you're wondering how to dictate a book, you may be asking yourself how punctuation comes into play in the process. Luckily, dictation software has figured out a way around this. As you speak, you can utilize particular voice commands to denote punctuation. This won't come naturally at first, though, since this is not how we speak in our day-to-day lives. Some people go back and punctuate after they're done dictating a section of writing.
There's a learning curve with varying slope
As is to be expected from any software, there's a learning curve. Some people may adjust more easily and naturally than others to the various dictation tools out there. As we mentioned, though, we feel the effort that goes into learning these tools is well worth the ease that dictation can provide. There are also countless Youtube tutorials for helping you learn how to dictate a book.
Unusual character or location names? This can make dictation tricky
If George R. R. Martin had dictated Game of Thrones, some software may have struggled with knowing how to immediately spell names like Daenerys and Cersei. Of course, more expensive solutions on the market (like Dragon Professional Individual ) have ways to resolve this and can teach in-app AI how to spell these words going forward. This may not be a problem for everyone but is worth noting for some Sci Fi or Fantasy authors.
The Best Dictation Software for Authors
If you're interested in getting started with how to dictate a book in 2022, you're going to first need a fully equipped tool belt. We recommend stocking your tool belt with some of the highest-recommended dictation software programs. While some of these tools come with a hefty price tag, others are completely free – and likely already on your computer.
Keep in mind that there are two methods for how to dictate a book: speaking in real-time, or recording and then transcribing at a later date. This list includes dictation software that does either/or.
With a bevy of productivity solutions, Nuance's Dragon software makes AI speech recognition accessible for any person. For the self-published author, Dragon Anywhere Mobile helps you with how to dictate a book from your own phone. It comes with a one-week free trial, and can then be purchased for $15/month. Not only can you dictate within the app, but you can edit your documents using your voice. Since this option has a free trial period, you can try it out and see if the app works best for you.
Working with a more… flexible… budget? For $500, you can purchase Dragon Professional Individual for your computer. Dragon Professional Individual is commonly listed as the cream of the crop of dictation software.
Speechpad takes the dictation software model and makes it even easier. How does it work?
Create an audio or video recording of your book.
Submit it to the real people on Speechpad's team.
Get your full transcription back in as little as 24 hours for $1.00/minute. Or get it back in 12 hours for just $1.25 a minute!
Speechpad takes a majority of the dictation work out of your hands. All you have to do is record yourself reading your book. The cost associated with Speechpad means it's likely worth doing with the final version of your book.
Google Docs
Proving that dictation can be both easy and free, Google Docs includes this option for users working out of a Chrome browser. If you have Chrome set up already, open a Google Doc and go to "Tools" in the top toolbar. From there, find the "Voice typing" option and select it. There's also the "command+shift+S" keyboard shortcut to do this. This was so easy, our team typed this entire section using Google Doc's typing tool.
Speechtexter
If you're looking for a free dictation option that's not strictly for Google Docs/Chrome users, Speechtexter might be for you. You speak directly into the doc and then watch as your words appear on the screen. Speechtexter even has a helpful guide to punctuation commands on the right-hand side of the page. We personally tested this tool out and found it to be just as helpful as the dictation offering within Google Docs. 
Going with a paid option, like Dragon or Speechpad, may be more efficient if your book is written and in its final draft. Google Docs and Speechtexter, though, are more than sufficient if you're brainstorming or in the early days of writing.
Apple Dictation
Turn on keyboard dictation from your Mac to dictate anywhere on your computer. You can even set up a custom shortcut to begin dictating with the click of a few buttons. This is built into your Mac and is an easy, free option for trying dictation out yourself.
Windows Speech Recognition
Similar to Apple Dictation, Windows Speech Recognition is the answer for Windows computers and is available on Windows 10 and 11. Looking at reviews online, this is a free and easily accessible tool attractive to anyone who doesn't want to break the bank with their dictation.
What You Need to Dictate a Book
Once you've selected the dictation software that's best for you, you'll still need to get a few other ducks in a row. Before you begin dictating your book, make sure that you have:
Completed notes, or the transcript of your book, if you are transcribing a fully finished product.
A fully charged computer or phone – it'd be a shame to have these die on you mid-dictation , a microphone, if one is necessary or even helpful for the software you're using., a recording device. these are great if you'll be transcribing your recording yourself, or if you're using a tool like speechpad., how to dictate a book: final steps.
After you're finished with dictating, you'll then need to edit. When you're learning how to dictate a book, remember that this method isn't foolproof. There will likely be typos or mistakes on the page. More sophisticated dictation software will learn as you continue to use it, though, and AI will get better and better. This will eventually make your job as an editor easier.
If you're interested in making your writing process easier and faster in 2022, learning to dictate may be a worthwhile effort. It's never been easier – or cheaper – to do just that. Getting started with some of the free tools listed in this article can help you get your feet wet with dictation. 
Have you dictated a book, or used dictation at any stage of your writing process? If so, let us know in the comments below!
Get more articles like these!
14 comments on " how to dictate a book in 2022 ".
I have been using Rev, and Temi for years with great success.
Dictanote is almost as good as Dragon. Highly recommend it as it's free. With all voice dictation software, you're gonna have to use a monotone way of speaking for improved accuracy.
Thanks for your insight Matthew. So many great tips in the comments here.
Many indie books today are dictated or read that way. Messy, disjointed, repetitive, no context. When you can't see what you've written, go back to check or search you easily lose you place because you don't know where you'v been and therefore won't know where you're going. Dictating is a mess and to be avoided I believe for fiction writers.
I experienced this problem firsthand when I started using dictation software back in 2015. The solution comes with practice and a willingness to self-edit your work. It took me several hundred articles (I am a copywriter) to get myself to the point where I can dictate in as natural a manner as when I type, but it was worth it. My speed has increased three-fold, the error rate is down considerably, and my carpal tunnel hasn't flared up even once. The trick is to know what you are writing before you write it. Outline, prepare sources and quotes, and stick to it!
I recently discovered on my new google pixel phone a thing called Google Recorder. This is an mp3 recorder with a difference. As you speak, it records. It also transcribes into text, *very* accurately. It then uploads the audio and transcript to your Google account at recorder.google.com from where you can download both. No more Dragon or any of the others needed.
Great tip David!
This takes me back to the early days of newspaper reporting where we'd make a few quick notes while on a story, find a public phone box, ask the operator for 'Copy' and then read the story over. The copy takers were usually men, they could spell, (certainly better than me) and we had basic instructions. eg Stop, par, single quote, double quote, close quote …. I have recently found this works perfectly dictating onto my MacBook and more recently onto the iPhone 13. Again, both of these can spell!😂
So your brain is already trained for this. I find it so hard to get into that mode! I've found the built-in Apple dictation is better than Dragon, but I'm just not wired to write out loud like that, on the fly. Any tips?
Either way, thanks for the cool story. You've definitely seen a lot of changes in how we write!
I was forced to use dictation when I developed RSI in my fingers. Along with my writing, I ghost write averaging about 90k words per month. I'd been resistant to dictation because it felt awkward, but at that point I had no choice. Starting from day one, I produced twice as many words in the same amount of time and since then have averaged 3500 to 4000 words per hour.
I use Dragon to digitally record, usually when I'm on a walk, and have the software transcribe the audio. I don't like talking into my computer, but when I do, I use Dragon with Notepad to avoid issues between Dragon and Word, or us MS's built in voice recognition with the new version of Word, which is pretty good.
Dictation is definitely different from typing, but once you figure it out, it's fast, and once you edit what you've dictated, it comes out about the same as if it was initially typed. The trick is knowing what you want to "write", overcoming the awkwardness, and enunciation.
All this is Greek right now, but think you have the right of it.
It would certainly help to exercise my voice! Lockdown has been dreadful for my vocal chords, even though I've got through a lot of typing. Next time… dictate!
I haven't found anything good on my phone. I think and speak in discrete chunks and then the software stops listening.
I am dictating this on my iPhone in my notes app.
There's been some discussion as to which dictation program is best for a fiction writer. I am a fiction writer and I use my phone and my laptop with an external screen. I'm running windows 10. I didn't buy any extra apps or programs to do the dictation.
"I am a indie writer and I do all of my books on dictation through dictation." As you can see I left the error that I made. That way I don't have to stop in the middle of my dictation and edit my manuscript. I made the air and then I immediately said the correct words. When I read this back I'll know exactly what I need to do. I will go back and delete the extra word and type in the word 'error' to correct that.
"I can simply say the words for the punctuation marks I need ie: ?,!,:,;,,,. and the app will put in the punctuation that I desire.
When I want to do dialogue it's as simple as saying the words 'begin quote' " and quotation mark appears. It's like magic. At the end of the dialogue I simply say 'end quote' " and there it is.
If I want to go to the next paragraph I simply say 'next paragraph' and pop we're on the next line. It's quite fun actually.
So far I haven't been able to figure out how to do a section break so I do those manually. But I taught myself how to do all of this.
One caveat here… (I just said dot dot dot – and ellipses appeared) and the app puts it in. When I leave voicemails for my loved ones these days, at times I accidentally verbally punctuate them and then I say Love Lyn at the end. Oh well my families always thought I was nuts and now I'm just proving them right. LOL
I don't know where I'd be without the ability to dictate everything that I write. I'm a writer who has arthritis and a lot of pain from Lupus and various other crap. Lots of back issues. Dictating, as has been said in the article, can help alleviate some of that and be done anywhere—when I'm making supper, when I'm resting in bed, when I'm watching TV, when I'm painting, when I'm grocery shopping, you get the picture I'm sure.
I use Grammarly to help me with editing.
Hope this helps.
Warmly, Lyn
Leave a Reply Cancel reply
Your email address will not be published. Required fields are marked *
Save my name, email, and website in this browser for the next time I comment.
Recent Posts
Turning Your Author Website Into A Direct Sales Bookstore
The Complete Guide to Making A Great Author Page With Amazon Author Central
KDP Global Fund Payouts [Updated February 2023]
Exploring the Benefits of Written Word Media Premium Membership
Write Nonfiction NOW!
How to Speak Your Book
November 5, 2014 By Nina Amir 3 Comments
Share this:
Wnfin challenge/nanonfiwrimo day #5.
Post by Nina Amir ( @NinaAmir )
Others are in a hurry and don't have the time to write, even though they know they can.
If you are one of these aspiring authors, stop stressing! If you can speak, you can write—and fast. How is that possible? You can speak your book. In fact, you can speak it in a month.
5 Steps to Speak Your Book
Here's a methodology for speaking a book that I use successfully with my clients who aren't comfortable writing or who want to get their book written fast. This method is easy, quick and more affordable than hiring a ghostwriter. Plus, it produces a book filled with their own knowledge and experience offered in their own voice.
If you need to speak, rather than write, your book to get it done in a month,or just want to try this method, here are the exact steps I use with my clients to get their books out of their heads and onto paper—without them typing hardly a word.
Mind map the idea. Start by brainstorming the book idea. You may have only a general topic, but work until you fine-tune this to a subject and an angle. End up with a table of contents—a list of topics you will cover in each chapter. This provides you with the basic structure for the book.
Create a detailed table of contents. Continue brainstorming, or mind mapping, until you have more content than just chapter titles or subjects. Then, take the smaller subjects you thought of during the mind mapping process and place them in your table of contents under the appropriate chapter. These could be used as subheadings in your chapter, and you can set them up as such in your table of contents. Also, create bullet points under each subheading to remind you of the topics you want to discuss. Take the time to make notes, if necessary, on each chapter, subheading, bullet point, or topic, so you feel sure you know what you want to say for each one. The point is to get as detailed as possible (without writing the book). Imagine this like a PowerPoint presentation. You need enough information so you spark your memory and you know what to say, but you don't necessarily want to write out everything in sentences and paragraphs.
Speak your book chapter by chapter. Using the detailed table of contents, speak your book into a digital recorder. You also can use a free teleseminar line.
Get your recordings transcribed. Hire a transcriptionist to take your audio recordings and turn them into a Word document. Or use Word's dictation system or a program like Dragon Naturally Speaking as you record your book during the previous step. This avoids the cost of transcription.
Edit your transcripts. Tackle your manuscript once yourself before hiring an editor. This saves you money. It gives you the chance to ensure what you said made sense. (Often what we say is unintelligible.) Once you've done this, send it on to a professional book editor for a round or two (or three) of developmental editing and then a round of line editing.
Bonus tip: If step #3, speaking your book chapter by chapter, feels awkward to you, turn your detailed table of contents into questions. Then have someone interview you. Record your answers into a recorder (or use a teleseminar line), and follow the rest of the steps.
To do this in a month, create a schedule. If you have 12 chapters, then you need about 12 hours to speak each of those chapters—possibly less if they are short. With four weeks, that means you need just three hours per week to get your book spoken.
Leave time for a transcriptionist to do his or her magic; maybe one chapter could be transcribed per week. Then you give yourself a few hours per chapter for editing and revising.
Viola! You have a full manuscript.
How much editing that document still needs varies, but if you've planned out your book in fine detail—the more detail the better—and stuck to that detail as you spoke your book, it should be in pretty good shape. You also need to have created a sound book structure in those early stages. If you didn't, a developmental editor will find many reasons to move content around and make other major changes.
Once editing is complete, your book is ready for cover design and interior design, if you want a print book, and proofreading. Then you can publish and start boosting your business as an author as well as an entrepreneur.
About the Author
Copyright: kuzma / 123RF Stock Photo . Amazon links contain my affiliate code.
January 29, 2022 at 6:39 am
Hello, I've been a Speech Language Pathologist for about 35 years, and have just a couple of publications under my belt ( A clinical assessment tool, and a chapter in someone else's book). Around 12 years ago, I developed a program called, Wait Your Turn, which I use in my private practice, King's Speech & Learning Center. However, I never did anything with the program outside of my practice. A few years later, in 2014, I began to write a book on the Wait Your Turn approach to boosting social language development in children. I stopped writing for no significant reason, and never picked it up again. Now, more than ever, I would like to resume writing and complete the book as it relates to social language skills which have become more important than ever in child development due to the impact of the Covid pandemic.
I heard of your consulting service from my husband who heard about it on a podcast, and it sounds perfect for what I need right now! I believe the reason I never completed the project is due to my fear of failure. I am now ready, with some assistance, to just go for it!
April 26, 2022 at 2:35 pm
Reach out to me, Judith. We can chat: https://ninaamir.as.me/15-min-strategy-session You should definitely write that book! Love the idea.
[…] more to say from me since Nina captures the thought so well. I'll leave you to read her post here. Write your […]
Leave a Reply Cancel reply
Your email address will not be published. Required fields are marked *
Partners: Bloggers
Partners: Podasters
Partners: Virtual Event Hosts
Partners: Toastmasters Clubs
Partners: Bookstores & Live Venues
Partners: Sponsors
Digital Press Kit
What people are saying …
Interior Art
Acknowledgements
Other Books by Carma
Featured Speakers
The Public Speaking Superhero's Journey
Individual Speaker Coaching
Public Speaking Super Powers for Live Video
Persuasive Speaking with Confidence
Developing Your Leadership Skills
Video Marketing Super Pack
Wedding Speech Templates
Creating Your Ideal Audience Avatar
Public Speaking Superhero's Journey
Training & Mastermind Program
Boost Your Self-Confidence 7-Day Challenge
Speaking Palooza! 2019
Recommended Reading
For Book Clubs
- ORDER NOW!
- Partners: Bloggers
- Partners: Podasters
- Partners: Virtual Event Hosts
- Partners: Toastmasters Clubs
- Partners: Bookstores & Live Venues
- Partners: Sponsors
- Digital Press Kit
- What people are saying …
- Cover Art
- Interior Art
- Acknowledgements
- Other Books by Carma
- Contact
- Excerpt
- The Public Speaking Superhero's Journey
- Speaker
- Individual Speaker Coaching
- Public Speaking Super Powers for Live Video
- Persuasive Speaking with Confidence
- Developing Your Leadership Skills
- Video Marketing Super Pack
- Wedding Speech Templates
- Creating Your Ideal Audience Avatar
- Public Speaking Superhero's Journey
- Training & Mastermind Program
- Boost Your Self-Confidence 7-Day Challenge
- Speaking Palooza! 2019
- Podcast
- Recommended Reading
- For Book Clubs
How to write a speech for a book launch
Is a speech given at a book launch different than other kinds of speeches?
Yes … and no.
Like with all speeches, you need to consider the purpose of your presentation and the action you want your audience to take, as well as who your audience is.
The one thing that can set a presentation that launches a book apart from other speeches is that it might simply be a sample reading from the book.
I go into more detail about how to write a speech for a book launch in this answer to the question, "How do I write a speech for a book launch?" on Quora.
Can you do me a favor? If you liked my answer on Quora, would you upvote it? This would really help me out.
Basic Considerations for a Book Launch Speech
Is there a purpose to your book launch beyond selling copies of your book? What does your speech need to include in order to encourage that action?
What kind of book are you launching? Your book's topic, genre, and category affects the kinds of presentations that would be most appropriate.
What kinds of people will this book and book launch event attract? Your speech needs to speak to them where they are and lead them on a journey to where you want them to be. Knowing who they are will help you craft the right message in the right way.
What kind of speech will be most appropriate? There are three common types of speeches authors give at book launches: A sample reading from the book, a workshop based on the book's content, or a background story about the book and the author. Choose wisely based on your answers to the above questions.
Once you have your answers to these questions, it is a simple matter of developing the speech itself. These previous posts can help you organize and structure a strong presentation.
Is there a formula for a great talk? [Video] by Davide DiGiorgio
How to Structure a Presentation [Video] by Patricia Fripp
Structuring Your Presentation: Your Roadmap to a Successful Speech [Post]
The Power of Organization [Post]
Did you like this post? Please share!
About the author
Carma Spence, is author of Public Speaking Super Powers. She is fiercely committed to guiding women to Owning their Superpowers and turning their knowledge and interests into a profitable business. She is masterful at helping her clients see what is possible for them and supporting them on the journey from where they are to where they want to be, releasing the Mind Goblins of self-doubt, self-sabotage and second-guessing that keep them stuck.
With 20+ years experience in marketing communications and public relations, natural intuitive skills and certification in using some of the most effective transformational coaching tools available, Carma's mission and commitment is to unleash the inner power every woman entrepreneur possesses so they can boldly go out into the world, transforming the fabric of people's lives in meaningful and positive ways.
You can find her on Facebook , Twitter , Google+ and LinkedIn . Her website is CarmaSpence.com .
How to Use ChatGPT to Write a Book: Pros & Cons of Using AI to Create
By Ashley Simpson
March 12, 2023
When you buy something through one of the links on our site, we may earn an affiliate commission.
Artificial intelligence associated with tools like Chat GPT is making a splash in the world of literature. This form of generative AI could even start to replace real human writers when it comes to content creation and even creative writing.
If you have always dreamed of writing a book but didn't have the time, the skill, or the drive, you might be interested in how you can use ChatGPT to write a book.
Make the most of this AI tool with some of these helpful tips while keeping in mind its overall limitations.
Letting the Software Come Up with Chapter Summaries
Drafting a story arc, using the tool for research for your book, must provide some direction, layering emotional impact, need to verify facts, examples of authors using chatgpt, jasper ai vs. chatgpt, final thoughts: how to use chatgpt to write a book, prompt engineering.
First and foremost, you will need to do a little creative work to feed OpenAIs ChatGPT the basic information that it needs to seed your story.
While there is a lot that AI technology can do, it's not yet capable of creating brand-new stories from scratch.
This means that you will need to have some idea in mind of what you want your book to be about.
The more specific information you can give to the AI tool, the better your outcome will be.
Most commonly, this is known as prompt engineering when using Chat GPT to write your book. If you are creating a fictional novel, then you may not have to worry as much about accuracy.
You can let the tool do the majority of the heavy lifting, coming up with its own ideas for stories, plot, and characters. Give it a series of commands like:
Provide a story arc for a fictional story about a princess who is captured in battle and must fight her way to freedom.
Write a character sketch for the princess and her captor, including physical description and personality.
Describe the world that the princess lives in, including what other types of creatures there are, the rulers of the world, and its name.
With some of these basic pieces in place, you will have a much easier time putting ChatGPT's writing skills to the test.
Once you have the basics of your story down, you need to consider how the entire book will shape up. Many writers swear by outlining their stories, and Chat GPT makes it easy to do just that.
You can prompt the AI system to come up with your chapter summaries. Here is a quick and easy way to do that:
Give me a list of chapters for my fantasy story.
Write a detailed outline of chapter one, including information about the battle and how the princess gets captured.
Move on to asking for outlines for all chapters.
All you have to do is sub out the information that matters most for your story. In no time at all, you will have the bare bones of a book that could rival what you would get from human authors with much less time invested.
Unfortunately, one of the downsides of Open AI and its ChatGPT software is that it doesn't necessarily know how to write a book.
One of the basic principles of a story is that it comes with an arc, a change that occurs as the story progresses both externally and internally for the protagonist.
As the writer, you may have to feed the software more information to craft a compelling storyline. This is one step that you won't want to skip when learning how to use ChatGPT to write a book.
To this end, you will need to consider supplying the story arc that you wish to see. You can incorporate this in your initial prompt engineering by telling ChatGPT what you want the characters to gain throughout the course of the story.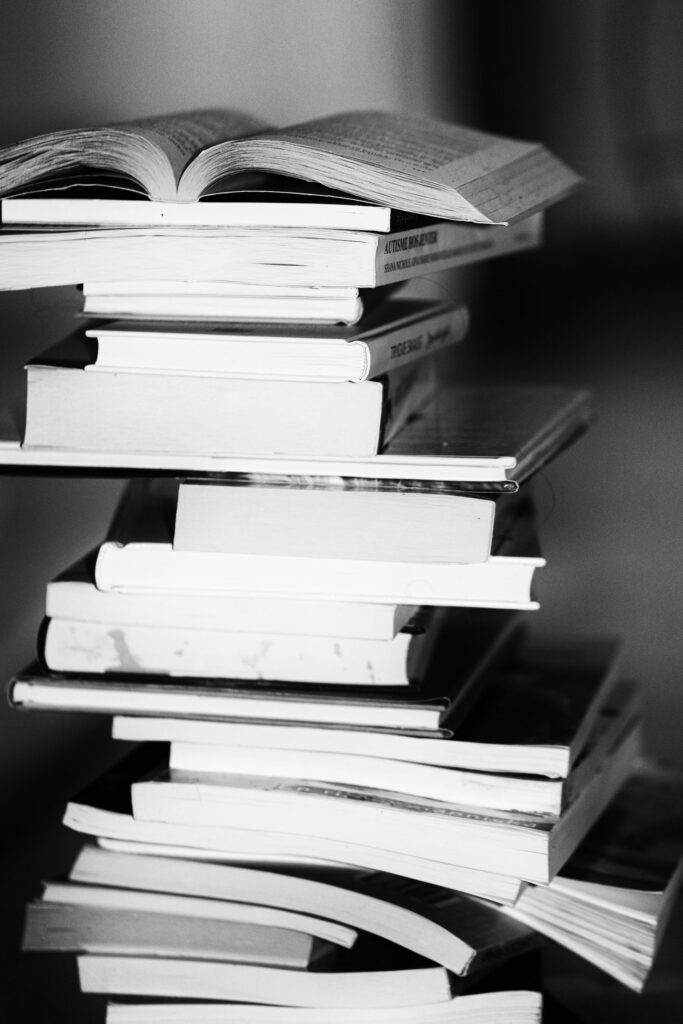 Another thing you can do to help aid your writing process is to utilize ChatGPT for research purposes. Instead of spending hours falling down the rabbit hole on Google, you can get your answers quickly – and mostly accurately – from ChatGPT.
If you're writing a historical fiction novel, you can get the details you need to write about it in mere minutes.
Keep in mind that if the details of your story truly matter, you might want to double check the facts that you get from ChatGPT. It's a great tool that has a lot of potential, but it's still just that – a tool. It gets things wrong from time to time.
That being said, it isn't likely that your fictional story has much at stake if you get a few details incorrect, so it may be just fine for your purposes.
ChatGPT Limitations When Writing a Book
Of course, not everything is perfect when you use ChatGPT to do the heavy creative lifting required to write a book. Here are a few limitations you might want to be aware of:
AI-generated content might be relatively intelligent, but it isn't inherently creative. To this end, you will need to provide detailed prompts that give it some direction.
You can ask it to write in the voice of your favorite author, such as Stephen King. You can give it an extremely detailed plot overview, complete with the story arc.
With some of these details in place, you have a much better chance of getting the finished product that you're looking for.
On a related note, you may also find that there is limited emotion when you use ChatGPT to write a book.
It can create plots that will draw readers in, but it lacks the capacity to account for emotional resonance that makes your story truly memorable.
You may choose to use ChatGPT to write a book quickly or to draft a nonfiction piece.
However, you may still need to go through and make some tweaks if you want your readers to be compelled to finish your story, remember it, and recommend it to their friends and family.
As mentioned earlier, Open AI does not recommend using its software when facts are of the utmost importance. It has a great degree of understanding and knowledge, but it may not always get things 100 percent accurate. For example, it only scores a 70 percent on the medical licensing exam.
Always double-check if accuracy matters.
There has been an influx of authors learning how to use ChatGPT to write a book, flooding the Kindle Direct Publishing platform with new titles.
Author Brett Schickler used the tool to write a children's book on the benefits of saving and investing. In a matter of hours, he had an entire 30-page book that he could upload to the KDP platform.
To date, Brett Schickler has earned hundreds of dollars from this one title.
Another author was able to create a 93-page book with illustrations in just 10 days using a combination of ChatGPT and Midjourney .
It's clear that there is a lot of potential for someone to trim down their writing process and potentially put out hundreds of books a year on self-publishing platforms with the help of Open AI.
See our related article for more ChatGPT success stories .
Of course, ChatGPT isn't the only program on the market that can help you to write a compelling book. Jasper AI has been around for a while and shows some incredible promise on this end of things as well.
Both Jasper AI and ChatGPT use the software from Open AI to create content that is prompted by you, the user.
Using Boss Mode with Jasper allows you to seamlessly create long-format content, acknowledging up to 3,000 characters above where the cursor has been left off.
Much like ChatGPT, you will need to give Jasper a lot of direction to write your story for you. It's often best if you can write a detailed introduction or plot overview to show it where you want it to go, how you want the content written, and include any keywords that matter to your story.
One benefit to using Jasper AI over ChatGPT is that it also allows you to use the Jasper Art feature to create AI-generated images for children's books or illustrated novels.
If you're thinking of writing a book with ChatGPT, you should also try Jasper to get a feel for both programs before deciding which one is right for you.
For related reading on Jasper AI, see our other articles here:
Jasper AI Review
13 Jasper AI Alternatives
As you can see, there are some definite benefits to using ChatGPT and its AI system to create a new story that you can publish quickly and efficiently.
Other tools like Jasper may be just as powerful for this endeavor, though. Consider which tool might be the right fit to help you flesh out your next novel.
Ashley is an experienced freelance writer with an enthusiasm for finding creative ways to earn money online. She uses her passion for words to share what she has learned with the world.
She spends most of her time blogging for a multitude of websites and consuming everything she can get her hands on in relation to personal finance and side hustles.
Want to learn step-by-step how I built my Niche Site Empire up to a full-time income?
Learn how i built my niche site empire to a full-time income.
How to Pick the Right Keywords at the START , and avoid the losers
How to Scale and Outsource 90% of the Work, Allowing Your Empire to GROW Without You
How to Build a Site That Gets REAL TRAFFIC FROM GOOGLE (every. single. day.)
Subscribe to the Niche Pursuits Newsletter delivered with value 3X per week
My top recommendations

How 7 Niche Site Owners Are Using Link Whisper To Grow Their Sites
By Dan Morris
Surfer SEO Review: Is It the Best All-In-One On Page SEO Solution?
By Eric Burns

RankIQ Review: Is This AI SEO Toolset Worth Your Time and Money?
By Amy Derungs

Jasper AI Review (Formerly Jarvis AI): Is It Still The Best AI Writing Assistant?

Content Pit Review: Is it Possible to Find Fast, Inexpensive, and High Quality Content?
By Brady Cargle
Use AI to the Fullest

Combining Jasper with ChatGPT is a match made in heaven. You can use them to complement each other to speed up your creative process and even use Jasper to create great AI art in seconds.
Latest articles
Artificial Intelligence
ChatGPT for Email Marketing: 7+ Prompt Ideas for Awesome Emails
By Trevor Sinclair
Start a Business
426 Car Detailing Business Names To Help You Get Started!
By Will James
Success Stories
How Kyle Nolan Grew His Financial Planning Tool to $6k/Month With ZERO Marketing or SEO
By Samara Kamenecka
How Marcus Clarke Earns Up To $100k/Month From His SEO Services
Side Hustles
15 Best Remote Writing Jobs & Where to Find Them
By Carrie Wilder
Reselling Laws: How to Stay Compliant & Avoid Legal Issues
Ready to find your niche?
I would love to learn about…

HOME WFS 1 WFS 2 WFS 3 Audio MS Word Homework Class Test Video

Every page is on Audio, all instructions are on Video.
Do the book at home, speak in class. Simple.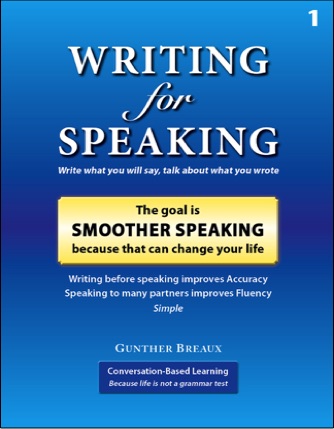 Writing for Speaking
Smoother Speaking
ISBN: 979-11-961534-3-4
Campus Conversations
ISBN: 979-11-88562-06-0
Academic Conversations
ISBN: 979-11-961534-0-3

How to Start Writing a Book Today (in 7 Clear Steps)
BY P.J McNulty | Aug 03, 2020 | Writing
Star writing your book… Simple, right?
But if you're like 99% of people out there, the hardest part of starting any huge, life-changing project is actually getting started .
And that's especially true when it comes to writing a book, especially first-time authors who are just getting started on the journey.
If you're ready to tackle this problem,, and start writing your book TODAY, we're here to help!
And you don't have to rely on our advice alone. We have some epic guidance straight from none other than the legendary Rich Dad, Poor Dad author and entrepreneur, Robert Kiyosaki.
Here's how to start writing a book:
Start with your deeper motivation
Map your mind
Enhance your focus
Create an outline from your mind map
Set your writing schedule
Find your ideal tools
Rapidly write or speak your first draft
Why is it so hard to start writing a book?
Why exactly is it so hard to start writing a book?
There are many reasons. A large part of the difficulty getting started stems from fear.
The fear of failure. The fear of people negatively judging our work. The fear of not being able to get it done.
Aside from fear, there are many practical reasons why getting started can be so arduous.
Maybe you haven't figured out the optimal environment for you to write in, or your most productive time of day, or even the software you enjoy working with .
No matter what reason you have for finding it hard to start your book, you need to keep two things in mind.
First, you are not alone. Even the best writers can have trouble getting started.
Second, you can solve this issue. Reframe your difficulty as a challenge to overcome, and start seeking solutions.
1 – Find Your Deeper Motivation
Are you familiar with Robert Kiyosaki ?
Perhaps you've heard of his classic personal finance book, Rich Dad, Poor Dad.
Robert Kiyosaki is one of the finest examples of how self-publishing a book can positively change lives on a deep level. Countless people have had their financial situation turned around by applying the ideas in his work.
Recently, Robert Kiyosaki hosted Chandler Bolt of Self-Publishing School to talk about the struggle of starting to write a book.
But why should you listen to Robert?
Not everyone's aware of this, but Kiyosaki is one of the biggest self-publishing success stories out there. He went from being rejected by publishers to figuring it out for himself.
Related: Best Business Books
He's gone on to sell almost 50 million copies and has helped so many people regain financial control and hope.
You can check out the full interview between Robert and Chandler here, but we'd like to share with you one key takeaway from it relating to getting started.
No matter how much you enjoy or don't enjoy writing, you're going to find the process an immense challenge at times. It can be like drawing blood from a stone. It's no exaggeration to say it can be one of the hardest things you've ever attempted.
During the tough times, including the time where you're getting started, you need to draw upon your deeper motivation to find the energy to proceed.
How do you start writing a book for the first time?
To start writing a book for the first time, it's not enough to focus on the 'what'. Instead, you need to focus on the 'why'.
That's easier said than done!
So what are some ways you can find and use your deeper motivation for writing a book?
Envision the end. Often, we get weighed down by the small, day to day details of writing a book. These can soon feel tedious and mundane. At times like this, it's important to focus on the prize, on the end goal of writing . Picture what it will feel like to be a published author. Imagine yourself holding a copy of your book. Envision your name on the book cover . Holding on to the overall goal can be a great motivation, especially during the initial push to get started writing.
Think about who you will serve. Sometimes, it's far easier to do things for other people than it is for ourselves. If you're struggling to start, think about who your book will help. If you're writing nonfiction , picture someone being genuinely grateful for your book and the help it contains. If you're writing fiction, imagine someone's day being made better by your entertaining book.
Picture the pain of failure. Negative motivation can be a powerful ally to help us get started. If you feel frustrated at now having achieved your goal of becoming an author, use that to drive you forward. Tell yourself how bad you will feel if you don't make this happen, and how good it will feel to get it done. Use that expectation of pain and satisfaction to make not getting started more painful than making progress.
Make it public. It's easy to back out of doing something if nobody else knows about it. Make your book writing goal public, even if it's just to a trusted loved one or friend. You then can draw on the motivation of meeting their expectation and inspiring them when you're seeking out a deeper why to help you push through procrastination and resistance.
Robert Kiyosaki is a source of invaluable advice, both in the world of financial success and success in general.
If you're struggling to make the leap and get started on your book, draw upon his idea of finding your deeper motivation and 'why'. It might just be the fuel you need to propel you forward.
2 – Map Your Mind
Some aspiring authors are full of good ideas for books, or at least feel that there is plenty they would love to write about.
However, when it comes time to translate their ideas into words, nothing happens.
There are plenty of people who find it a lot easier to think about something than to express it through words. Going straight from a place of cognitive conception to one of written expression is a huge leap to make. Creating a mind map can be the ideal solution to bridge that gap.
A mind map is a freeform way of getting all your ideas down on paper and then drawing connections and links between them.
Many self-published authors like to create a mind map which in turn forms the basis of an outline. This outline is then used to produce the first draft of their book. We'll cover this exact process in this guide.
Depending on your preference, you can either use a paper mind map or use mind mapping software . It's also of course possible to create one from the other.
Let's consider how a mind mapping process might look.
Say you wanted to write a book on motivation. You might start by writing the word motivation in the middle of the page, and then drawing lines coming off this central word. At the end of each line, you would write an idea related to motivation, such as 'finding motivation' or 'sustaining motivation'. From these sub-ideas, you would then expand upon them with more detail. You might wish to draw links between the different ideas to show how they connect or relate to one another.
That's a basic guide to how creating an initial mind map works.
If you want to use a mind map app or tool, here are some options which have free as well as paid versions for you to check out:
MindMesiter . Free version but also available for $4.99 per month.
Ayoa . Free version and paid version for $9 per month.
Milanote . Free version or $9.99 per month.
No matter how you go about creating a mind map, after you've done it, you've officially started writing your book!
It's time to keep that momentum going and move to the next stage.
3 – Enhance Your Focus
Aside from the blank page syndrome that can be overcome by creating a mind map as seen above, a lack of focus is one of the major roadblocks that authors must overcome to successfully start their book.
Struggling to focus is something everyone will experience at one time or another.
Broadly speaking, a lack of focus can stem from internal or external reasons, or sometimes a mixture of both.
The good news is that there are plenty of practical actions we can take to improve our focus.
If your trouble getting started is related to focus, experiment with:
Your writing location. Some people find they can write better in a busy environment such as a cafe, while others much prefer being alone in a quiet place. Try both to see which works best for you. Also, if you're struggling in your usual environment, switching things up can often give you a kickstart.
The time of day you write. We all have different sleep cycles and feel more or less alert at different times of the day. If you're finding it difficult to begin your book, try a new time of day to write. Track your output at different times so you have concrete data on your productivity.
Your food and drink. Our focus is impacted by our nutrition and fluid intake. Variables such as how hydrated you are, how much caffeine you consume, and the general diet you eat can affect how focused you feel when you write.
Focus apps and tools. We live in a world of distractions, thanks to our smartphones, social networks, and notifications. Try using specialist tools such as those which block access to social networks for some time to force you to focus. You can also try specialist brain enhancement apps and meditations devices to help you boost your focus.
Your mindset. Sometimes, your lack of focus comes from the mindset you have. Try and be gentle with yourself. Set yourself manageable targets , such as writing a single page in a session or simply sitting down to write without doing anything else for half an hour. Often, by adopting a positive and kind mindset, we find it easier to focus than when we put too much pressure or stress on ourselves.
Your ability to focus is a key component of not only getting started with your book but maintaining the motivation to get it finished. Find a way to boost your focus and it will pay off for your entire writing career.
4 – Produce an Outline From Your Mind Map
Now that you have explored ways to focus on your writing, it's time to translate the mind map you created earlier into an outline .
Take a look at the mind map and try and group it into major sections or themes.
For example, you might notice that several of your ideas are a good fit for each other, and further be able to identify other logical groupings.
Many authors find it works well to aim for three to five broad themes or sections.
Let's consider this with an example.
Remember during our mind map exercise we used the example of a book with the broad theme of motivation?
You might decide to create three large groups based on your mind map brainstorm:
Finding motivation
Sustaining motivation
Recovering lost motivation
Once you have these broad groupings, try and break the ideas within them down into potential chapters. You don't have to think of the exact title of the chapters at this stage. It's more to focus on their central purpose or the key idea they will be centered on.
After you have several chapters for each section, you can then repeat the exercise. You can mind map each chapter, and then break that mind map down into the sections each chapter will contain.
This is just one way you can outline your book. No matter which outlining method you end up going for, by producing an outline, you can then break your book project down into quantified writing goals, a process we'll now explore further.
5 – Set Your Writing Schedule
Now that you have an outline of your book project, you can work backward. You know what the final goal is, allowing you to small chunk all the steps needed to get there.
Just as an example, let's say you determine your nonfiction book will be 50,000 words long, and consist of 10 chapters.
You know each chapter will be roughly equal length, so you know you need to write 5,000 words per chapter. Each chapter has five sections, so you're looking at around 1,000 words per section.
Every writer has a different level of output, and that's OK. It's not about comparing yourself to anyone else. Instead, it's about knowing how much time it takes you on average to produce a certain number of words you consider worthy of being your first draft.
You might determine that you can write around 1,000 words in a session, however long that session might be for you. Once you know this, you can then look at your schedule and allocate time for 50 writing sessions to get you to your first draft.
It's important to actually schedule in these writing sessions and stick to them as closely as possible.
We're always going to find time to sleep, eat, and do the work that pays the bills. Writing is something that often feels less essential so we don't guard our time for it as closely as we should.
Don't make this mistake! Schedule in your writing time and protect it fiercely. If something urgent comes up, be sure to reschedule that writing session right away.
6 – Find Your Ideal Tools
It's by no means essential to use a specialist writing app or software to start writing your book.
However, taking the time to find a set of tools you're comfortable with at the start is a smart move. Once you're in the creative flow of writing your book, you won't want to snap out of it to compare word processors!
There are a lot of great book writing tools out there.
Some categories you might wish to think about using include:
Writing software. Don't feel limited to whichever word processor you're in the habit of using. If you decide that Word or Google Docs is the best place for you to write, that's fine, but it's worth looking at what else is out there. You might prefer a minimalist writing tool to enhance your focus and help you get started. Or you might prefer a more fully-featured solution that will help with planning your book and tracking your progress.
Self-editing tools. There's no substitute for a skilled and experienced human editor. However, you can make much better use of their services if you use a tool such as Grammarly to initially self-edit your work before sending it to your editor.
Book formatting tools. Book formatting is one of the last stages of the self-publishing process, but it has an impact on getting started. How? By knowing your entire book publishing plan is in place before you even start, you free up your mental energy to focus on the book itself. Choosing your book formatting solution ahead of time might remove a worry that creeps into your mind when you're trying to start writing your book.
Once you've found a set of tools you enjoy using and are a good fit for your needs and budget, stick with them!
While it's worth exploring your options and not blindly going with your default apps, this should never be at the expense of starting the process of writing your book.
7 – Rapidly Write or Speak Your First Draft
At this point in the process, you having everything you need to make rapid progress on your first draft.
Your first draft is a significant milestone and a huge motivator when you're trying to get started. After you have your first draft, your book suddenly seems like an achievable goal. Before that point, it can feel a little abstract.
The key to producing your first draft as rapidly as possible is to write as quickly as you can while still maintaining the quality you need.
It's important to remember that this doesn't need to be your best writing. It's simply a starting point to work with and refine.
Try and avoid judging your writing as you go. The time for editing and refinement will come later. This phase is simply a way of producing the raw material you need to craft a finished book from.
An alternative to writing your first draft is to dictate it . You might find it easier to express your thoughts at the first draft stage by speaking them out loud, and later refining these ideas during the editing process.
Dictation software has come a long way. There are now plenty of apps that are capable of transcribing very accurately, even if you happen to have an accent.
Regardless of if you decide to write or speak your first draft, set the earliest deadline you can realistically get it done by, and stick to it with everything you have.
If you let your first draft drag out too long, you end up losing momentum and enthusiasm. The freshness of your ideas may fade and your enthusiasm can wane.
And above all, don't lose sight of your deepest 'why', just like Robert Kiyosaki emphasizes.
Can you write a book with no experience?
Everyone has the experience needed to write a book. All that's required is your unique story and the will to tell it.
If you've made it this far in our guide to starting your book, it's time to take action!
Don't just close this article and read something else. Take the first step right now.
Think about the central theme of your book. Who will you serve by writing it? Will it help solve a problem or provide entertainment?
Think about your deepest 'why'. What do you want to get out of beginning the writing process? How will it feel if you succeed or fail?
You now have everything you need to succeed in starting your book. We urge you to stay focused and make your dream a reality. It's in your power to get it done.
Related posts
Create A Writing Process in 3 Quick Steps
Finding a writing process can make the journey to becoming an author so much easier. There are so many stages of writing a book and having a process filled with routines and checklists to follow can help make sure you do not miss a single step. If you have been...
3 Proven Ways to Write a Book Faster
One of the key things holding many potential authors back from publishing a book is the worry that it will take a long time. This fear is partly justified. The traditionally published world moves at a slow pace and this can be very frustrating for authors....
12 Of The Best MacBook Apps For Writers
If you have been on the hunt for the best Macbook Apps for writers, you have come to the right place. There are so many out there and it can be hard to decide what you could possibly want out of a program or what you might need. You also probably worry about picking...
See Behind The Scenes of Our Proprietary Process for FREE!
We want to ship you a copy of our new book for free (just pay shipping and handling). This book will help you make progress with YOUR book while also giving you a behind the scenes look at our process.
Check Out Our Podcast!
New episodes out every Wednesday!
Available on:
Enter the characters you see below
Sorry, we just need to make sure you're not a robot. For best results, please make sure your browser is accepting cookies.
Type the characters you see in this image: