Wellness Gaps
Why is Personal Presentation Important at Work?
By Ion Doaga
There are so many obstacles that stop an employee's growth within a company. And one of these obstacles is the employee's poor personal presentation.
Without a good personal presentation, an employee may never receive positive attention. But he will get enough negative attention.
Without knowing him well, his coworkers make negative assumptions based on his appearance. They'll say things like "He is not professional", "He's a negative person", or He is a bad team player".
The truth is that they express their concern about his poor personal hygiene. They think that he doesn't want to make their life easier while working in the same team.
What if the employee would try to improve his presentation in the workplace? Would his coworkers consider his efforts to be in the team? Would all the negative perceptions about the employee disappear?
May ... but that's not the only benefit of having a good personal presentation at work.
See below which the benefits of aligning your appearance with the company's standards .
What is a personal presentation at work?
A good personal presentation speaks about the employee as a responsible employee. That's a message that influences his coworkers, supervisors, and managers.
Dressing, behaving and communicating appropriately leave a good first impression.
It's a way of telling everybody that you want to be helpful to their working environment rather than being a hurdle .
The importance of personal hygiene in the workplace
Effects of inappropriate personal presentation in the workplace.
You heard the saying that you have only one chance to make a good impression on yourself. That's especially important when you build relationships with coworkers or represent the company meeting clients face to face. Let's imagine the following situations where Jerry is our hero:
If, while meeting clients, Jerry dresses inappropriately it may result in lost opportunities and sales . Customers judge their service provider reps by their appearance too. They have a hard time trusting a poorly dressed person.
Jerry works in a beauty salon where clients come to make themselves beautiful. In this case, clients expect Jerry to have good personal hygiene and appearance.
Now, imagine that Jerry is a real estate broker. In such a case, any poor sign on Jerry's appearance takes the client's focus from what Jerry tells them about the features of the house . Every time the client is distracted from the employers' words, his chances to sell the house decreases .
Now, Jerry arrives into the office looking like he rolled out of bed. He didn't clean his teeth. He didn't clean his nails, and his hair spikes due to unwashed hair. He just gave his coworkers a reason to be talked behind his back. In the eyes of management, sloppiness is a sign of disrespect for your job.
Which are the most important personal image standards at work?
1. be well-groomed.
To be well-groomed follow the below basic grooming tips:
use deodorant without excesses.
maintain a clean hairstyle.
trim your nails.
shave your face. Or if you have a beard, maintain it regularly.
wear clean and fresh clothes matching the style and color.
avoid wearing excessive jewelry.
14 Tips for Maintaining Employee Personal Hygiene at Work
2. Maintain a healthy image
Another element of personal presentation is a healthy physical appearance.
A healthy look speaks about practicing healthy habits, eating well, and exercising.
This keeps the employee energized and positive.
A healthy employee is more efficient and takes fewer sick leaves.
While on the other side, poor health speaks about an employee as having a weak character. That tells his boss or coworkers that if he can't take care of his health then he can't take care of the company as well.
3. Maintain good hygiene
maintain a dental hygiene routine to avoid such hygiene issues such as bad breath, caries, teeth yellowing.
maintain good body hygiene to avoid releasing embarrassing odors and skin diseases.
wear clean and ironed clothes.
wash your hands often to avoid the spreading of your microorganisms within the office.
4. Show a friendly attitude
Besides maintaining a good workplace personal hygiene and having a pleasant physical look, you must also behave professionally. This means treating your coworkers and clients with a positive and professional attitude:
greet and welcome guests appropriately.
use suitable language.
show good and friendly manners.
open doors for guests.
offer seats.
be confident and maintain good posture.
be punctual.
Your presentation at work plays an important role in your career growth.
Maintaining a professional appearance helps your coworkers and your boss perceive you as a valuable employee in the company while your clients perceive you as a helpful and useful professional at their job.
ABOUT ION DOAGA
Search Search Please fill out this field.
Career Planning
Skills Development
Important Presentation Skills for Workplace Success
Alison Doyle is one of the nation's foremost career experts.
What Are Presentation Skills?
Steps To Create a Presentation
Skills that help make an effective presentation, how to make your skills stand out.
xavierarnau / Getty Images
Whether you're a high-level executive or an administrative assistant, developing your presentation skills is one key way to climb in an office-based job. Leaders make decisions based on information shared in presentation format, and hardly any business changes its mind without first seeing a persuasive presentation.
It is important for any office employee to know what steps go into creating an effective presentation and what presentation skills are most important to employers. Highlighting these skills will also help you stand out during your job search.
Key Takeaways
Presentation skills are what you need to know to be able to give an engaging, effective presentation.
The steps to creating a successful presentation are preparation, delivery, and follow-up.
Employers want to know you have the necessary skills to research, analyze, and create a presentation, plus the communication skills needed to deliver it and field questions afterward.
You can highlight your skills to employers through your resume, cover letter, and interview.
What Are Presentation Skills? 
Presentation skills refer to all the qualities you need to create and deliver a clear and effective presentation. While what you say during a presentation matters, employers also value the ability to create supporting materials, such as slides.
Your prospective employer may want you to deliver briefings and reports to colleagues, conduct training sessions, present information to clients, or perform any number of other tasks that involve speaking before an audience.
Giving engaging and easy-to-understand talks is a major component of the strong oral communication skills that are a job requirement for many positions. Not all presentations take place in a formal meeting. Many presentation skills are relevant to one-on-one consults or sales calls.
Any presentation has three phases: preparation, delivery, and follow-up. All presentation skills fit into one of these three phases.
Preparation 
Preparation involves research and building the presentation. Consider the audience you'll be presenting to and what most interests them. This may mean crafting the entire text (or at least writing notes) and creating any slides and other supporting audio/visual materials.
You will also have to make sure that the appropriate venue is available, properly set up beforehand, and ensure the projector (if you'll need one) works and connects with your laptop.
You'll also want to practice your presentation as many times as you need to to feel comfortable delivering it with ease and confidence within the time allotted for the presentation.
Skills related to preparation include conducting research related to your presentation topic, devising charts and graphs depicting your research findings, and learning about your audience to better tailor your presentation to their needs. You'll also need to create digital slides, using statistics, examples, and stories to illustrate your points and effectively to persuade the audience.
Preparing handouts or digital references is an added courtesy that will help the audience pay attention because they won't be preoccupied with note-taking.
Your delivery is the part of the presentation that the audience sees. A good delivery depends on careful preparation and confident presentation and requires its own distinctive skill set .
Skills related to delivery include giving an attention-grabbing opening for a talk, providing a summary of what will be covered to introduce the presentation and provide context, and using body language and eye contact to convey energy and confidence.
Make sure you pause to emphasize key points, modulate your vocal tone for emphasis, and articulate your speech clearly and smoothly.
Don't be afraid of injecting humor or speaking with enthusiasm and animation—these techniques can help you in projecting confidence to your audience.
Summarize key points at the conclusion of the presentation, and be sure to have a plan for how you'll field any audience questions.
Presentation follow-up includes properly breaking down and storing any equipment, contacting any audience members with whom you agreed to communicate further, and soliciting, collecting, and analyzing feedback.
In some presentations, you may collect information from audience members—such as names and contact information or completed surveys—that you also must organize and store.
Skills related to follow-up include creating an evaluation form to solicit feedback from attendees, interpreting feedback from evaluations, and modifying the content and/or delivery for future presentations. Other follow-up skills include organizing a database of attendees for future presentations, interviewing key attendees to gain additional feedback, and emailing presentation slides to attendees.
To create and deliver the most effective presentation takes a variety of skills, which you can always work to improve.
You must be able to look honestly at your performance, assess the feedback you get, and figure out what you need to do to get better. That takes analytical thinking .
More importantly, you need to have a firm grasp of the information you are about to communicate to others. You need to analyze your audience and be prepared to think quickly if asked questions that force you to demonstrate that you are fully aware of the material and its implications.
The kind of analytical skills you need to be an effective presenter include problem sensitivity, problem-solving , reporting and surveying, optimization, and predictive modeling. It also helps to be adept at strategic planning, integration, process management, and diagnostics. With these skills, you'll be better able to objectively analyze, evaluate, and act on your findings.
Organization
You do not want to be the person who spends half of their presentation time trying to find a cable to connect their laptop to the projector. Many things can and do go wrong just before a presentation unless you are organized .
Presentation preparation also means keeping track of notes, information, and start/stop times. You will want to proofread and fine-tune all the materials you plan to use for the presentation to catch any mistakes. Make sure you time yourself when you rehearse so you know how long it will take to deliver the presentation.
A presentation that's finished in half the time allotted is as problematic as one that's too long-winded.
Some key organizational skills to work on include event planning, auditing, benchmarking, prioritization, and recordkeeping. Make sure your scheduling is on point and pay close attention to detail. Quick thinking is an important skill to have for when things inevitably go wrong.
Nonverbal Communication
When speaking to an audience, the way you present yourself can be just as important as how you present your information. You want to appear confident and engaging. You can do this through good posture, the use of hand gestures, and making eye contact with the audience.
Practice your nonverbal communication by filming yourself doing a practice presentation and observing your body language carefully. Your physical bearing and poise should convey a degree of comfort and confidence in front of an audience, while active listening , respect, and emotional intelligence will help you in facilitating group discussions.
Presentation Software
Microsoft PowerPoint is the dominant software used to create visual aids for presentations. Learn to use it well, including the special features outside of basic templates that can really bring a presentation to life. Even if someone else is preparing your slideshow for you, it will help to know how to use the software in case of last-minute changes.
Other software that is good to learn includes Microsoft Office, Apple Keynote, Google Slides, and Adobe Presenter.
Public Speaking
You need to appear comfortable and engaging when speaking before a live audience, even if you're not. This can take years of practice, and sometimes public speaking just isn't for certain people. An uncomfortable presenter is a challenge for everyone. Fortunately, public speaking skills can improve with practice . Some skills to work on include articulation, engagement, and memorization. You should be able to assess the needs of the audience and handle difficult questions. Controlling your performance anxiety will help you communicate more effectively.
Research is the first step in preparing most presentations and could range from a multi-year process to spending 20 minutes online, depending on context and subject matter. At the very least, you must be able to clearly frame research questions, identify appropriate information sources, and organize your results. Other useful skills include brainstorming, collaboration , comparative analysis, data interpretation, and deductive and inductive reasoning. Business intelligence is a skill that will help you evaluate what information you need to support the bottom line, while case analysis and causal relationships will help you parse and evaluate meaning.
Verbal Communication
Public speaking is one form of verbal communication , but you will need other forms to give a good presentation. Specifically, you must know how to answer questions. You should be able to understand questions asked by your audience (even if they're strange or poorly worded) and provide respectful, honest, and accurate answers without getting off-topic. Use active listening, focus, and empathy to understand your audience. Skills such as assertiveness, affirmation, and enunciation will help you restate and clarify your key points as it relates to their questions or concerns.
You may or may not need a written script, but you do need to pre-plan what you are going to say, in what order you will say it, and at what level of detail. If you can write a cohesive essay, you can plan a presentation.
Typical writing skills apply to your presentation just as they do to other forms of writing, including grammar, spelling, vocabulary, and proofreading. The ability to build outlines, take notes, and mark up documents will also be useful.
More Presentation Skills
In addition to the skills previously mentioned, there are other important skills that can apply to your presentation. The other skills you need will depend on what your presentation is about, your audience, and your intended results. Some of these additional skills include:
Summarizing
Providing anecdotes to illustrate a point
Designing handouts
Recognizing and countering objections
Posing probing questions to elicit more detail about specific issues
Awareness of ethnic, political, and religious diversity
Receiving criticism without defensiveness
Refraining from speaking too often or interrupting others
Anticipating the concerns of others
Product knowledge
SWOT analysis format
Supporting statements with evidence
Multilingual
Working with reviewers
Consistency
Developing and maintaining standard operating procedures (SOPs)
Developing a proposition statement
Creating and managing expectations
Include skills on your resume. If applicable, you might mention these words in your resume summary or headline .
Highlight skills in your cover letter. Mention one or two specific presentation skills and give examples of instances when you demonstrated these traits in the workplace.
Show your presentation skills in job interviews. During the interview process, you may be asked to give a sample presentation. In this case, you will want to embody these skills during the presentation. For example, you will want to demonstrate your oral communication skills by speaking clearly and concisely throughout the presentation.
PennState. " Steps in Preparing a Presentation ."
Harvard Division of Continuing Education. " 10 Tips for Improving Your Public Speaking Skills ."
Northern Illinois University. " Delivering the Presentation ."
By clicking "Accept All Cookies", you agree to the storing of cookies on your device to enhance site navigation, analyze site usage, and assist in our marketing efforts.
Cloud Storage
Custom Business Email
Video and voice conferencing
Shared Calendars
Word Processing
Spreadsheets
Presentation Builder
Survey builder
Google Workspace
An integrated suit of secure, cloud-native collaboration and productivity apps powered by Google AI.
Tell impactful stories, with Google Slides
Create, present, and collaborate on online presentations in real-time and from any device.
For my personal use
For work or my business
Jeffery Clark
T h i s c h a r t h e l p s b r i d g i n g t h e s t o r y !
E s t i m a t e d b u d g e t
Make beautiful presentations, together
Stay in sync in your slides, with easy sharing and real-time editing. Use comments and assign action items to build your ideas together.
Present slideshows with confidence
With easy-to-use presenter view, speaker notes, and live captions, Slides makes presenting your ideas a breeze. You can even present to Google Meet video calls directly from Slides.
Seamlessly connect to your other Google apps
Slides is thoughtfully connected to other Google apps you love, saving you time. Embed charts from Google Sheets or reply to comments directly from Gmail. You can even search the web and Google Drive for relevant content and images directly from Slides.
Extend collaboration and intelligence to PowerPoint files
Easily edit Microsoft PowerPoint presentations online without converting them, and layer on Slides' enhanced collaborative and assistive features like comments, action items, and Smart Compose.
Work on fresh content
With Slides, everyone's working on the latest version of a presentation. And with edits automatically saved in version history, it's easy to track or undo changes.
Make slides faster, with built-in intelligence
Assistive features like Smart Compose and autocorrect help you build slides faster with fewer errors.
Stay productive, even offline
You can access, create, and edit Slides even without an internet connection, helping you stay productive from anywhere.
Security, compliance, and privacy
Secure by default
We use industry-leading security measures to keep your data safe, including advanced malware protections. Slides is also cloud-native, eliminating the need for local files and minimizing risk to your devices.
Encryption in transit and at rest
All files uploaded to Google Drive or created in Slides are encrypted in transit and at rest.
Compliance to support regulatory requirements
Our products, including Slides, regularly undergo independent verification of their security, privacy, and compliance controls .
Private by design
Slides adheres to the same robust privacy commitments and data protections as the rest of Google Cloud's enterprise services .
You control your data.
We never use your slides content for ad purposes., we never sell your personal information to third parties., find the plan that's right for you, google slides is a part of google workspace.
Every plan includes
Collaborate from anywhere, on any device
Access, create, and edit your presentations wherever you are — from any mobile device, tablet, or computer — even when offline.
Get a head start with templates
Choose from a variety of presentations, reports, and other professionally-designed templates to kick things off quickly..
Photo Album
Book Report
Visit the Slides Template Gallery for more.
Ready to get started?
6 ways to crush a presentation at work, from people who know
Giving a successful presentation isn't always easy, but there are some key tips to make the process easier.
Preparation is key, including practicing your presentation and structuring it properly.
We asked three experts for their best tips for crushing a presentation at work.
Visit Business Insider's homepage for more stories.
Whether you're speaking at a weekly meeting or pitching a major proposal to your company's executive team, presentations are a common source of stress for employees everywhere.
It's natural to sweat under the spotlight, especially when you only have a short amount of time to get your point across.
But it doesn't have to be that way. It is possible to crush your presentation — each and every time — by keeping some key concepts and tactics in mind.
We spoke to three experts who know a thing or two about presentations for their best advice.
Talk it out
You might feel like you're back in high school practicing your lines for the school play, but rehearsing your presentation beforehand is an important way to prepare. That's what Adam Zukor, the director of executive communications at Microsoft who specializes in speech writing and content for top Microsoft executives, told Business Insider.
"There's no substitute for practicing out loud, ideally in front of someone you trust, to give you feedback, or at least to a mirror," he said. "How you think about your presentation and how it sounds out loud can be very different, so always practice out loud — in the shower, while you are getting dressed, or as you drive to work."
Focus on a few key points, and structure accordingly
When preparing, think long and hard about the main points you want to make, because you really only get a few, Zukor said.
"No matter how high-stakes or complex the presentation, your audience is only going to take away a few key ideas," Zukor said. "Make sure you're clear-eyed about what those important takeaways are, then start framing around them."
He added that this old speech-writing adage still holds true: Tell the audience what you're going to tell them, then tell them, and then tell them what you told them.
"If something is worth saying, say it more than once to get the point across," he said.
Control those nerves
Being nervous is normal, but Mitch Grasso, CEO of the presentation software company Beautiful.AI , has some hacks to to help you relax before and during your presentation.
"First, give up on perfection — it will almost never go as planned," he told Business Insider. "Remember that ​you​ are an expert on your story and you have prepared for this moment."
Also, it's OK if you don't know every answer that your peers or even your superiors ask during your talk, he said.
"Never try to fake it — that backfires every time. Acknowledge that it's a great question, you don't have the answer, and try posing the question back to the group," he said. "It can help with audience engagement while giving yourself a short mental break."
Create simple visuals, and use the right tools
The KISS rule applies to any kind of visuals you're using for your presentation: Keep it simple, stupid. Kill the bullets, limit text, and use beautiful images, Grasso said. Less is more.
"Nobody wants to be messing around with text boxes at 2 a.m. the night before a presentation," he said. "Find a tool that makes it easy to visualize your story so that you don't spend endless hours creating your presentation. Poorly designed slides are going to be a distraction, and you risk losing your audience. Good design is transparent and fosters connection."
He noted that the actual presentation isn't the main attraction — your story is. So the slides should help take the audience on a journey while serving, and not distracting from, your primary purpose.
Be specific
Instead of pointing to larger trends to get your point across, zero in on a specific example that illustrates the trend to better connect with your audience.
"Someone smarter than me once said that a single death is a tragedy but a million deaths is a statistic," Jeff Kreisler, a behavioral science expert and editor in chief of PeopleScience.com , told Business Insider. " That's a little dark, but the point is, the identifiable victim effect confirms that highlighting individual examples and stories is a more effective way to have those stories connect with and impact an audience than the too-big picture."
For example, he pointed to how politicians on the campaign trail talk about meeting everyday people being impacted by a certain issue as a way to discuss their stance on a particular policy.
" They use that formula because it works. And it can work for you, too," Kreisler said. "You need a budget increase? Start by telling me how it's going to change one specific client's relationship with us, then go to the big numbers."
Stick the landing
Ending strong is crucial. Of course, you want to do well throughout the entire presentation, but, if there's one portion you really need to nail, it's the finish.
"According to the peak end rule , ending on a strong note will increase recall, rating and enjoyment of a presentation, and any experience, really," Kreisler said. "So, if there's one part of your talk you really want to nail — concise, emotional, and packed with takeaways — it's the ending. Finishing on a laugh never hurt, either."

10 Tips for Presenting at Work
So you have to do a presentation at work? Presenting in meetings or to your boss is always a bit nerve-wracking and yet it's a critical part of project communications . Here are 10 tips for giving a fantastic work presentation.
1. Know your audience
First, know your audience. Who are you presenting to? And where are they in the organizational hierarchy?
The presentation you give to a team of technical system developers is going to be very different to the presentation you give to the CEO, even if you are talking about the same project.
You should plan to tailor your presentation and shape it for the audience, and for that you have to know a bit about them.
The good news is that you probably know your work colleagues quite well, even if they are clients. Think about what they want to know and how much knowledge they already have about your work.
When you are thinking about how to give a presentation at work, consider:
What are the objectives of the presentation?
How can you illustrate your points with data or facts?
What will people be most interested in hearing (instead of what you are most interested in telling them)?
What do you want them to do after the presentation (make a decision etc)?
You have to know your material, so that you can be prepared for questions. But more than that, you have to know how to shape it to tell the story you want them to take away.
Do they need to know the numbers? Focus on sharing the figures that have the most impact and explain your points most accurately. Share graphs, charts or other visual information to help get the point across, and be prepared to dive into the detail if requested.
Do they want to see progress? Share a Gantt chart or status update as a one-pager. Use a roadmap or timeline to illustrate the bigger picture.
Get your data together
Next, get the data together that you will need for your presentation. Plan the flow of your presentation so that you hit the key points and make the takeaways clear.
Once you have your key objectives in mind, you can start putting any slides or other materials together, bringing together your data, your objectives and the format you are going to use for presenting, whether that is Google Slides, Prezi, PowerPoint, a live demo of software or something else.
It's also worth physically preparing by speaking your presentation out loud – a rehearsal (or several). You can rehearse your presentation with a mentor if you are worried. This can help you deal with anxiety about presenting.
3. Keep it short
You're presenting in a meeting, or other work setting. This isn't an evening seminar where you've got to deliver an hour-long speech, or an after-dinner-style humorous lecture. Keep it short.
People appreciate short. Go for 20 minutes, that's often long enough. If you have a lot of material you will have to decide what to leave in, but remember you can always have extra data to hand to show if there are questions on something you didn't cover in detail in your presentation.
Or you can print it out and hand it around if you are meeting in person, or follow up the presentation with an email with further information if people are interested.
Keep your slides short too. Not too many words on a slide. Remember the rule of 16:
No more than 16 words on a slide
No less than 16 point font on a slide.
And frankly, I'd go for much bigger font. However, most of the guidance on font size for presentations is aimed at people giving presentations in conference rooms, not meeting-sized rooms with a dozen people who have the presentation on their tablets or their PA printed it out for them. Go as big as you can, while still getting your message across.
4. Avoid jargon
This is a rule for all workplace communication. Avoid jargon and acronyms in your presentation, even if you are presenting to colleagues who know what they mean. Make it easy to understand at a glance. Give context. Help people understand by not making it difficult for them.
You'll know what language is appropriate for your colleagues and customers. If you don't, put some material together and ask someone who does not know about your project whether they can understand what you are on about.
If they don't quickly and easily get the message, go back to basics and remove some of the terminology until you have a version that hits the right level.
Tip: Typically, the higher up the organization you go, the less project-specific jargon is relevant (or appreciated). But you know your colleagues, so factor in their prior level of knowledge as you choose your words.
5. Present successes as well as challenges
When you are presenting your work to your boss, remember to talk about the things you have managed to do well.
I know when I get 'boss time' I want to get her advice on the difficult situations, talk about the challenges I need her to unblock for me and work together to sort out the sticky things. But you should also make time for talking about what went well.
When you present your work to your manager, try to get a balance between getting decisions and support and also sharing some of your successes (either personally, or on behalf of your team).
6. Make eye contact
Whether you are meeting one or two people, or presenting to a room full of work colleagues at an internal Town Hall style event, make eye contact.
Focus on a few people around the room and share your gaze broadly. It helps make people feel like the talk is aimed at them and that you are interested in their responses. It also helps you spot who isn't interested in what you are saying!
If you feel weird looking people in the eye, look at the middle of their forehead. They won't be able to tell you aren't making 'true' eye contact and will still feel included in the discussion.
7. Use body language effectively
If you don't know what effective body language is, it will be hard to emanate it. Watch the powerful people at work, or your manager when she gives a presentation, and see how they move when presenting to groups.
In a meeting, you will be giving a presentation sitting down most likely, to your peers or colleagues.
In a larger setting, you might be behind a podium or in front of a meeting room full of people, some of whom will find it difficult to see you if they are at the back.
Think about your body language consciously. There are some easy things to do to make your body language more powerful.
Do not read from a script
Stand up if you think people can't see you
Ask questions – perhaps that's not truly body language, but it's another way to engage the audience.
The video below is quite old, but it shows Body Talk expert Richard Newman talking about the palms up/palms down gesture – so subtle, but so powerful, and so easy to incorporate into your work presentation.
8. Get creative: work presentation ideas
PowerPoint slides, anyone?
Slides are the classic way to put information into a presentation but you don't need to be limited to that. See if you can include more creative ways to show your project or status updates . How about:
A short video from a colleague or customer, telling a story
A product demo, or something that can be passed around
A set of wireframes or clickable demo
A mock up graphic on a slide instead of a flat screenshot.
Even using full-screen images with an overlay for your text will help you make your slides more interesting.
This next tip will also help your meeting be more interactive and interesting…
9. Present with a colleague
If you are nervous about presenting at work, see if you can present with a colleague. This could even be your boss.
Here's how to present with a colleague:
Work out the content of your presentation
Decide who is going to present each part
Practice the handoffs so you can transition smoothly between each speaker. It's less disruptive if you change speaker once or twice, not after every slide
Agree who is going to field questions. Someone should invite and make the initial response to a question, even if that is simply handing it off to the other person to answer.
Presenting with a colleague is more work. You have to work together on the talk to make it look effortless, and that means planning in prep time. However, it's worth it for lots of reasons, not least because it can help with anxiety to have someone with you on the day, and you can back each other up.
Switching between presenters means the audience isn't constantly listening to just one voice, which makes the session more interactive and interesting.
Your colleague can also give you feedback about your presentation style (if you want it). You could both give each other feedback on how you come across during your rehearsals. It can be really valuable to have friendly, constructive feedback.
How do you start a presentation with your boss?
Follow the steps above to prepare the content. Personally, I would expect my boss take the lead in the presentation, unless she specifically asked me to. Therefore, I'd expect her to start the presentation, stating our names and who we were, and perhaps handing over to me so I could give a brief introduction off myself.
Then the content of the presentation starts, and we'd switch between presenters as planned.
I would let her field the questions, and provide expert input to the answers as required.
10. Prepare for questions
Sometimes there won't be time for questions. Other times you need to expect to be grilled.
If you are presenting to management or to your boss, you should expect and welcome questions. It means they were (probably) listening!
If you know your topic, and you can get access to any extra information, then you'll be fine. Don't be put under pressure to answer on the spot if you don't know the numbers or the details. Your work meeting is not Dragon's Den or Shark Tank: just say you don't have those details to hand and you'll get back to them later that day.
Think about when you are going to invite questions. At a work based presentation given in a meeting setting, you should be prepared to answer questions at any point. Be ready to be interrupted. You aren't giving a conference paper, so expect there to be someone in the room who wants to know more about everything . Be ready!
Pin for later reading: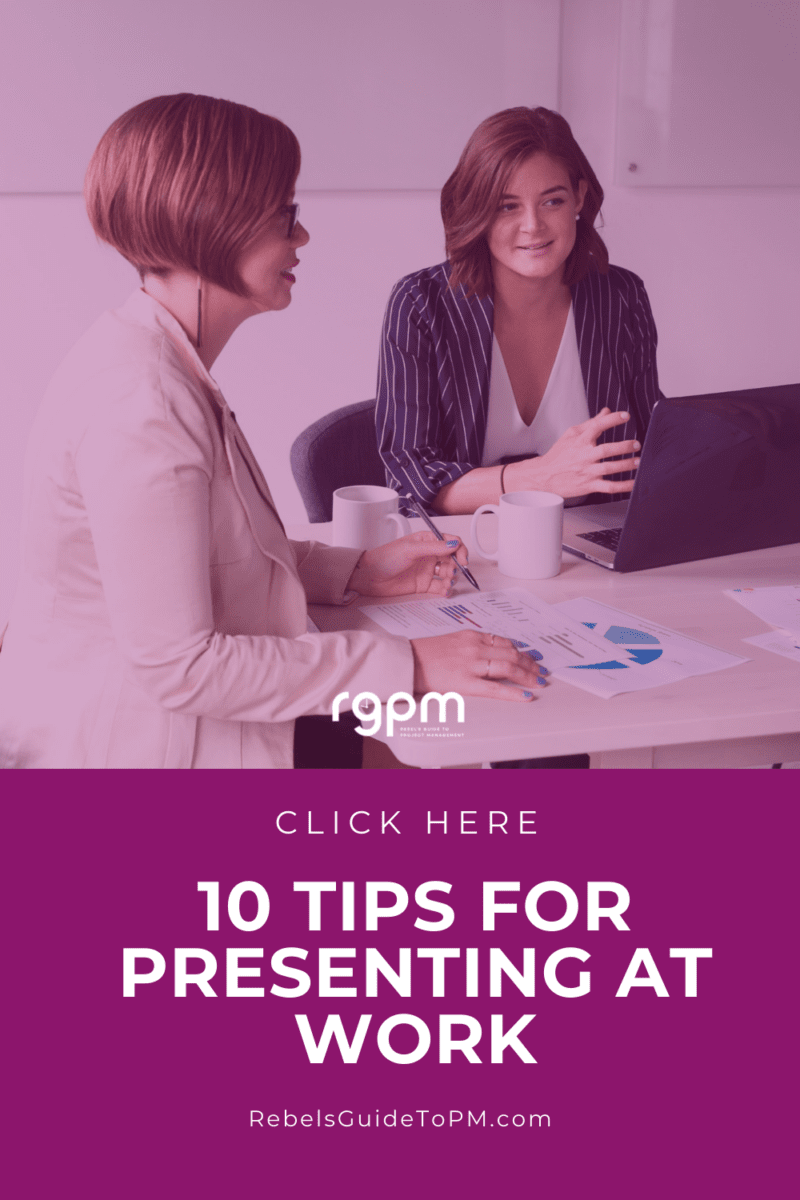 Project manager, author, mentor
Elizabeth Harrin is a Fellow of the Association for Project Management in the UK. She holds degrees from the University of York and Roehampton University, and several project management certifications including APM PMQ. She first took her PRINCE2 Practitioner exam in 2004 and has worked extensively in project delivery for over 20 years. Elizabeth is also the founder of the Project Management Rebels community, a mentoring group for professionals. She's written several books for project managers including Managing Multiple Projects .
SUGGESTED TOPICS
The Magazine
Newsletters
Managing Yourself
Managing Teams
Work-life Balance
The Big Idea
Data & Visuals
Reading Lists
Case Selections
HBR Learning
Topic Feeds
Account Settings
Email Preferences
8 Ways to Deliver a Great Presentation (Even If You're Super Anxious About It)
Know your point, always.
Feeling anxious about a presentation? It's likely about a fear of public humiliation rather than of public speaking.
Shift the spotlight from yourself to what you have to say.
Reject the voice in your head trying to destroy your confidence.
Knowing what matters – and what doesn't – will help you succeed.
Where your work meets your life. See more from Ascend here .
I recently worked closely with a 24-year-old client — let's call him Martin — who was tapped to deliver a five-minute presentation at his company's annual town hall meeting. Martin had never given a public speech in his professional life, but his accomplishments impressed his supervisors, and they wanted Martin to share his success with the rest of the organization.
Martin would have felt rightfully honored and proud, but one dominant feeling dwarfed all the others: abject fear.
With three weeks until the event, that's where Martin and I started — with his fear. Below, I'm sharing eight pieces of advice I offered to help him manage his anxiety, build an engaging presentation , and convey it with confidence.
1) It's not about you. It's about your point. Many people would rather pour hot soup over their heads than speak in public, but that aversion is not really a fear of public speaking . It's a fear of public humiliation — that you will somehow screw it up and embarrass yourself.
But here's the thing: Your presentation is not a public speaking contest, and you're not being judged. You're not even a performer; you're a presenter, moving important concepts from your head to your audience's heads. (That's why you "deliver" a presentation).
Shifting the spotlight from yourself to your ideas can make you less anxious because it focuses you on your real job — not to be amazing, charismatic, or entertaining, but to effectively convey your point.
2) Know your point. Of course, you must know your point in order to convey it. But don't make the mistake of confusing your point with a broad topic or theme. Typically, your point is a contention that a specific idea will lead to a successful outcome.
Once you understand your contention, ask yourself four easy questions:
What is the idea?
What tactics make the idea successful?
What is the impact of that success?
What can others learn from that success?
The answer to those four questions — supported by data, stories, or reasoning — is your presentation. Boom.
Adjust as necessary, but a five-minute presentation means answering each of those questions for a rough average of 75 seconds each. And so long as you make a point, no audience will ever complain about you running short.
3) Let your notes support you. Think of your speaking notes as you would a shopping list: shorthand reminders (no complete sentences) of what you need to cover and in what order. Your notes may be lengthy at first but shorten them during your practice as you rely on them less and less.
Remember: Your notes are there to support you, not script you. Audiences want you to relay your points, not read them.
4) Get loud. Whether you're in a room or a Zoom, volume is critical to making powerful points. In addition to making you more audible, increased volume instantly conveys authority, confidence, leadership, and competence.
I run an exercise in my workshop in which I ask every participant to speak in a louder voice, then ask other students to weigh in on the resulting differences in that person's overall impression. Universally, I hear reactions like "more assertive," "more confident," and "more persuasive," whether or not the speaker was, in fact, more assertive, confident, or persuasive. That's the value of volume.
5) Be yourself. A day before his presentation, Martin messaged me with a series of sudden questions: How often should I gesture? What happens if I sneeze or say "umm"? Should I start with a joke?
My answer to all: "Be yourself."
Audiences respond best to authentic, even flawed, human behavior because they can relate to it as fellow human beings. Coming across artificial, on the other hand, breaks that connection, reduces your engagement, and harms your reputation.
So if you're comfortable gesturing, gesture. If you need to sneeze, sneeze. If you're funny, be funny. Being your most authentic self will also best convey your personal conviction for your points.
6) Practice meaningfully. Effective practice is about having your mind and your mouth act together to produce points. When you mumble your presentation — as we often do when we practice — you're only practicing one of those two key elements. To practice meaningfully, say it out loud and in real time. You don't need an audience, a camera, or a mirror (in fact, avoid practicing in front of mirrors entirely). All you need is time and space to run through your full presentation.
This is also the only way to know precisely how long your presentation will run.
7) Turn nervous energy into excitement. Studies show that toggling from nervous energy to excitement may be as easy as telling yourself "I'm excited," every time you think "I'm nervous," because the reactions are closely related. Try saying, "I'm excited. I'm excited. I'm excited," in the minutes and moments before your presentation.
Chances are good you will come across as excited, exuding passion for your point versus anxiety in your performance.
8) Kill Roy. Meet Roy. He's the voice in your head constantly trying to destroy your confidence, whispering things like, "You're boring them," "This is not going well," and "You're embarrassing yourself." But know this: Roy is a liar. He's the voice of your insecurity, trying to make you feel more self-conscious, not less.
I hear Roy with my own ears whenever a workshop student starts a presentation with "I'm pretty nervous…" or ends with "Sorry, I know that wasn't great." The ironic thing is that these presenters never came across as nervous or underwhelming. That's just Roy, doing whatever he could to sabotage the presentation.
The good news is that confidence is Roy's Kryptonite. Recognize that the voice in your head is lying and let your faith in your abilities and your points diminish Roy's impact until no one can hear him.
After lots of practice, Martin eventually nailed his presentation, coming across focused, confident, and passionate (which was confirmed in a follow-up survey including hundreds of staff).
To the audience, Martin "did a great job," but he knows, I know, and you know that he succeeded not because he was born a great public speaker or has a special gene for fearlessness. Martin succeeded because he knew his point, his job, what mattered most, and what didn't matter at all.
JS Joel Schwartzberg  oversees executive communications for a major national nonprofit, is a professional presentation coach, and is the author of " Get to the Point! Sharpen Your Message and Make Your Words Matter " and " The Language of Leadership: How to Engage and Inspire Your Team ." You can find him on  LinkedIn  and on Twitter  @TheJoelTruth.
Partner Center
Global Citizen
Money Works
Global Issues
Getting Around
WU Partners
Regional News
Europe & CIS
Middle East & Africa
Asia & Pacific
How To Successfully Give A Work Presentation
Did you just start a new career or land a new job? When you do, there are many new experiences and opportunities to explore, one of them being the chance to give a work presentation.
When your boss asks you to give a presentation for an important client or to your colleagues at work, it can be nerve-wracking. You want to make sure you come across as professional, knowledgeable, and confident as possible. To help you successfully give a work presentation, WU has some great tips to help you during your time in the spotlight.
Determine the Problem You're There to Solve
If you've been called upon to give a presentation at work, there's a reason. Perhaps you've been asked to do research and share your findings, educate your colleagues about something, or get everyone up-to-date on a project. Remember that everyone wants and/or needs to hear what you're saying. Look at it as if you're solving a problem for your team and that will help take the ease off and you can now speak with authority about your solutions.
Acknowledge Your Nervousness
It's normal to be nervous while giving a presentation. It's actually expected that you'll be at least a little bit nervous, so don't worry if you are. Nerves can actually work to your advantage when presenting as they make you more awake, aware, and focused.
Focus On a Story
If you can frame your presentation as a story of some kind, you'll be able to capture and keep your audience's attention for much longer. Figure out a journey that you can share, and tell a story rather than just recite information. Add humor if appropriate to keep your audience engaged.
Rehearse Your Delivery
The best thing you can do is practice your delivery several times in advance so that the words roll off your tongue even if your mind blanks for a moment. Also, work on controlling any nervous ticks such as swaying, pacing, fidgeting, pulling on your clothes, or touching your hair. The best thing to do is stand still and use hand gestures for emphasis rather than move around.
Consider the Meaning Behind Your Presentation
The worst thing a presenter can do is simply read information directly off of a chart or slide that people can read themselves. Rather than merely stating facts or statistics, think about the meaning behind them. For instance, if revenues are going up, what possibilities does that allow for? If revenues are going down, what changes need to be made to get the company back on the right track? What solutions can you suggest that will help the situation?
Again, thinking of yourself as someone who solves problems rather than recites data will help keep your presentation engaging and help your boss see all the valuable ideas you bring to the table.
Dress For Success
If you're giving a presentation at work, it's smart to dress up a little more than you would on an average day. When presenters look sharp and professional, they appear more authoritative and in control than someone who dresses casually.
If you follow these tips, you'll be on your way to giving successful presentations at work that hopefully lead to a promotion one day! Want more great career advice? Be sure to check out our other WU blogs!
Send money with Western Union
Similar Blogs
Vancouver: 100+ years of welcoming indian immigrants, jamaicans are choosing ontario to live, work and study: see why, join the festivities: how canadians celebrate victoria day, haitian flag day.
Customer Care
Intellectual Property
Terms & Conditions
Cookie Settings
By use case
AI assisted videos
Advertising video
Animated video
Animated logo video
Animated text video
Animation video
Cartoon video
Commercial video
Business video
Explainer video
Infographic video
Intro video
Movie maker
Photo to video
Presentation video
Short videos
Trailer video
Book trailer video
YouTube video
Diverse Workplace Scenes
Leadership Skills Tips
A Reason to Celebrate
Frank Character Explainer
Superpowers Girl
Robot Character Explainer
Team Birthdays
Birthday Cake
Birthday Calendar
Birthday Greetings
Funny Birthday
Staff Birthday
Workplace Announcement
Business Explainer
Employee Onboarding
Business Ad
Hybrid Work Policy
Workplace Wellness Tips
Explainer Script
How to Change Your Password
Snappy Explainer
Mental Health for Employees
Product Explainer
E-Learning App Ad
Infographics
Industry Trend Update
Real Estate Infographic
Marketing Infographic
Animated Infographics
Infographic Explainer
Infographic
Introductions
New Teammate
New Employee Introduction
Welcome New Team Member
Warm Welcome
New Team Members
Meet the Team
We're Hiring Manager
Recruiting Ad
We're Hiring IT Support
Video Resume
Now Hiring Product Engineer
Job Offer Congratulations
Dancing People Ad
Eager Dog Ad
Winter Sale
Funky Sloth Ad
Product Promo
Book Trailer
Thanks Group
You Rock Employee
Great Job Team
You Rock Team
Great Job Employee
Great Job Group
Weekly Update
Company Update
Product Launch
Monthly Update
News Update
Year in Review
Ready to get started?
Video Trimmer
Remove audio from video
Add music to video
Add text to video
Video merger
Video resizer
Convert image to video
Montage maker
Add image to video
Watermark maker
Add frame to video
Video analytics
Add button to video
Image Resizer
Convert video to GIF
Extract audio from video
Quick start guide
Help Center
Inspiration
23 presentation examples that really work (plus templates!)
To help you in your quest for presentation greatness, we've gathered 23 of the best business presentation examples out there. These hand-picked ideas range from business PowerPoint presentations, to recruitment presentations, and everything in between.
As a bonus, several of our examples include editable video presentation templates from Biteable .
Biteable allows anyone to create great video presentations — no previous video-making skills required. The easy-to-use platform has hundreds of brandable templates and video scenes designed with a business audience in mind. A video made with Biteable is just what you need to add that wow factor and make an impact on your audience.
Create videos that drive action
Activate your audience with impactful, on-brand videos. Create them simply and collaboratively with Biteable.
Video presentation examples
Video presentations are our specialty at Biteable. We love them because they're the most visually appealing and memorable way to communicate.
1. Animated characters
Our first presentation example is a business explainer from Biteable that uses animated characters. The friendly and modern style makes this the perfect presentation for engaging your audience.
Bonus template: Need a business video presentation that reflects the beautiful diversity of your customers or team? Use Biteable's workplace scenes . You can change the skin tone and hair color for any of the animated characters.
2. Conference video
Videos are also ideal solutions for events (e.g. trade shows) where they can be looped to play constantly while you attend to more important things like talking to people and handing out free cheese samples.
For this event presentation sample below, we used bright colours, stock footage, and messaging that reflects the brand and values of the company. All these elements work together to draw the attention of passers-by.
For a huge selection of video presentation templates, take a look at our template gallery .
Business PowerPoint presentation examples
Striking fear into the hearts of the workplace since 1987, PowerPoint is synonymous with bland, boring presentations that feel more like an endurance test than a learning opportunity. But it doesn't have to be that way. Check out these anything-but-boring business PowerPoint presentation examples.
3. Design pointers
This PowerPoint presentation takes a tongue-in-cheek look at how the speakers and users of PowerPoint are the problem, not the software itself.
Even at a hefty 61 slides, the vintage theme, appealing colors, and engaging content keep the viewer interested. It delivers useful and actionable tips on creating a better experience for your audience.
Pixar, as you'd expect, redefines the meaning of PowerPoint in their "22 Rules for Phenomenal Storytelling". The character silhouettes are instantly recognizable and tie firmly to the Pixar brand. The bright colour palettes are carefully chosen to highlight the content of each slide.
This presentation is a good length, delivering one message per slide, making it easy for an audience to take notes and retain the information.
Google slides examples
If you're in business, chances are you'll have come across slide decks . Much like a deck of cards, each slide plays a key part in the overall 'deck', creating a well-rounded presentation.
If you need to inform your team, present findings, or outline a new strategy, slides are one of the most effective ways to do this.
Google Slides is one of the best ways to create a slide deck right now. It's easy to use and has built-in design tools that integrate with Adobe, Lucidchart, and more. The best part — it's free!
5. Teacher education
Here's a slide deck that was created to educate teachers on how to use Google Slides effectively in a classroom. At first glance it seems stuffy and businessy, but if you look closer it's apparent the creator knows his audience well, throwing in some teacher-friendly content that's bound to get a smile.
The slides give walkthrough screenshots and practical advice on the different ways teachers can use the software to make their lives that little bit easier and educate their students at the same time.
6. Charity awareness raiser
This next Google slide deck is designed to raise awareness for an animal shelter. It has simple, clear messaging, and makes use of the furry friends it rescues to tug on heartstrings and encourage donations and adoptions from its audience.
Pro tip: Creating a presentation is exciting but also a little daunting. It's easy to feel overwhelmed — especially if the success of your business or nonprofit depends on it. Check out our tips for advice on how to make a stand-out presentation.
Prezi presentation examples
If you haven't come across Prezi , it's a great alternative to using static slides. Sitting somewhere between slides and a video presentation, it allows you to import other content and add motion to create a more engaging viewer experience.
7. Red Bull event recap
This Prezi was created to document the Red Bull stratosphere freefall stunt a few years ago. It neatly captures all the things that Prezi is capable of, including video inserts and the zoom effect, which gives an animated, almost 3D effect to what would otherwise be still images.
Prezi has annual awards for the best examples of presentations over the year. This next example is one of the 2018 winners. It was made to highlight a new Logitech tool.
8. Logitech Spotlight launch
What stands out here are the juicy colors, bold imagery, and the way the designer has used Prezi to its full extent, including rotations, panning, fades, and a full zoom out to finish the presentation.
Sales presentation examples
If you're stuck for ideas for your sales presentation, step right this way and check out this video template we made for you.
9. Sales enablement video presentation
In today's fast-paced sales environment, you need a way to make your sales enablement presentations memorable and engaging for busy reps. Sales enablement videos are just the ticket. Use this video presentation template the next time you need to present on your metrics.
10. Zuroa sales deck
If you're after a sales deck, you can't go past this example from Zuora. What makes it great? It begins by introducing the worldwide shift in the way consumers are shopping. It's a global phenomenon, and something we can all relate to.
It then weaves a compelling story about how the subscription model is changing the face of daily life for everyone. Metrics and testimonials from well-known CEOs and executives are included for some slamming social proof to boost the sales message.
Pitch presentation examples
Pitch decks are used to give an overview of business plans, and are usually presented during meetings with customers, investors, or potential partners.
11. Uber pitch deck
This is Uber's original pitch deck, which (apart from looking a teensy bit dated) gives an excellent overview of their business model and clearly shows how they intended to disrupt a traditional industry and provide a better service to people. Right now, you're probably very grateful that this pitch presentation was a winner.
You can make your own pitch deck with Biteable, or start with one of our video templates to make something a little more memorable.
12. Video pitch template
This video pitch presentation clearly speaks to the pains of everyone who needs to commute and find parking. It then provides the solution with its app that makes parking a breeze.
The video also introduces the key team members, their business strategy, and what they're hoping to raise in funding. It's a simple, clear pitch that positions the company as a key solution to a growing, worldwide problem. It's compelling and convincing, as a good presentation should be.
13. Fyre Festival pitch deck
The most epic example of a recent pitch deck is this one for Fyre Festival – the greatest event that never happened. Marvel at its persuasion, gasp at the opportunity of being part of the cultural experience of the decade, cringe as everything goes from bad to worse.
Despite the very public outcome, this is a masterclass in how to create hype and get funding with your pitch deck using beautiful imagery, beautiful people, and beautiful promises of riches and fame.
Business presentation examples
Need to get the right message out to the right people? Business presentations can do a lot of the heavy lifting for you.
Simply press play and let your video do the talking. No fumbling your words and sweating buckets in front of those potential clients, just you being cool as a cucumber while your presentation does the talking.
Check out two of our popular templates that you can use as a starting point for your own presentations. While they're business-minded, they're definitely not boring.
14. Business intro template
Modern graphics, animations, and upbeat soundtracks keep your prospects engaged as they learn about your business, your team, your values, and how you can help them.
15. Business explainer template
Research presentation examples.
When you're giving a more technical presentation such as research findings, you need to strike the perfect balance between informing your audience and making sure they stay awake.
As a rule, slides are more effective for research presentations, as they are used to support the speaker's knowledge rather can capture every small detail on screen.
With often dry, complex, and technical subject matter, there can be a temptation for presentations to follow suit. Use images instead of walls of text, and keep things as easy to follow as possible.
16. TrackMaven research deck
TrackMaven uses their endearing mascot to lighten up this data-heavy slide deck. The graphs help to bring life to their findings, and they ensure to only have one bite-size takeaway per slide so that viewers can easily take notes.
17. Wearable tech research report
Obviously, research can get very researchy and there's not a lot to be done about it. This slide deck below lays out a ton of in-depth information but breaks it up well with quotes, diagrams, and interesting facts to keep viewers engaged while it delivers its findings on wearable technology.
Team presentation examples
Motivating your team can be a challenge at the best of times, especially when you need to gather them together for….another presentation!
18. Team update template
We created this presentation template as an example of how to engage your team. In this case, it's for an internal product launch. Using colorful animation and engaging pacing, this video presentation is much better than a static PowerPoint, right?
19. Officevibe collaboration explainer
This short slide deck is a presentation designed to increase awareness of the problems of a disengaged team. Bright colors and relevant images combine with facts and figures that compel viewers to click through to a download to learn more about helping their teams succeed.
Recruitment presentation examples
Recruiting the right people can be a challenge. Presentations can help display your team and your business by painting a dynamic picture of what it's like to work with you.
Videos and animated slides let you capture the essence of your brand and workplace so the right employees can find you.
20. Company culture explainer
If you're a recruitment agency, your challenge is to stand out from the hundreds of other agencies in the marketplace.
21. Kaizen culture
Showcasing your agency using a slide deck can give employers and employees a feel for doing business with you. Kaizen clearly displays its credentials and highlights its brand values and personality here (and also its appreciation of the coffee bean).
Explainer presentation examples
Got some explaining to do? Using an explainer video is the ideal way to showcase products that are technical, digital, or otherwise too difficult to explain with still images and text.
Explainer videos help you present the features and values of your product in an engaging way that speaks to your ideal audience and promotes your brand at the same time.
22. Product explainer template
23. lucidchart explainer.
Lucidchart does a stellar job of using explainer videos for their software. Their series of explainers-within-explainers entertains the viewer with cute imagery and an endearing brand voice. At the same time, the video is educating its audience on how to use the actual product. We (almost) guarantee you'll have more love for spiders after watching this one.
Make a winning video presentation with Biteable
Creating a winning presentation doesn't need to be difficult or expensive. Modern slide decks and video software make it easy for you to give compelling presentations that sell, explain, and educate without sending your audience to snooze town.
For the best online video presentation software around, check out Biteable. The intuitive platform does all the heavy lifting for you, so making a video presentation is as easy as making a PowerPoint.
Use Biteable's brand builder to automatically fetch your company colors and logo from your website and apply them to your entire video with the click of a button. Even add a clickable call-to-action button to your video.
Share your business presentation anywhere with a single, trackable URL and watch your message turn into gold.
Make stunning videos with ease.
Take the struggle out of team communication.
Try Biteable now.
No credit card required
No complicated design decisions
No experience necessary
Unleash your productivity with AI and Microsoft 365 Copilot
What does AI mean for me?
ChatGPT vs. Microsoft 365 Copilot: What's the difference?
Frequently asked questions about AI and Microsoft 365 Copilot
What is responsible AI?
Frequently asked questions: AI, Microsoft 365 Copilot, and Microsoft Designer
Last updated: June 1, 2023
Here are some questions about artificial intelligence (AI) and how it is used in Microsoft products such as Microsoft 365 Copilot and Microsoft Designer
We update this page frequently, so please bookmark it and check back often.
Select a heading below for more information  
What is Copilot?
Microsoft 365 Copilot is an AI-powered digital assistant designed to help users with a range of tasks and activities on their devices. It can create drafts of content, suggest different ways to word something you've written, suggest and insert images, create PowerPoint presentations from your Word documents and many other helpful things.
It's currently in limited private preview.
For more information see our announcement post .
How do I get Copilot in Microsoft 365 apps?
Copilot in Microsoft 365 apps like Word or PowerPoint is currently available only in a limited private preview. It will be coming to a wider audience in the coming months.
Is the content Copilot produces original?
Copilot generates content based on language patterns it has found throughout the internet. Sometimes its results will be very similar to existing internet content. Or, Copilot might generate the same or very similar content for multiple people who are prompting Copilot in the same way.
For example, everyone who instructs Copilot to create a "recipe for apple pie" is likely to wind up with identical or nearly identical content. 
How can I use work created in Microsoft Designer?
The Azure OpenAI service and the Designer app are governed by their respective service terms. Under these terms today, Microsoft does not claim ownership of either content input by customers or content output by the service. Except for our acceptable use policies, Microsoft's terms do not restrict the commercialization of images created with these services, although customers will need to make their own determination regarding the IP rights they have in output content and its commercial usability, taking into account their usage scenario(s) and the laws of the relevant jurisdiction.
What is ChatGPT?
ChatGPT is a natural language processing technology from OpenAI that uses machine learning, deep learning, natural language understanding, and natural language generation to answer questions or respond to conversations. It is designed to mimic human conversation by understanding a user's question or comment and responding in an engaging and conversational way.
ChatGPT uses advanced algorithms to try and understand what you're asking for, and then build a response by predicting what the next word should be as it builds its reply. It's trained on a set of public content from a specific point in time and doesn't search the live web to get answers. Because of this it may struggle to answer questions about recent events. 
How is Microsoft involved with ChatGPT?
Microsoft and OpenAI are working together to develop the underlying AI. Microsoft is developing and providing the supercomputing infrastructure that OpenAI services run on. 
Responsible AI is AI that is designed, developed, and deployed in a way that takes into account ethical, legal, and societal considerations. This includes considering the potential for unintended consequences, being transparent about how decisions are made, and respecting privacy. Responsible AI also requires building trust and ensuring accountability, as well as ensuring that individuals are not discriminated against due to their race, gender, or other protected characteristics.
For more information visit our Responsible AI site .
Does Copilot learn from my data?
Neither your document content nor the descriptions you write are used for machine learning. Likewise, when you send feedback or report content, Microsoft uses your input to make feature improvements; your feedback does not directly impact the foundational AI models that Copilot is based on.
Will AI replace me at work?
No, AI is not designed to replace people in the workplace. AI is designed to make certain tasks more efficient, but it will not be able to take over more complex tasks that require human judgment, decision-making, and creativity. AI can help businesses become more efficient and productive, but it won't replace the need for humans in the workplace.
AI can create drafts of content but it's still important to have a human in the loop to review, edit, and approve the content AI has created.
Do any Microsoft products have AI built in?
Yes, many Microsoft products have AI built in, including Microsoft 365, Microsoft Azure, Windows, Dynamics 365, and Microsoft Cognitive Services.
What are some examples of AI features already available in Microsoft products?
Microsoft Bing Visual Search : Bing Image Search uses AI to understand the content of an image and show relevant search results.
Microsoft Cognitive Services : Cognitive Services is a suite of AI tools that enables developers to build intelligent apps and services.
Microsoft Translator : Microsoft Translator uses AI to provide real-time language translation for over 60 languages.
Microsoft Bot Framework: Bot Framework is a set of tools and services that allow developers to create intelligent bots.
Microsoft Office Insights : Office Insights uses AI to provide intelligent recommendations and insights to help users be more productive in Office.
Speaker Coach : Speaker Coach uses AI to give you feedback as you rehearse your presentations, helping you to become a better presenter.
Note:  This article was created by a person with the assistance of an artificial intelligence (AI).
Microsoft AI help and learning
Need more help?
Want more options.
Explore subscription benefits, browse training courses, learn how to secure your device, and more.
Microsoft 365 subscription benefits
Microsoft 365 training
Microsoft security
Accessibility center
Communities help you ask and answer questions, give feedback, and hear from experts with rich knowledge.
Ask the Microsoft Community
Microsoft Tech Community
Windows Insiders
Microsoft 365 Insiders
Was this information helpful?
Thank you for your feedback.
This browser is no longer supported.
Upgrade to Microsoft Edge to take advantage of the latest features, security updates, and technical support.
How to upgrade a WPF desktop app to .NET 7
This article describes how to upgrade a Windows Presentation Foundation (WPF) desktop app to .NET 7. Even though WPF runs on .NET, a cross-platform technology, WPF is still a Windows-only framework. The following WPF-related project types can be upgraded with the .NET Upgrade Assistant:
WPF project
Control library
.NET library
If you're upgrading from .NET Framework to .NET, consider reviewing the Differences with WPF .NET article and the Porting from .NET Framework to .NET guide.
Don't upgrade Visual Basic WPF projects. There seems to be a bug with the extension. This article will be updated when the bug is fixed.
Prerequisites
Windows Operating System
Visual Studio 2022 version 17.1 or later to target .NET 7
Visual Studio 2022 version 17.7 Preview 1 or later to target .NET 8
.NET Upgrade Assistant extension for Visual Studio
This article was written in the context of upgrading the Web Favorites Sample project, which you can download from the .NET Samples GitHub repository .
Initiate the upgrade
If you're upgrading multiple projects, start with projects that have no dependencies. In the Web Favorites sample, the WebSiteRatings project depends on the StarVoteControl library, so StarVoteControl should be upgraded first.
Be sure to have a backup of your code, such as in source control or a copy.
Use the following steps to upgrade a project in Visual Studio:
Right-click on the StarVoteControl project in the Solution Explorer window and select Upgrade :
A new tab is opened that prompts you to choose how you want the upgrade to be performed.
Select In-place project upgrade .
Next, select the target framework. Based on the type of project you're upgrading, different options are presented. .NET Standard 2.0 is a good choice if the library doesn't rely on a desktop technology like WPF and can be used by both .NET Framework projects and .NET projects. However, the latest .NET releases provide many language and compiler improvements over .NET Standard.
Select .NET 7.0 and then select Next .
A tree is shown with all of the artifacts related to the project, such as code files and libraries. You can upgrade individual artifacts or the entire project, which is the default. Select Upgrade selection to start the upgrade.
When the upgrade is finished, the results are displayed:
Artifacts with a solid green circle were upgraded while empty green circles were skipped. Skipped artifacts mean that the upgrade assistant didn't find anything to upgrade.
Now that the app's supporting library is upgraded, upgrade the main app.
Upgrade the app
Once all of the supporting libraries are upgraded, the main app project can be upgraded. Perform the following steps:
Right-click on the WebSiteRatings project in the Solution Explorer window and select Upgrade :
Select In-place project upgrade as the upgrade mode.
Select .NET 7.0 for the target framework and select Next .
Leave all of the artifacts selected and select Upgrade selection .
After the upgrade is complete, the results are shown. If an item has a warning symbol, it means that there's a note for you to read, which you can do by expanding the item.
Generate a clean build
After your project is upgraded, clean and compile it.
Right-click on the WebSiteRatings project in the Solution Explorer window and select Clean .
Right-click on the WebSiteRatings project in the Solution Explorer window and select Build .
If your application encountered any errors, you can find them in the Error List window with a recommendation how to fix them.
Post-upgrade steps
If your project is being upgraded from .NET Framework to .NET, review the information in the Modernize after upgrading to .NET from .NET Framework article.
After upgrading, you'll want to:
Check your NuGet packages.
The .NET Upgrade Assistant upgraded some packages to new versions. With the sample app provided in this article, the Microsoft.Data.Sqlite NuGet package was upgraded from 1.0.0 to 7.0.5 . However, 1.0.0 depends on the SQLite NuGet package, but 7.0.5 removes that dependency. The SQLite NuGet package is still referenced by the project, although it's no longer required. Both SQLite and SQLite.Native NuGet packages can be removed from the project.
Clean up the old NuGet packages.
The packages.config file is no longer required and can be deleted from your project, as the NuGet package references are now declared in the project file. Additionally, the local NuGet package cache folder, named Packages , is in either the folder or the parent folder of the project. This local cache folder can be deleted. The new NuGet package references use a global cache folder for packages, available in the user's profile directory, named .nuget\packages .
Remove the System.Configuration library.
Most .NET Framework apps reference the System.Configuration library. After upgrading, it's possible that this library is still directly referenced.
The System.Configuration library uses the app.config file to provide run-time configuration options to your app. For .NET, this library was replaced by the System.Configuration.ConfigurationManager NuGet package. Remove reference to the library and add the NuGet package to your project.
Check for places to modernize your app.
APIs and libraries have changed quite a bit since .NET was released. And in most cases, .NET Framework doesn't have access to these improvements. By upgrading to .NET, your now has access to more modern libraries.
The next sections describe areas you modernize the sample app used by this article.
Modernize: Web browser control
The WebBrowser control referenced by the WPF sample app is based on Internet Explorer, which is out-of-date. WPF for .NET can use the WebView2 control based on Microsoft Edge. Complete the following steps to upgrade to the new WebView2 web browser control:
Add the Microsoft.Web.WebView2 NuGet package.
In the MainWindow.xaml file:
Import the control to the wpfControls namespace in the root element:
Down where the <Border> element is declared, remove the WebBrowser control and replace it with the wpfControls:WebView2 control:
Edit the MainWindow.xaml.cs code behind file. Update the ListBox_SelectionChanged method to set the browser.Source property to a valid Uri . This code previously passed in the website URL as a string, but the WebView2 control requires a Uri .
Depending on which version of Windows a user of your app is running, they may need to install the WebView2 runtime. For more information, see Get started with WebView2 in WPF apps .
Modernize: appsettings.json
.NET Framework uses the App.config file to load settings for your app, such as connection strings and logging providers. .NET now uses the appsettings.json file for app settings. App.config files are supported in .NET through the System.Configuration.ConfigurationManager NuGet package, and support for appsettings.json is provided by the Microsoft.Extensions.Configuration NuGet package.
As other libraries upgrade to .NET, they modernize by supporting appsettings.json instead of App.config . For example, logging providers in .NET Framework that have been upgraded for .NET 6+ no longer use App.config for settings. It's good to follow their direction and also move away from using App.config where you can.
Use appsettings.json with the WPF sample app
As an example, after upgrading the WPF sample app, use appsettings.json for the connection string to the local database.
Remove the System.Configuration.ConfigurationManager NuGet package.
Add the Microsoft.Extensions.Configuration.Json NuGet package.
Add a file to the project named appsettings.json .
Set the appsettings.json file to copy to the output directory.
Set the copy to output setting through Visual Studio using the Properties window after selecting the file in the Solution Explorer . Alternatively you can edit the project directly and add the following ItemGroup :
Migrate the settings in the App.config file to a new appsettings.json file.
In the WPF sample app, app.config only contained a single connection string. Edit the appsettings.json file to define the connection string:
Edit the App.xaml.cs file, instancing a configuration object that loads the appsettings.json file, the added lines are highlighted:
In the .\Models\Database.cs file, change the OpenConnection method to use the new App.Config property. This requires importing the Microsoft.Extensions.Configuration namespace:
GetConnectionString is an extension method provided by the Microsoft.Extensions.Configuration namespace.
Submit and view feedback for
Additional resources
EFC School group work presentation
Have you checked our knowledge base ?
Message sent! Our team will review it and reply by email.
Apple to sell Vision Pro AR headset for triple Meta's top-line price
CUPERTINO, California, June 5 (Reuters) - Apple (AAPL.O) on Monday unveiled a costly augmented-reality headset called the Vision Pro in its riskiest bet since the introduction of the iPhone more than a decade ago, barging into a market dominated by Meta (META.O) .
At its annual developer conference, Apple also introduced a raft of new products and features, including a 15-inch MacBook Air, a powerful chip called M2 Ultra, improvements to its iOS software and a long-awaited tweak to prevent its autocorrect from annoyingly changing a common expletive to "ducking ".
The Vision Pro will start at $3,499, more than three times the cost of the priciest headset in Meta's line of mixed and virtual reality devices.
The headset will test a market crowded with devices that have yet to gain traction with consumers and put it in direct competition with Facebook-owner Meta after years of clashes between the companies over issues like user privacy and control of developer platforms.
Apple emphasized the novelty of the headset's augmented reality features as well as the sports and entertainment partnerships it would offer. The device will use a new chip called R1 that will process information from its sensors in less time than the blink of an eye, Apple said.
But the announcements failed to excite Wall Street, which had bid up Apple shares to a record high ahead of the launch. The stock was largely flat in post-market trading.
"Wealthy, techie early adopters will buy the Vision Pro in droves, but still years to move the needle for the mammoth Apple," said David Rolfe, chief investment officer of Wedgewood Partners that has owned Apple stock since 2005.
Rolfe said there was not yet a mass market for the headset but lauded the product's technological chops. "Apples Vision Pro reminds me of the very early days of the personal computer revolution. It took many years for the PC to become a mainstream product. Same with VisionPro."
Users of the Vision Pro will be able to select content inside the goggles with their eyes, tap their fingers together to click and gently flick to scroll, while also using a three-dimensional camera and microphone system to capture videos and pictures than can be viewed in 3D later.
In its most visually striking difference from Meta's headsets, the device also has an exterior display that shows the user's eyes to people in the outside world.
The exterior screen goes dark when a user is fully immersed in a virtual world. When a person approaches a user who is in full virtual mode, the headset will show both the user and the outside person to each other, an augmented reality advancement over Meta's devices, which show a more basic video feed of the outside world.
"It's the first Apple product you look through, not at," Apple CEO Tim Cook said.
Apple's headset will be available early next year in the U.S. with more countries coming later in 2024.
HEAD-TO-HEAD
[1/4] People use cameras as Apple's Vision Pro headsets are on display at Apple's annual Worldwide Developers Conference at the company's headquarters in Cupertino, California, U.S. June 5, 2023. REUTERS/Loren Elliott
Investors will want to know the overlap between Apple's view of the virtual reality market and that of Meta, which currently controls nearly 80% of the market for AR/VR devices, according to market research firm IDC.
Meta Chief Executive Mark Zuckerberg has outlined his vision for using headsets to dip in and out of a "metaverse" where people can meet virtually to work, play and spend. Apple executives eschewed the term.
"The core difference to me is Zuckerberg is trying to create a virtual world that he wants us to be in, and it seems to me that Apple wants to keep us still anchored in our world and just augment it," said Carolina Milanesi, an analyst at Creative Strategies.
In addition to Meta, Sony Group Corp (6758.T) and ByteDance-owned Pico both produce virtual reality devices.
IDC said all these companies sold a total of 8.8 million headsets last year.
Apple said it has been working with Adobe (ADBE.O) and Microsoft (MSFT.O) to put their apps on the new headset, as well as Unity (U.N) , a technology company that works with game developers. Unity shares surged 17% after the announcement.
Walt Disney's (DIS.N) Disney+ streaming service will be available on the Vision Pro, as will the collection of movies and TV shows from Apple TV+.
Apple also showed how the headset can be used with a trackpad and keyboard to work like a traditional computer with multiple displays.
The Vision Pro has two hours of use with an external battery, which Apple said would reduce the weight on the user's head. However, the device must be plugged into the wall or battery pack and there is no standalone use.
Meta's top of the line Quest Pro mixed reality device, which blends virtual reality with the real world video feed, offers about two hours of battery life directly on the headset, without an external battery pack. Meta also offers Microsoft apps on its Quest devices.
Apple did not make any major announcements about generative AI products similar to ChatGPT or Google's Bard search engine, but quietly imbued several smaller features with AI, like live transcriptions of voice mails.
It introduced a new version of the Mac Pro, its highest-performing desktop, with a company-designed M2 Ultra chip.
Until Monday, the Mac Pro was the last computer in Apple's lineup that still used an Intel (INTC.O) chip. Intel fell 4.6% after Apple dropped its chips from its most powerful desktop.
Our Standards: The Thomson Reuters Trust Principles.
More from Reuters
Taiwan chipmaker TSMC is feeling "good" about talks towards setting up its first European factory in Germany, where it is in subsidy discussions with the government, the company's chairman said on Tuesday.
OpenID for Verifiable Credentials - Overview
OpenID4VC OVERVIEW
OpenID4VC SPECIFICATIONS
OpenID4VC LIBRARIES
What is OpenID for Verifiable Credentials
The OpenID for Verifiable Credentials work is a product of the OpenID Connect Working Group. The whitepaper OpenID for Verifiable Credentials describes the work and its motivations.
Even though abbreviated as 'OID4VC', 'OID4VCI' and 'OID4VP' for brevity when typing, it is pronounced as 'OpenID for VC', 'OpenID for VCI' and 'OpenID for VP'.
OpenID for Verifiable Credentials consists of three specifications:
OpenID for Verifiable Credential Issuance – Defines an API and corresponding OAuth-based authorization mechanisms for issuance of Verifiable Credentials (Editors' Draft) (Working Group Draft)
OpenID for Verifiable Presentations – Defines a mechanism on top of OAuth 2.0 to allow presentation of claims in the form of Verifiable Credentials as part of the protocol flow (Editors' Draft) (Working Group Draft) (Implementer's Draft)
Self-Issued OpenID Provider v2 – Enables End-Users to use OpenID Providers (OPs) that they control (Editors' Draft) (Working Group Draft) (Implementer's Draft)
European Digital Identity Architecture and Reference Framework lists OID4VCI, OID4VP and SIOPv2 as required for certain use-cases
18 wallets in European Commission EBSI project support OID4VCI and OID4VP specifications (as of 2023/04/05). – Conformant wallets – EBSI – (europa.eu)
DIF JWT VC Presentation Profile uses OID4VP as the base protocol for the request and verification of W3C JWT VCs, and uses SIOPv2 for user authentication.
NIST National Cybersecurity Center of Excellence plans to implement reference implementation for OID4VP to present mdocs/mDL – Landing page –  Project description (draft)
The following draft ISO standards reference –  draft ISO/IEC TS 23220-4  profiles OID4VP to present mdocs – draft ISO/IEC TS 18013-7  profiles OID4VP to present mDLs (mobile driving licence) –  draft ISO/IEC TS 23220-3  profiles OID4VCI to issue mdocs Note that the three Technical Specifications mentioned above are not final, are subject to change, and are not public yet.
Meeting Schedule
Calls are weekly with time rotating between 7am PST and 8am PST (after the Atlantic Connect WG call).
Zoom URL to dial-in
List of open issues (Bitbucket)
View Calendar
Connect with us.
© Copyright | OpenID Foundation | All Rights Reserved l Read our   Privacy   Policy
Adjust Cookie Setting
To provide the best experiences, we use technologies like cookies to store and/or access device information. Consenting to these technologies will allow us to process data such as browsing behavior or unique IDs on this site. Not consenting or withdrawing consent, may adversely affect certain features and functions.